The line-up for 2021's International Swimming League final is set after an eye-catching final round of play-off matches - with Max Litchfield, Tom Dean and Duncan Scott all recording impressive individual victories over the weekend. 
Reigning champions Cali Condors, 2019 winners Energy Standard and two-time finalists London Roar and LA Current will line up at the Pieter van den Hoogenband Zwemstadion in Eindhoven on Friday and Saturday (3rd and 4th December 2021) to see who will end the competition's third campaign victorious, with each of that quartet of teams impressing in recent days. 
The Roar - led by Head Coach Steven Tigg of the University of Stirling this year - were ultimately edged out by Energy Standard in play-off match five, although Scott again did his part to ensure they were in the reckoning throughout the contest. 
The six-time Olympic medallist notched what has become a customary hat-trick of wins, this occasion seeing him swim brilliantly to touch first in the Men's 200m and 400m Individual Medleys, while he was second in the shortest, 100m iteration. Duncan was also a key part of the London quartet that won the Men's 4x100m Freestyle Relay, putting in a strong third leg. 
For the Roar, Britain's Tokyo 2020 team were again influential, as they have been throughout the season. Double Olympic champion Dean, who did not compete in the regular campaign, has grown from match to match in the play-offs - and an expertly-paced effort in the 400m Freestyle resulted in a superb triumph there. 
Energy Standard's overall win across Thursday and Friday was helped by another exciting set of swims from Adam Barrett. The European and Commonwealth champion swam the butterfly leg of his team's victory in the Men's 4x100m Medley Relay, before he touched third in the 100m Freestyle.
Barrett also teamed up with compatriots Ben Proud and James Guy in the Men's 4x100m Freestyle Relay, when a Brit-heavy Energy foursome finished fourth. Proud's relay efforts were backed up by more expert sprint performances, which brought him a pair of second-place finishes in the 50m Freestyle and 50m Butterfly.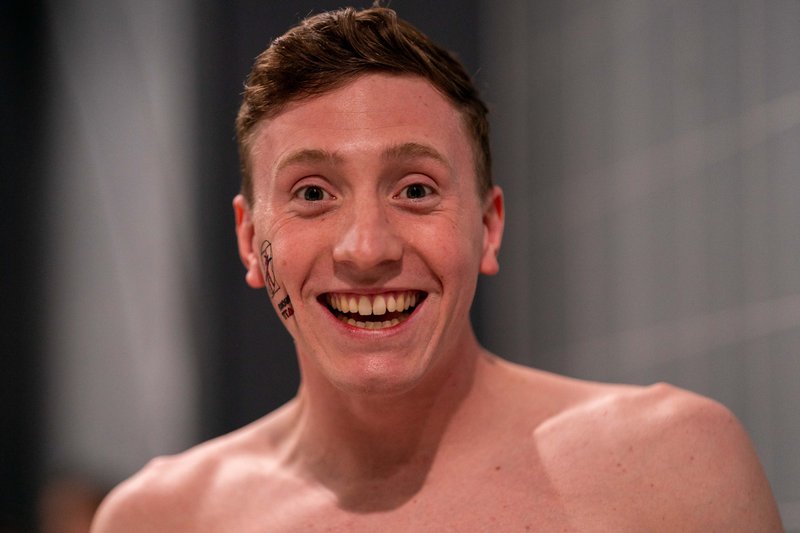 Elsewhere for the British Swimming cohort in match five, Anna Hopkin's strong ISL form continued right up to DC Trident's final match of 2021, the Loughborough National Centre athlete coming third in the Women's 50m Freestyle and fourth in the 100m event.
Luke Greenbank was third for Roar in the Men's 200m Backstroke, Imogen Clark helped LA Current's cause by coming third in the Women's 50m Breaststroke and fourth in the 100m, while Freya Anderson - who will hope to have another big say for London in the final - had a busy schedule that included a crucial leg for a team that placed third in the Mixed 4x100m Medley Relay.
Play-off match six was not as busy for the Brits - but that did not stop Max Litchfield taking part in another packed individual schedule. Litchfield, who trains under coach David Hemmings, has been entered across numerous events in every match, and he saved arguably his best for last for the Toronto Titans, winning the 400m Freestyle and placing second in the 400m Individual Medley.
There was also a fourth in the 200m Individual Medley, while Max competed in one of the butterfly events too. Titans teammate Laura Stephens rounded out her season with a second in the Women's 200m Butterfly, Alys Thomas (Team Iron) close behind in fourth. 
Brodie Williams' season will continue into the final with Cali Condors, and the Bath National Centre man is in good form after touching third in the Men's 200m Backstroke. Aqua Centurions' Holly Hibbott, another of the Bath stable, was fourth in the Women's 400m Freestyle. 
Following on the back of a historic Olympic Games for British Swimming, the 2021 ISL has been a valuable opportunity for swimmers to test their arena skills and specific technical aspects ahead of a packed 2022. Now, there is one match remaining - and the final will be fully covered across BBC Sport, BBC iPlayer and the red button. Find out more HERE.