Young aquatics stars are set to benefit from more than £109,000 funding through British Swimming's partnership with GLL.
More than 500 talented youngsters will benefit from the GLL Sport Foundation (GSF) - the largest independent athlete support programme in the UK – which is now in its 10th year.

The athlete awards cover swimming (Olympic, Paralympic, Deaflympic and Special Olympic), diving, synchronised swimming and water polo sporting disciplines. With 95 per cent of aquatics award recipients receiving no other sport funding. The average age of those receiving the award is 15, providing support to those in most need to achieve success.
Jack Buckner, Chief Executive of British Swimming said: "This initiative is a fantastic opportunity for athletes to get to the next level in their aquatics journey.
"The GLL Sport Foundation is a brilliant initiative that supports thousands of athletes, and has proven successful at the highest sporting levels.
"This funding not only supports current athletes, but also the stars of the future, and gives talented people a chance they might not have received otherwise."
GSF ambassador and Rio 2016 gold and bronze Paralympic medallist Susie Rodgers MBE knows first-hand how the funding can help shape sporting success.
She said: "Post Rio I have since learned that I am GSF's most decorated Paralympian."
"This was a culmination of many years of training and support from GSF throughout. I am and have been proud to be a GSF ambassador, and now look to support, build opportunities and inspire the next generation of athletes across the UK to achieve sporting success".
Since its launch in 2008, the GSF has provided more than 16,000 athlete awards worth over £9million.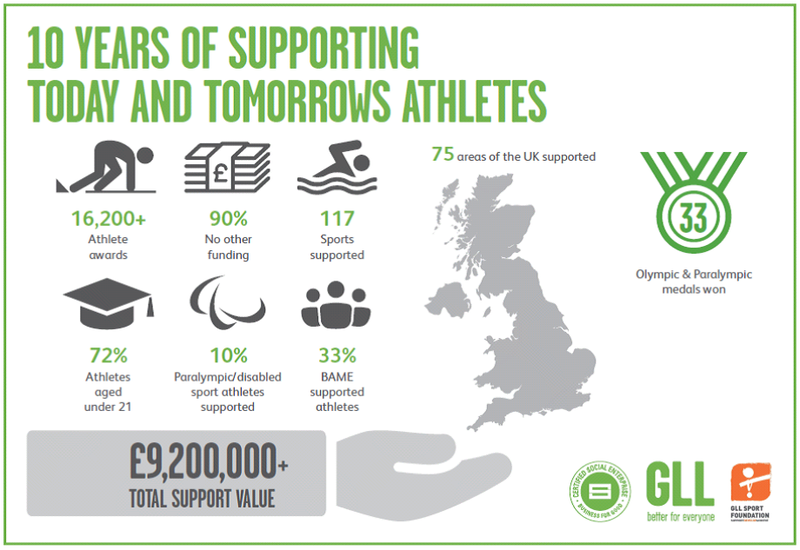 Peter Bundey, GSF Chair, added: "Congratulations to all of the athletes receiving awards. We know first hand the commitment, effort and sacrifices they are making to perform at their best".
 "I would like to thank all our partners and sponsors for their support for the programme. SportsAid, British Swimming, Swim England, Swim Wales and Swim Northern Ireland ensure direct links to Sport Governing Body talent pathways, whilst our many corporate sponsors headlined by GLL and Technogym, numerous local authorities, university and physiotherapy partners directly contribute to support these sporting dreams to become a reality".
 The Rio Olympics and Paralympics saw 20 medals won by GSF supported athletes, with nine medals at the recent Gold Coast Commonwealth Games..
The GSF now looks ahead to Tokyo 2020 and for a lot of young athletes, these next few years are vital in developing their skills and transitioning on to the senior international circuit. GSF awards provide a range of elements including funding for and international training camps and competitions, to day to day training, sport science and physio support.