Matty Lee is one of the most promising young divers in Great Britain and competed at his first senior World Championships in the summer. This year he has his eyes firmly set on the Rio 2016 Olympics and will be looking to secure an extra spot for Great Britain in the 10m Platform at the World Cup in February.
I was incredibly excited to be offered a place on the two-week warm weather camp to Florida.  America is one of the places I've always wanted to visit. I have been very lucky, through diving, to visit many countries throughout the world – some I would never have dreamed of going to even on holiday – but never America and now I was. The main purpose of the camp was to get used to diving outdoors (you don't get a lot of chances to do that in the UK), in preparation for Rio 2016 because Rio is an outdoor venue. Of course it wasn't just me that would benefit from this but the rest of the team also – Tom, Becky, Jack, Chris, Tonia, Sarah, Alicia and Dan.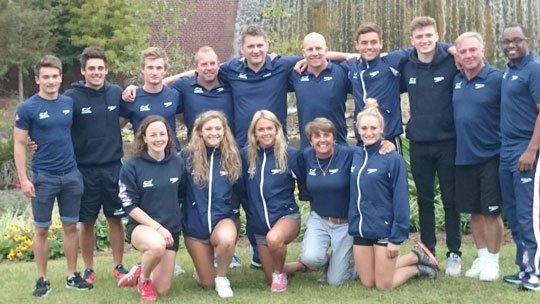 First we were in Miami/Fort Lauderdale where we stayed for the first few days, this was to ease us in to training and get over the jet lag. We were training at the "Swimming and Diving Hall of Fame" pool, Fort Lauderdale. It's a fairly old pool but is still a great training facility and is set in a great location – in the middle of a marina so the pool is surrounded by yachts which is pretty cool and you can see the beach and the sea from the 10m board.
They say Florida is the sunshine State well this wasn't  true while we were there. We had some pretty cloudy days but at least it never rained and it was always warm.
I think one of the highlights of my stay in Miami (besides the training of course!) was the team trip to see the Miami Hurricanes American football game which was arranged by Randy Ableman and the American divers.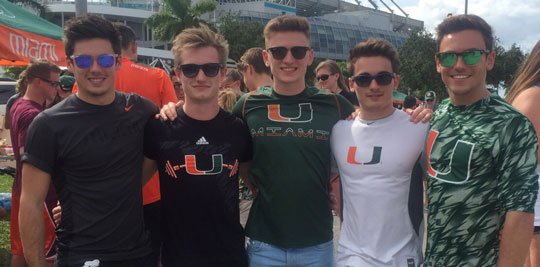 One of the best bits was experiencing the "Tailgating" – this is the American pre-match event, which took place on the massive grass car parks before the game, where people set up barbecues, ate food, listed to music, played games; a really great fun atmosphere and we even challenged the American team to play football.
We then left Fort Lauderdale and flew to Tallahassee the capital of Florida for a more intense training camp. We would be training at FSU (Florida State University) Morcom Aquatic Centre – a $10.5 million facility; in America most of the aquatics facilities seem to be part of University's unlike over here in the UK.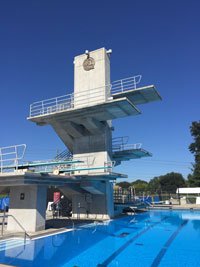 It was a great outdoor pool with an outdoor dry gym and their (indoor) on campus weights gym was fantastic.  Also we were more fortunate with the weather much sun and blue skies. Training over the next several days was more rigorous; two practice sessions per day plus weights and only one day off while we were training with the FSU team.
The main focus of the camp for me was to train outdoors and develop my outdoor awareness. Obviously training outdoors has many challenges – inconsistent weather/atmosphere/wind and also it can be bright sunshine and then cloudy which can make "spotting" your entry a challenge.
Also I experienced my first ever night training!! This was definitely a new challenge it was so weird diving off 10m in an open air pool at night, yes it was floodlit but still challenging and difficult to "spot", but a late evening comp could be a possibility in Rio.
Even though training we had was hard and full on, we did get one day off and Sarah came up with idea of going to the Wakulla Springs State Park. So we spent a full day there it was huge fun from swimming and messing in the lake to seeing  crocodiles and manatees and it was brilliant sunshine all day.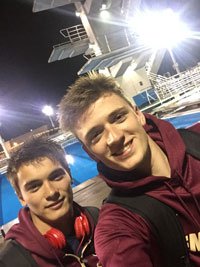 We also got to celebrate three birthdays out in Florida: - Sarah, Alicia and Dan's. Oh and I must tell you the FSU divers took us all to a Haunted House it was one of the scariest things we'd ever been to, we all came out sweating because of all the shocks and hardly able to talk because of all the screaming we had done!
It was a long camp, hard but full of diving related experiences which I'll build on. It was also great fun and as a team we shared some great memories.