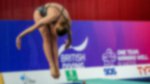 British Diving Championships 2022
#BDC2022
27 May 2022 — 29 May 2022
In 2022, our biggest domestic diving competition, the British Diving Championships, will be taking place at the Ponds Forge International Sports Centre on 27th-29th May.
Don't miss out on your chance to see the best of British Diving in action on 27th-29th May in Sheffield, at the 2022 British Diving Championships. (Spectator tickets will go on sale from Monday 23rd May at 10am!)
This is the biggest domestic competition for divers up and down the country, playing a key role in the team selections for this year's World Aquatics Championships in Budapest and European Championships in Rome.
Athletes can submit their entries to compete at the event here.
Athletes! Make sure you get your entries in early to guarantee your chance to dive at the British Diving Championships 2022. 
Click here to access the entry page.
The event schedule, conditions and entry pack are published under the Coaches tab of this page. 

Details of Coaches Passes for all 2022 events will be listed here once available.

Please make sure you have ordered and printed your coaches pass ahead of the event.
Upcoming events
Get your tickets
Sale starting Monday 23rd May at 10am! Secure your spot to witness the best of Britain's Divers in action across three days of competition at Ponds Forge International Sports Centre, Sheffield
Buy now