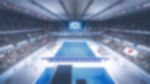 Tokyo 2020 Olympics
#Tokyo2020
23 Jul 2021 — 8 Aug 2021
The Olympic Games is a quadrennial international multi-sport event celebrated as a global sports festival by people all over the world.
Postponed due to the global COVID-19 pandemic, Tokyo 2020 will feature 339 events across 33 sports including aquatics disciplines of swimming, diving, artistic swimming, marathon and water polo.
Current reigning British Olympic champions include Adam Peaty (Men's 100m Breaststroke) and the partnership of Jack Laugher and Chris Mears (Men's 3 m synchronized springboard).
Coaches nominated for roles will be published in our news feeds.