Lois Toulson and Andrea Spendolini-Sirieix put in a title-winning display on their maiden platform synchro outing together, with Jordan Houlden also diving to a stunning springboard silver.
The penultimate day of diving saw a further two medals added to Great Britain's growing tally from the diving pool, while the inaugural European high diving contest reached its conclusion.
Toulson and Spendolini-Sirieix had already made separate trips to the top of the podium in Rome ahead of Saturday's action, and in capturing the Women's 10m Synchro title they capped off their European Championships in style.
Though having never previously competed together, the quality both possess as versatile individual and synchro platform divers was evident as the duo opened with strong marks across the opening two required dives.
In the third round the pair took the lead with a pleasing Forward 3 ½ Somersaults Pike (107B), before subsequently backing that up with solid Inward 3 ½ Somersaults Tuck (407C) to put the title shot firmly in their own hands.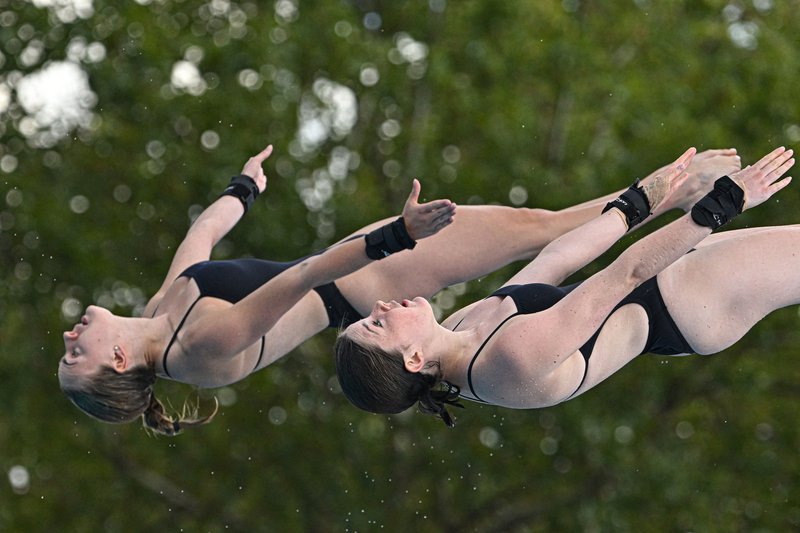 There was a sense of déjà vu to the respective prior Rome 2022 successes of Lois and Andrea as they climbed the stairs in the final round to prepare for a Back 2 1/2 Somersaults 1 1/2 Twists Pike (5253B). Under the pressure the dive was once again delivered with poise, earning 72.96 points to take their total to a gold medal tally of 303.60.
Reflecting on the performance, Lois Toulson said:
"For me it's been a bit of a rollercoaster season with some high's and some lows – the high's definitely outshine the negatives and I'm definitely pleased to be finishing here on a gold with Andrea.
"We finish on a twist dive – I think it's both one of our favourites and when we were going up the stairs we knew it needed to be a good one, but we were like this is the last dive of the season for us so just go for it and we both managed to do a good dive."
Andrea Spendolini-Sirieix adding:
"I definitely think since Tokyo I've learnt how to deal with pressure and have fun in competition most importantly. Today it was so much fun, we had fun with our coaches and fun in training. With that being the first time we'd done this together on 10m, to be able to pull it out the bag in a competition like that just has no words really."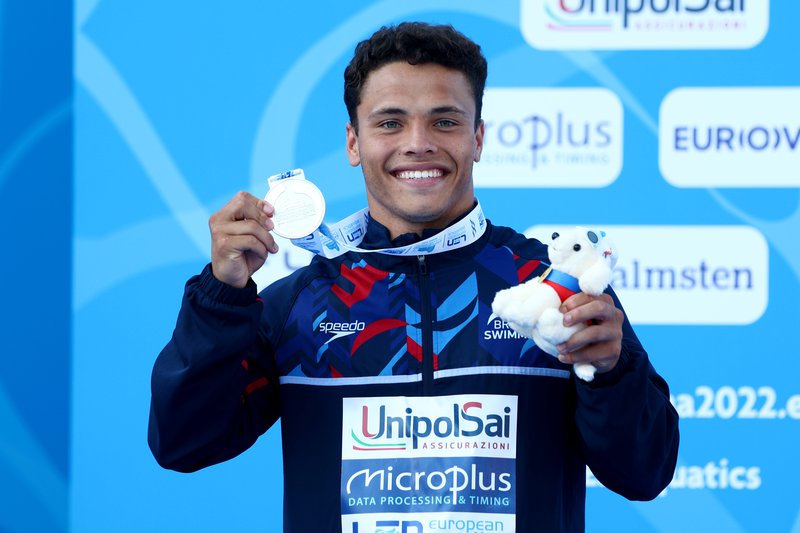 The Men's 3m Springboard final shortly followed with Jordan Houlden and Jack Laugher going toe-to-toe with a competitive European field.
The early standings saw Laugher take the lead after his second round Reverse 3 1/2 Somersaults Tuck (307C) scored 84.00 points. It was all change at the halfway stage however as Houlden produced a matching 84.00 307C effort of his own to move top with Laugher losing ground after a dropped dive.
Back to back eighty-plus point dives from the Italian Marsaglia saw Houlden pushed into the silver medal spot. The Sheffield Diving club man did well to maintain his nerve to the finish, holding off a late charge from Tocci (ITA) with a good save on his closing Forward 4 1/2 Somersaults Tuck (109C) to finish second on 428.55 and earn his first individual European medal.
"Yeah it's incredible, a first European individual medal so this feel very special to me." said Jordan
"Overwhelming to say that I've done it by myself, not to take any credit away from me and Anthony [Harding in 2019], but to do it by myself is definitely an achievement for me. This has been my best year so far, I've produced my best performances this season as well so for me it's been an incredible and definitely a good step in the right direction."
When questioned on at what point he felt a medal was in sight, Houlden responded:
"It was the last dive, the nerves definitely got to me on the last dive and I went a little over the end which caused me not to swing my arms but I got it on my head, did what I needed to do and came away thankfully with the silver."
Meanwhile Jack Laugher's further errors in the latter rounds saw him drop to fifth overall, with focus now turning to Sunday's 3m Synchro alongside Anthony Harding.
The first ever European Championships men's high diving competition came to its conclusion with the final two rounds taking place early Saturday evening at the Foro Italico.
Aidan Heslop entered concluding stage of the three day contest second in the standings thanks to a a high scoring 140.40 point Back 3 Somersaults 4 Twists (5268D) effort in round two. Though dropping back in the standings after his third dive failed to match the marks of his rival, with the highest degree of difficult dive possible lined up for his finale from the 27m high platform the competition remained wide open.
Unfortunately Heslop's Forward 4 Somersaults 3 1/2 Twists Pike (5187B) didn't provide the show stopping ending intended and he had to settle for sixth place in the rankings.
Fellow British athlete Owen Weymouth just missed out on the top ten. Summarising his experience the formerly Plymouth based world championships contender and High Diving Institute founder said:
"It really has been a fantastic competition, to be recognised at a continental championships is something we didn't think that we'd have anytime soon so to be here in Rome competing at a European's is amazing and hopefully we can come back in the future and maybe onwards and upwards towards the Olympics.
"My personal diving started really good in the first two days I was up in there in eighth. Unfortunately today I tried a little bit too hard in my opinion as both of my dives washed over so some lower scores and I dropped to eleventh which was disappointing for me.
"It was really enjoyable here with a big crowd generating an atmosphere and it's really cool to see the first ever medallists."
Full results from the diving at LEN European Aquatics Championships can be found here, with full details of BBC live streaming of scheduled events available here.