Andrea Spendolini-Sirieix reclaimed her Women's Platform British title as Ross Haslam took 1m individual gold before adding the 3m Synchro title with James Heatly among the exhilarating battle for medals on day three of the British Diving Championships.

Dive London athlete, Spendolini-Sirieix led after every round, through both the preliminary and the final stages, as she continued her fine form in front of a passionate crowd at Ponds Forge.

With a close contest up until the halfway point, it was the third round where the European champion showed her prowess – landing a Forward 3 ½ Somersaults Pike (107B) for a massive score of 81.00 points and opening up a significant gap; one which she held through the final sets of dives to take victory with a total score of 344.20.
The triumph adds to her platform title at the British National Diving Cup back in February – completing the domestic double ahead of a summer that includes the European Games and World Aquatics Championships.
Speaking on her achievement, Spendolini-Sirieix reflected on what is currently a busy period for her, as well as giving some insight into how she deals with the pressure.
"That event went as good as it could've done with the energy I have – obviously the end was terrible for me but I'm happy to have got down some dives. I used it as training today, I've not trained for the last week as I'm in the middle of my A-Levels, exams and everything so it has been nonstop since coming back from Canada and you could see I was tired but I gave it my all.
"I pray a lot with my family and friends, and I just try to remind myself not to do everything all at once – which is quite hard when you have high expectations of yourself. I'm a human being first and foremost so it's just about finding rest in between the revision, training and competing and I'm still figuring that balance out now."
"Yeah I'm really happy with that dive (Forward 3 ½ Somersaults Pike), it's one that I used to struggle a lot with in competition so to get it twice in prelim and in final is something that I'm really proud of", she said of her highest-scoring dive.
The 18 year-old was never fully nailed on for the win, thanks to pressure from her platform synchro partner Lois Toulson who ran her all the way – taking the silver medal herself in the process.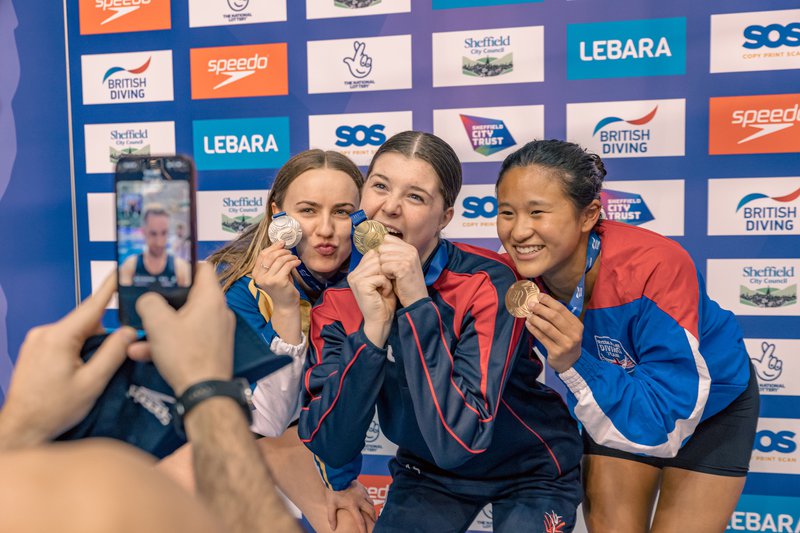 Toulson's consistency was what proved fruitful for the City of Leeds Diving Club athlete, with all of her individual dives scoring within five points of each other – her opening Forward 3 ½ Somersaults Pike (107B) also being her highest scoring dive, seeing her take 67.50 points before finishing on 328.70.
Crystal Palace Diving Club's Eden Cheng once again returned to the Women's Platform British podium with a performance worthy of the bronze medal – accompanied by a number of memorable dives across both stages of the event.
Her opening Forward 3 ½ Somersaults Pike (107B) was also her highest scoring dive of the event (70.50), before she closed her account with a 62.40-scoring Back 2 ½ Somersaults 1 ½ Twists Pike (5253B) to secure her the bronze medal, with a total score of 301.05.
City of Sheffield Diving Club's Ross Haslam took his first British title in five years with a series of 70 and even 80-plus scores to fend off fierce opposition in what was an outstanding Men's 1m Springboard final at Ponds Forge.
Haslam was in and amongst the leaders throughout the first half of the event, but it was on the fourth round where he came into his own - scoring a massive 82.50 points on his Forward 3 1/2 Somersaults Pike (107B) to make himself the clear favourite for the title.
He never looked back from there, putting in subsequent 73.60 and 81.60 scores in the final two respective rounds to confirm his victory with a total score of 426.45.
Speaking on his performance, Haslam was happy with the gold medal, whilst complimenting the quality of his competitors as selection looms for this summer's competitions.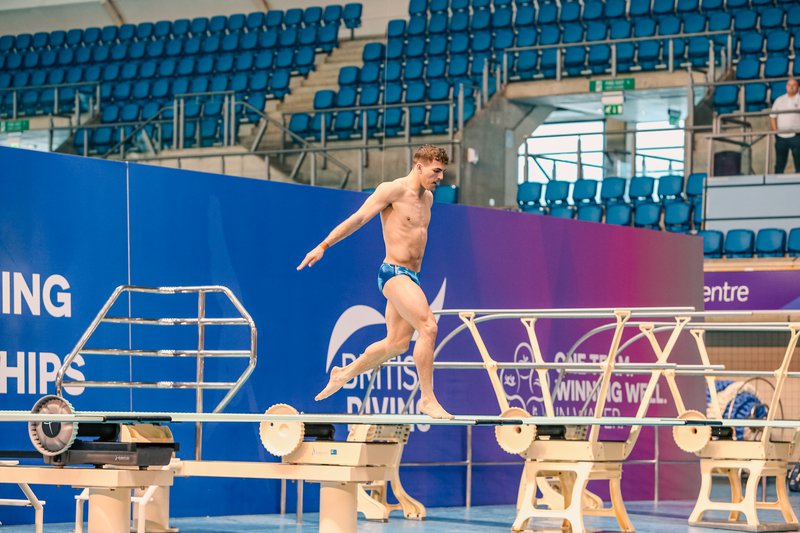 "For me, the 1m is one of those that doesn't have that much pressure in terms of selection, but for me I know I can do it well, so that's quite a lot of pressure to put on myself. I'm really pleased that I was able to do some of the bigger dives and to score highly on the bigger ones in my list. Before, I've done those bigger dives and they've been the weaker ones, whereas today they came in full force for me so I'm really thankful for that.

"I think the talent in men's springboard at the moment is scarily good. The top six to eight divers could all go and do really well internationally, so the challenge is always trying to qualify for the international events, rather than doing well in the event itself. Once you're on the international stage, I think us British divers now have the confidence to where we know we can make an impression – the hardest thing is just making it to that point."
With Haslam's last British title coming in 2018, he reflected on what has been a few years ridden with disruption, as well as shedding some light on what's yet to come for the 25 year-old.
"The last couple of years have been really rough at times. It got to a point where I was struggling physically and psychologically, which takes a toll on you as well. It's really hard to dive happy when you're in a lot of pain and you're not diving as well as you want to be. I definitely don't want to stop here – I'm in it for the long haul.
"People keep asking me if I'm going to finish after the next Olympics, but my plan is to keep going for as long as I can and if at some point my body or my mind says 'I'm done' then we'll finish at that point, but at the moment I feel like I've got so much more to give."
Edinburgh Diving Club's James Heatly secured the silver medal thanks to a 73.10-scoring Inward 2 1/2 Somersaults Pike (405B) on the final round - his 369.85 points putting him just ahead of Italy's Francesco Porco (Guest) and Sweden's Elias Petersen (Guest), with the pair taking third and fourth respectively.
Finishing in fifth place, taking the British bronze medal in the process, was City of Sheffield Diving Club's Jordan Houlden. The Men's 3m Springboard champion from Friday recovered well from a dip in the fourth round to finish on a respectable 352.60 points.
Haslam and Heatly then returned for the Men's 3m Synchro final – teaming up as a pair – to take the British title amidst a high-quality field of international entrants.
Haslam, fresh from his aforementioned 1m Springboard win, put in some solid dives with Heatly – including a sensational Forward 4 ½ Somersaults Tuck (109C) in the final round to give them the highest individual score of the event (90.06), moving them from third to second in the overall standings in the process.
Their overall score of 370.17 ultimately saw them finish behind Italy's Matteo Santoro and Stefano Belotti (Guests) and ahead of Jamaica's Yona Knight-Wisdom and Yohan Eskrick-Parkinson (Guests), who finished in first and third respectively.
Connor Lano and Todd Geggus, both of Southend Diving, were the other British entrants in the event, taking the silver medal and overall fifth place thanks to a solid set of dives – their Forward 3 ½ Somersaults Pike (107B) in the third round earning them a highest individual score of 53.94.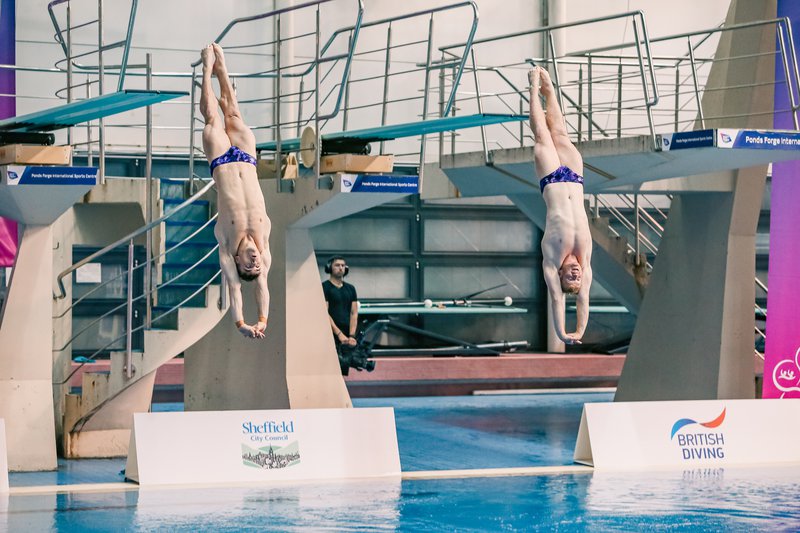 Giving their closing thoughts on their title-winning performance, Heatly opened the remarks with his opinion on their performance.
"I think we're pretty happy with that, I mean it's been a really long day with the 1m this morning and 3m yesterday so I think the fact that we've made it to the end of the day and we've still put in a pretty solid performance, a few things to fix up but the score together is still creeping up"
Haslam also had some thoughts on a night where both athletes completed 18 competition dives over the course of the day.
"I think both of us tried to stay in the zone from the 1m final to the 3m synchro. I don't think we really sort of had time to come out and go back into it so we tried to stay on that level of high which I won't lie is tough, I definitely feel like I've done a lot of diving today and my body is a little bit sore, and I think we could both feel a little bit of shakiness coming in towards the end but we managed to get through it and pull out our best dive in the last round so really happy with that."
Heatly rounded off their comments by touching on their Forward 4 ½ Somersaults Tuck, which earned them a score of 90.
"It was definitely our best dive and I believe it's the highest we've scored together so far so I think it's just reassuring, I know looking at the whole comp not all six were amazing but the fact we know we're capable of doing that score on that dive and others so we'll keep working towards improving that."
For full results and livestream action from #BDC23, visit our live updates page throughout the competition.