Two British titles in as many hours for Yasmin Harper and an outstanding performance from Jordan Houlden made for a scintillating afternoon of springboard action on day two of the British Diving Championships 2023. 

Harper followed Women's 1m Springboard success - her third on the bounce at this event - by partnering Scarlett Mew Jensen to the Women's 3m Synchro title, either side of success for Houlden in a nip-and-tuck Men's 3m Springboard showpiece. 
As the filling in the day two British Championships sandwich, Houlden ensured a stacked Men's 3m Springboard delivered the entertainment levels promised as he claimed the British title in thrilling circumstances as he eyes a second successive World Championship outing.
After a high-quality prelims, Houlden - coached by City of Sheffield's Tom Owens - backed up his top seed billing by delivering a brilliant list of dives, opening with a trio of consistent efforts of 3.4 or 3.5 degree of difficulty (DD) to sit narrowly second behind Dan Goodfellow (City of Leeds) at the halfway stage. 
Round four brought with it Jordan's hardest dive - a 3.9 DD Forward 2 1/2 Somersaults 3 Twists Pike (5156B) that he executed stunningly to gain 93.60 points and move into top spot. That position would not be relinquished, a round-five score of 81.00 for his Back 3 1/2 Somersaults Tuck (207C) ensuring Goodfellow could not catch him after a slight drop in round six. Houlden's total of 488.75 was his highest ever in this event.
That being said, Dan had served up some stunning dives of his own during the middle rounds to push Jordan all the way, the Olympic medallist receiving straight 8s and 8.5s for his third-round Reverse 3 1/2 Somersaults Tuck (307C), worth 89.25 points. His overall tally of 470.45 ensured a comfortable silver spot on the podium, ahead of Ross Haslam (City of Sheffield). 
Back and in form after a slew of injury problems that he has battled dedicatedly to overcome, Ross looked in contention right up to the final dive following a 91.20-worthy Forward 4 1/2 Somersaults Tuck (109C) in round four that drew hollers of support from the home crowd.
A sixth-round drop saw him fall slightly away from a shout at the top step, but his overall score of 444.35 secured him bronze and completed a world-class podium, even in spite of the absence of Jack Laugher - Olympic and world medallist in this event - who is not competing as he fully recovers from a slight knee problem.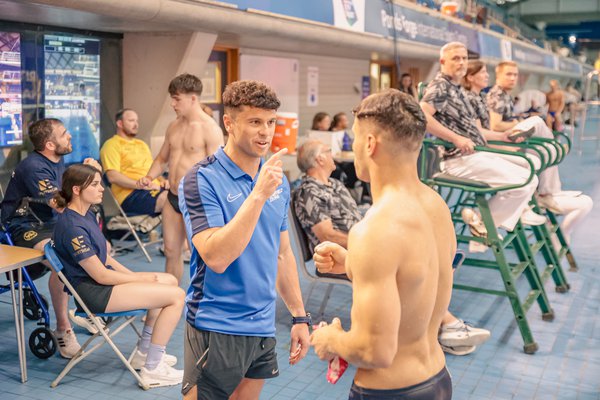 Finishing just off the podium was Matthew Dixon, the Dive London Aquatics man continuing his step into the world of springboard diving after years going from the 10m platform - and this was a showing to be pleased with, four 70-point-plus scores seeing him fourth on 434.00, with Olympian James Heatly (Edinburgh Diving Club) rounding out the top five on 430.30.
Reflecting on his 12 dives to gold across Friday, Jordan said: "It was very hard, even the prelims, both prelims and finals, it was such a strong competition. For there to be a prelim score of 460, that's saying something!
"And then to go better than that with close to 490 in the final, it's improvements every day. From what it used to be, a good prelim score was about 420ish, to where it is now, it's getting harder and harder each year. Everyone is driving each other on, which is great.
"It gets to that point where you literally cannot drop a dive, you just have to focus 100 per cent of the time, 120 per cent of the time, put all the work in in training, even on the hard days, and make sure that it sticks and counts."
Yasmin Harper became the first individual British champion of the week as she made it three Women's 1m Springboard titles in a row at the British Diving Championships. 
After three dives, it was City of Sheffield's Holly May Prasanto who led the British cohort, her tally of 169.40 at that stage seeing her less than half-a-point behind overall leader Emilia Nilsson Garip of Sweden. 
A brilliant fourth-round Reverse 1 1/2 Somersaults 1 1/2 Twists Free (5333D) by defending champion Yasmin Harper was a crucial moving moment, as the 58.50 points tally saw her leapfrog teammate Holly into second overall and leading the way for the British title. 
Prasanto delivered a solid closer to put the pressure on Harper - but just as at last year's Nationals, the European 3m medallist showed good composure, a clutch round-five Forward 2 1/2 Somersaults Pike (105B) ensuring she finished on 269.30 points and defended her British gold.
It was British silver for Prasanto on 264.65, with Grace Reid rounding out the national podium on 252.90. Double Olympian Reid barely erred from a consistent level of scoring throughout as she builds towards the 3m event on Sunday. 
The overall winner was Sweden's Emilia Nilsson Garip, on an impressive score of 285.00.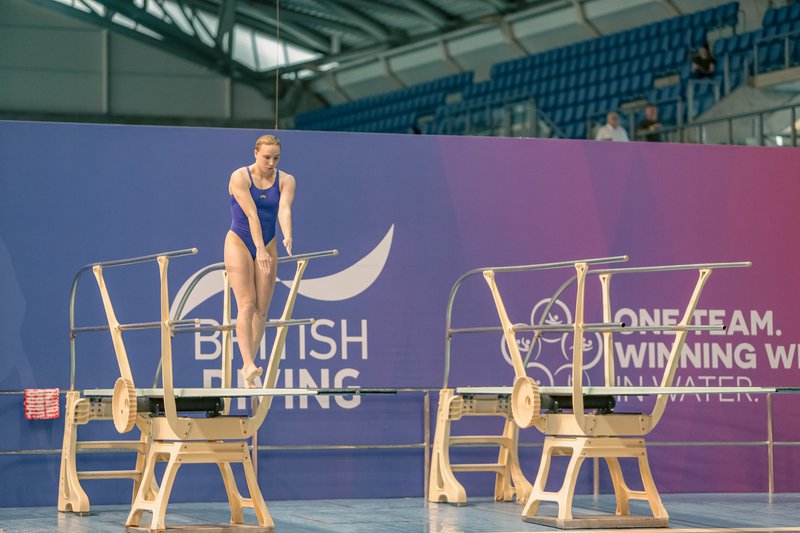 "Yeah I was nervous, but when you've got someone in front of you who's diving really well, it's that little bit of extra pressure to pull out what you need to in the final," said Harper on her individual succes. 
"So yeah, I'm super, super happy to retain my title from last year on a good start to the weekend. The 1m is a good one to start on, it's a bit of a warm up but it's also really challenging, you've got to be really accurate because the girls are turning out upright dives from the 1m, so it's a good way to start the weekend."
Harper just had time for a break during the Men's 3m Springboard before she was back in action, joining Scarlett Mew Jensen on the way to the Women's 3m Synchro title.
The pair's first outing as a synchro duo came as recently as the World Aquatics World Cup event in Xi'an, China in April, when they excelled to clinch a silver medal with a score of 292.60.
They could not quite replicate that consistency of form in Sheffield, but two solid requireds to open, followed by a well-executed and synchronised Forward 2 1/2 Somersaults 1 Twist Pike (5152B) in round three - scoring them 63.90 - meant they had a strangle hold on the gold before a slight misstep in round four.
Harper (Sheffield) and Mew Jensen (Dive London Aquatics) finished their list on 263.05 after their closing Inward 2 1/2 Somersaults Pike (405B) scored 56.70. Behind them, Callie Eaglestone (City of Leeds) and Maya Kutty (Southampton Diving Academy) took home British Women's 3m Synchro silver on 247.38, with Evie Smith (Dive London) and Tilly Brown (Southampton Diving Academy) completing the podium placings on 214.50. 
Mew Jensen said: "We're an extremely new pairing, to the point that we've barely trained, so to score around 260 is pretty decent. A little bit shaky, but yeah we've not really trained together so we're happy with the outcome and to take away the British title.
"I didn't feel like there was a crazy amount of pressure going into the World Cup events because again, we hadn't trained much and I was only doing two events. It's about going out there and seeing what we can do, but we're competing against the best in the world which is a real privilege and a chance to get a baseline of where we're at. It's really nice to compete solidly [after injury] and have been for a while now which is great. The body feels good, and competing today was the best I've felt actually, powerful and accurately strong so yeah, I'm excited for the weekend and the rest if the year, we'll see where it takes us."
And as for Harper's busy Friday schedule? 
"So I did the 1m prelims this morning and had a bit of a gap, and we literally trained our synchro right before the 1m finals and then I was straight in. So yeah, it's challenging, but it all helps you to get better - as well as 15 minutes quick shut-eye to get me ready for the synchro!" said Yasmin. 
For full results and livestream action from #BDC23, visit our live updates page throughout the competition.