Maisie Bond secured a stunning platform gold as Britain's young divers secured six more medals over the final three days of competition at the European Junior Championships in Bucharest. 
A bronze double on the last day of competition - courtesy of Evie Smith in the Girls A 3m Springboard and Robbie Lee in the Boys A Platform final - meant British Diving closed with 13 medals across the meet, the highest overall tally out of every nation. 
The standout display during the second half of the week came from City of Sheffield diver Bond, who soared to an emphatic victory in the Girls B Platform final. Maisie looked in good form throughout, before an outstanding closing dive ensured a sizeable margin of victory. All 8.5s and nines from the judges for her Reverse 2 1/2 Somersaults Tuck (307C) earned her 71.20 points towards her overall tally of 334.95. 
In the Boys B 3m Springboard showpiece, Todd Geggus (Southend Diving) came away with an impressive silver medal as he pushed for gold the whole way. A consistent list of dives across his competition saw Todd finish with 445.45 points to his name, fewer than three marks off the top step of the podium. 
There were also a quartet of bronzes over the second half of the week, including two for Evie Smith of Crystal Palace Diving Club. Smith combined with Tilly Brown (Southampton Diving Academy) to claim third place in the Girls A/B 3m Synchro, before going from the same height to secure bronze in the Girls A 3m Springboard contest.
In that one, Evie held off Sweden's Elna Widerstroem with a composed final dive to finish on 404.85 points and make sure of that coveted spot on the podium. Tilly, meanwhile, placed fourth in the Girls A 1m Springboard earlier in the meet, with Maya Kutty (Southampton Diving Academy) sixth.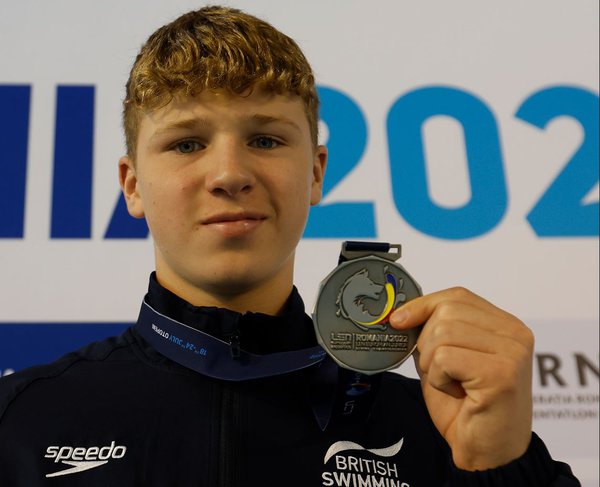 Leon Baker - another of the Southampton cohort - continued his successful European Juniors campaign with a bronze in the Boys A 3m Springboard final, thanks in part to a massive fourth dive. His 3.5 degree of difficulty Reverse 3 1/2 Somersaults Tuck (307C) scored 82.25 points, the single highest-scoring dive of the entire competition. It contributed to a final tally of 532.10 and a medal. Hugo Thomas (Dive London) came sixth.
The final event of the week saw Robbie Lee, also of Southampton Diving Academy, close out the meet with bronze in the Boys A Platform. A 70.40 score for his third-round Inward 3 1/2 Somersaults Tuck (407C) was his best dive, on his way to a final score of 480.30. 
Click here to catch up on the report from the first half of the competition, which included golds for Jordan Fisher-Eames and the Boys A/B Platform Synchro pair of Lee and Euan McCabe. 
Full results from the European Junior Championships are available here.
Images courtesy of LEN/Laszlo Balogh/Total-Waterpolo