The FINA Diving World Series returned to the London Aquatics Centre for the first time in four years in 2019 - and the home competitors did not disappoint. 
By the end of the three-day series finale, British divers had amassed six medals - including three golds - in front of a raucous crowd. 
With this weekend's event cancelled due to the ongoing coronavirus pandemic, we are taking a look back at what the likes of Tom Daley, Jack Laugher and Grace Reid were saying after a successful London leg of the Diving World Series last year...
DAY ONE 
The 10m platform brought double success for British pairings on the opening day of competition. 
Lois Toulson and Eden Cheng - in her first year on the Diving World Series - provided the first celebratory moment for the home supporters, as they clinched bronze in the Women's 10m Synchro.
Better was yet to come, courtesy of Tom Daley and Matty Lee, as the Dive London Aquatics duo dovetailed in stunning fashion to break the British record and secure Men's 10m Synchro gold. 
It was only their sixth event as a partnership, yet they looked an experienced pairing by taking the lead into the final round of dives, before producing a breathtaking Forward 4 1/2 Somersaults Tuck (109C) to earn a huge score of 104.34 and finish with a tally of 477.90, ahead of China in second and Russia in third.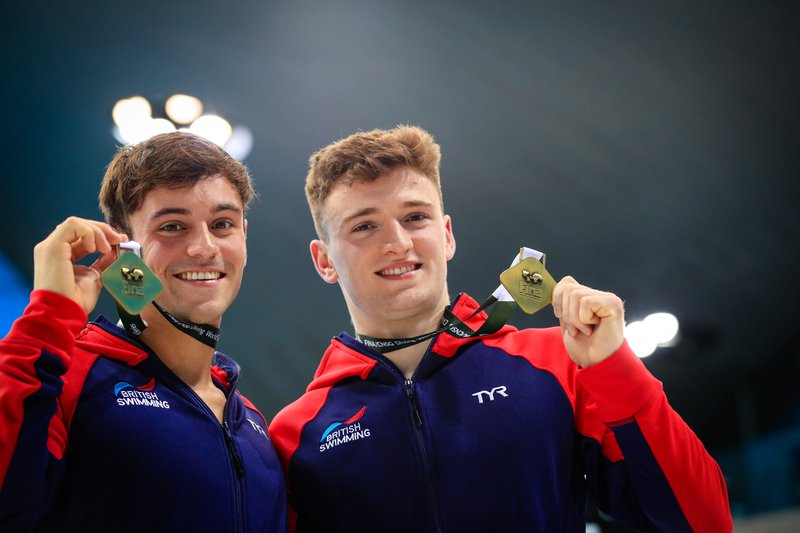 Daley was delighted with the gold-medal performance - although it was not a surprise to him.
"We knew that we were capable of doing that as we've been doing it in training, but this is the first time everything has come together in one diving list," he said. 
"There's still more to get out of the list, but we're pretty happy with that! The home crowd support was just fantastic and being able to compete in front of family and friends and beat the Chinese gives you a lot of confidence, especially heading into the World Championships." 
And how did Lee feel about his maiden Diving World Series title?
"I've never interacted with the crowd like that before, turning around with that much confidence and thinking 'we've smashed it' and punching my fist in the air," he said.
"I'm speechless. In the junior world, I established myself as quite a successful athlete - but this is my first senior international gold medal. I'm over the moon. We've still got a few more competitions to go here, but it's a great start." 
The noise and support of the London Aquatics Centre crowd were inspiration to Toulson and Cheng, too, as they revealed after taking to the podium to receive their bronze medals, having amassed a score of 284.76 in the Women's 10m Synchro.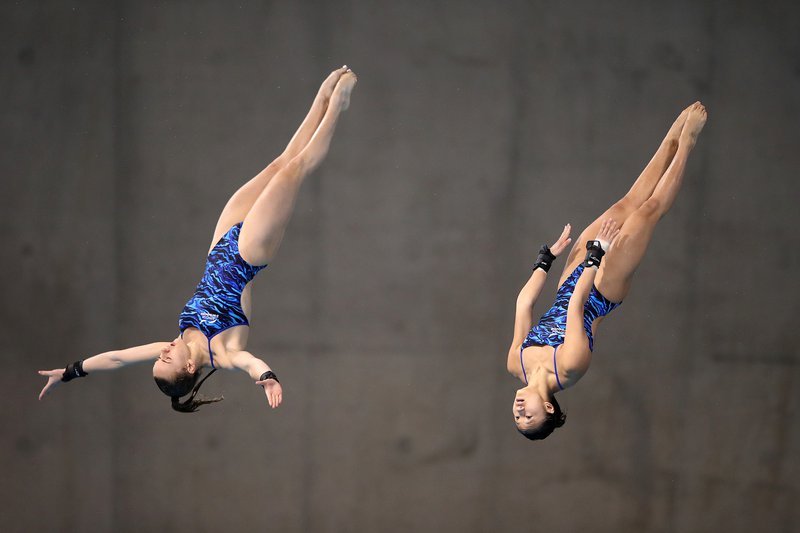 "There was a massive turnout - we weren't expecting that, and it's definitely the biggest crowd out of all of the World Series we've been, to" said City of Leeds athlete Touson.
"With it being a home crowd, they were cheering extra loud for us, so we just made the most of it." 
The result was testament to how the young pair had passed a difficult international test - one which was not the only test of the week for Cheng.
"This means a lot," added the Crystal Palace competitor. "I had a GCSE yesterday, so the first time we've trained together this week was this morning!" 
The opening day of competition also saw Grace Reid and Kat Torrance place fourth in the Women's 3m Synchro, while Jack Laugher and Dan Goodfellow finished fifth in the men's equivalent. 
DAY TWO 
Laugher and Goodfellow may have missed out on the podium together on the Friday - but day two of 2019's Diving World Series finale in London saw the British pair dominating the medals in the Men's 3m Springboard event.
In some style, too, as Goodfellow broke the 500-point barrier to take silver and double Olympic medallist Laugher pushed the world record all the way in powering to gold. 
He led from the front to captivate the home crowd, with a brilliant fifth dive - a Forward 4 1/2 Somersaults Tuck (109C) - scoring him 106.40 and putting him in position to claim the highest-ever overall score in the event. 
In the end, Laugher fell narrowly short of that mark - but an overall tally of 562.65 saw him take gold by 62.10 points, as well as securing him the overall series title.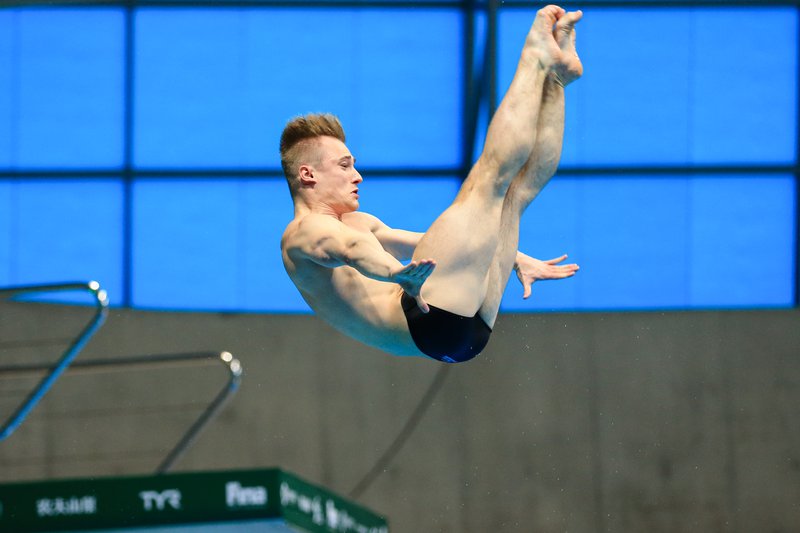 "I am over the moon with the first five dives. That is the highest score I have ever been on leading into my final dive, and if I had just put a back three-and-a-half in, I would have got a world record!" he said afterwards.
"That's how good the diving was this afternoon, and it's looking really good leading into the World Championships.
"It is really fantastic to get a one-two with Dan, and for him to get over 500 points is a real world-class performance. For him to do it in front of a home crowd is unbelievable. If we can do that together, there is no limit to what we can achieve."
Unsurprisingly, Laugher's City of Leeds clubmate and synchro partner Goodfellow was in equally high spirits after an incredible display of diving.
"I don't have the words right now. I was really disappointed by how the synchro went, so it's great to get my confidence back and dive well in front of a home crowd," he added.
"When you have the crowd behind you, you feel proud when you stand on the board and you know you have to do something good.
"That's my first 500 list, which is what my goal has been the whole season - so I'm really pleased." 
China's Zongyuan Wang took bronze. 
The day also provided close finishes for Robyn Birch in the Women's 10m Platform event, and then Lois Toulson and Noah Williams in the Mixed 10m Synchro competitions.
After placing fourth in the Women's 10m Platform on 327.90 points, Birch said: "I'm really happy with my performance. I went into it with nothing to lose and made my first World Series final. Every performance helps me to build my confidence and believe in myself more."
Toulson and Williams then followed that up by finishing one place off the podium in the Mixed 10m Synchro, scoring 311.76, less than five points off a bronze medal. 
DAY THREE
Tom Daley and Grace Reid combined to bring the curtain down on London's hosting of the 2019 Diving World Series finale in brilliant style, as they struck Mixed 3m Synchro gold. 
Daley had earlier taken the overall Men's 10m Platform crown after claiming bronze in that event. 
Of that result, he said: "I'm really happy with being the overall World Series champion - I'm always happy with a medal.
"I wish it was a different colour, but I missed my third-round dive and I can't expect to miss a dive that badly and still win. I knew I was still in the hunt for a medal, even though I was in last place after that round - I knew that if I stayed in my own zone, I would be able to come back." 
Hao Yang of China took gold, compatriot Junjie Lian won silver and Matty Lee finished sixth in the final.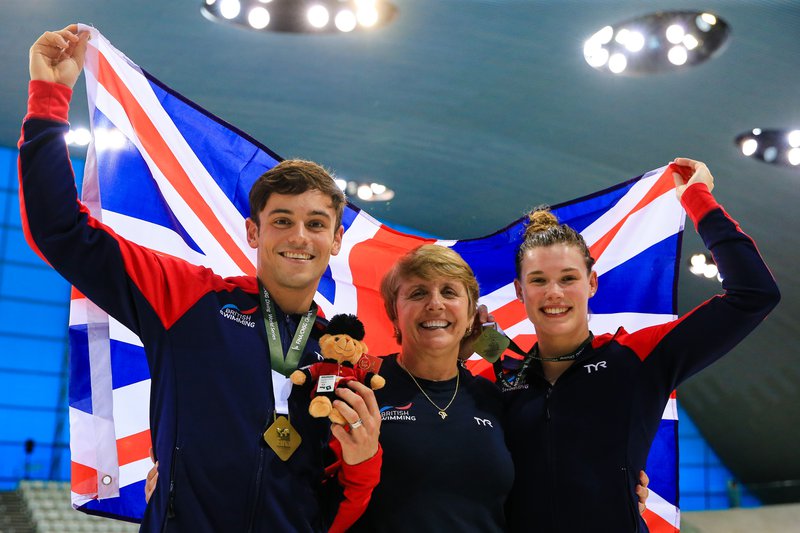 Daley would be back on the podium later in the day, but not before synchro partner Reid competed in the Women's 3m Springboard final.
Despite missing out on the podium by an agonising 0.15 points, finishing fourth, the Dive London Aquatics athlete set a new British record, tallying 344.25.
"It's unbelievable. I went into this afternoon knowing that it was going to be a really tough field," she said.
"As I did in the morning, I went dive by dive, and to walk away with a personal best is just massive."
And so on Reid and Daley went on to the series-ending Mixed 3m Synchro.
They trailed the Chinese pair of Xiaohu Tau and Yiwen Chen by a single point heading into their final dive, before pulling out a brilliant Front 3 1/2 Somersaults Pike (107B) to score 77.19 points and end with a grand total of 322.89 - enough for an inaugural gold medal in this event. 
"We've never ever won a gold in the mixed synchro - I'm lost for words, and I'm not usually lost for words!" said Daley afterwards, summing up their emotions in ending the series on such a high. 
Britain's final tally for the weekend was three golds, one silver and two bronzes - their best haul across the five legs of the 2019 series. 
Make sure to check British Swimming's social media channels across the weekend for some interactive diving content...