Britain's young divers have secured four medals across the first half of the World Junior Diving Championships in Montreal, with four days of competition still to come. 
Proceedings were opened at Montreal's Olympic Pool with a bronze in the team event, as the trio of Andrea Spendolini-Sirieix, Robbie Lee and Oscar Kane all put in a consistent set of dives to comfortably fit themselves on the final step of the podium on Sunday evening. 
That momentum continued where it left off as Monday began, with 15-year-old Maisie Bond - who spoke before the event about the valuable experience she can gain from this competition - taking a sensational silver medal in the Women's B Platform final in a strong field of 12 competitors. The City of Sheffield diver closed with all 8s and 8.5s for her Reverse 2 1/2 Somersaults Tuck (305C), ultimately closing in second on 318.60 points. Kane was also back in action on the same day, as he took fifth place in the Men's B 3m Final.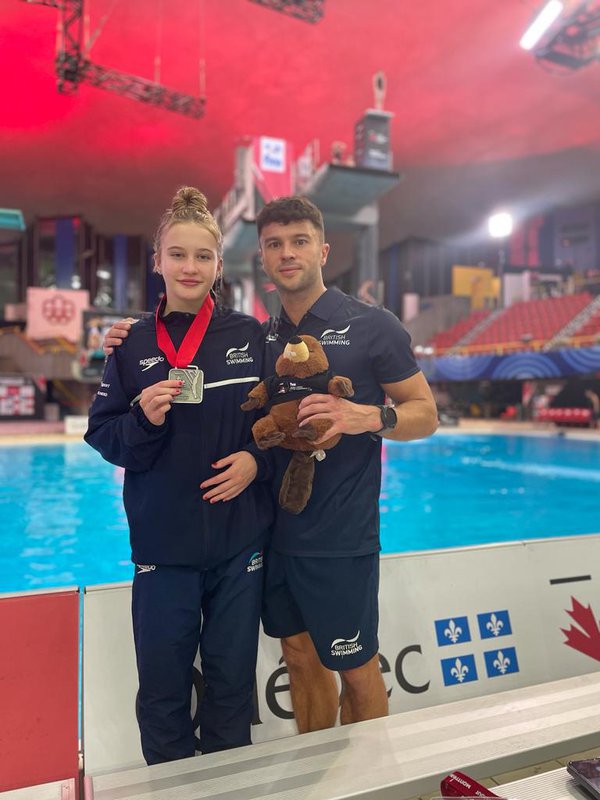 Tuesday brought a number of valuable experiences for the junior divers, with senior World Championship competitor Desharne Bent-Ashmeil kicking off her campaign with a sixth-place finish in the Women's A 3m Final, with Evie Smith in ninth, before Danny Mabbott and Leon Baker finished in 10th and 12th respectively in the Men's A 1m Final.
Wednesday night closed the first half of the competition, and it saw two more medals for the GB team, as Lee returned to the podium with Euan McCabe, the pair taking silver in the final of the Men's Mixed 10m Synchro – missing out on the gold medal by just over three points. They were consistent throughout, including nailing the second of their required dives for an eye-catching 52.80. The busy Kane was then back on the boards, as he and Todd Geggus took fourth and ninth respectively in the final of the Men's B 1m event.
The last medal of the competition so far for the British cohort came in similarly impressive style, as a showdown between GB and Canada ensued in the final of the Women's Mixed 3m Synchro event, with Bent-Ashmeil and her partner Amy Rollinson just missing out on the gold medal after a nip-and-tuck battle with the hosts.
There are still four days left in the competition, with more events to be done and medals to be won. Check out our preview of the event here, and keep an eye on FINA's event page and YouTube channels for more info.