Andrea Spendolini-Sirieix and Lois Toulson ensured two Team GB finishers in the top 10 of a classy Women's 10m Platform final as the pair's Tokyo 2020 campaigns drew to a close. 
In a high-quality finale that saw gold medallist Quan Hongchan of China break the world record, 16-year-old Spendolini-Sirieix marked the biggest occasion of her fledgling career with an impressive seventh-place finish, less than three months after claiming European bronze in the same event.
Toulson, in her second Olympics and first individual final at this level, finished strongly to place ninth, 13 years on from the last time that two Brits contested the Women's 10m Platform finale at Beijing 2008.
Both British divers took their places in the medal contest after solid semi-final performances earlier on Thursday. While Crystal Palace athlete Spendolini-Sirieix remained consistent throughout – varying closely between a tally of 57.40 and two 67.20 scores, for Inward 3 ½ Somersaults Tuck (307C) and Back 2 ½ Somersaults 1 ½ Twists Pike (5253B) efforts – Toulson of the City of Leeds Diving Club had to show impressive composure after an under-par second effort. She did just that, an eye-catching Inward 3 ½ Somersaults (407C) bringing her a vital 72.00 score and helping her successful final ambitions.
The final got underway with a couple of solid efforts, Toulson leading the British charge with a well-executed Forward 3 ½ Somersaults Pike (107B) that earned her a 63.00-point start to proceedings. Spendolini-Sirieix, meanwhile, tallied 58.90 for the same dive.
Spendolini-Sirieix and Toulson qualified through to the final eighth and ninth respectively, meaning they dived back-to-back in the showpiece. That meant 16-year-old Andrea had to show good control after watching her more experienced compatriot drop points on her second dive, a Reverse 2 ½ Somersaults Tuck (305C), seconds before her own Inward 3 ½ Somersaults Tuck (407C) picked up a tally of 60.80 points.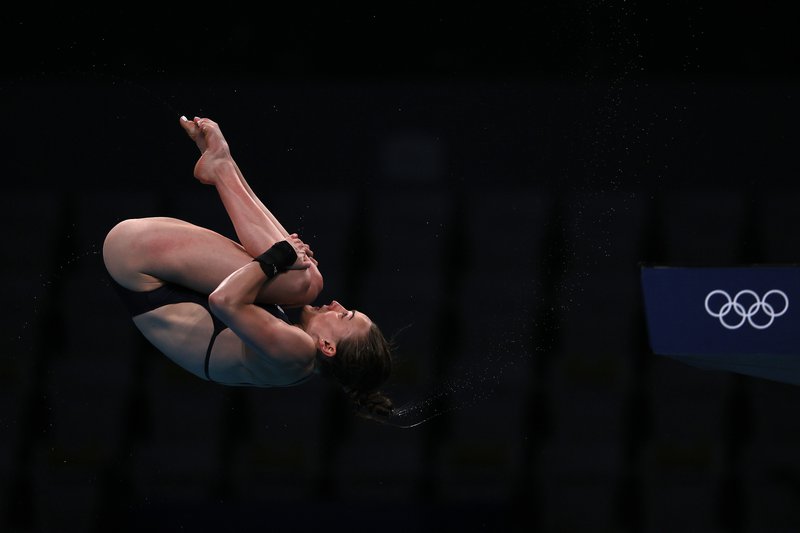 The roles were slightly reversed across the pair's efforts in round three and four respectively, Marc Holdsworth-trained Toulson pulling off an Armstand Back 2 Somersaults 1 ½ Twists Free (6243D) for 64.00 points in the earlier round before watching Spendolini-Sirieix struggle to match the consistency of her other dives, scoring 51.20.
Both closed out their Olympic campaigns in style, though, to provide further proof of their standing on the world stage, their closing dives – a Back 2 ½ Somersaults 1 ½ Twists Pike (5253B) – turning out to be their dives of the final. First up, Toulson lay down a well-executed attempt for 64.00 points, before Spendolini-Sirieix – a double European medallist earlier this year – caught the eye with fantastic technique and entry to earn 72.00 points.
It meant Spendolini-Sirieix – who is coached by Lin Chen – finished in seventh on 305.50, while Toulson's 289.60 was enough for ninth.
For the more inexperienced of this young and talented duo, the result was an exciting one that can help drive her on to the next Olympics at Paris 2024.
"I was just speaking to my family and I just started crying. I'm very, very proud of where I've come," said Spendolini-Sirieix.
"I was extremely nervous before the prelims, I thought my nerves would get the better of me and I wouldn't make it to the semi-final. But then I did, and after the semi-final, I got into the final, which is exactly what I wanted to do. That was my plan, and I've definitely exceeded my expectations.
"This definitely gives me confidence ahead of Paris. My grandparents live very close to Paris, so my whole family will be able to come, I'm very excited about that.
"The Olympics have been amazing. I've got an amazing team beside me, I've met so many new people, so many new friends. I definitely didn't know what to expect coming into the village, but the food is great, I've been sleeping great on the cardboard beds! I couldn't have asked for a better first Olympics."
Toulson, meanwhile, is more determined than ever to kick on heading into the new season after making her second Games appearance.   
"It wasn't the performance I wanted to finish on, but there's definitely some good stuff to take away from it. I've been very consistent over the three competitions, which is a good thing and that's something I've been working on. There are positives to take away, but I'm a little disappointed overall," said the City of Leeds athlete, a World Championship, European and Commonwealth medallist.
"I've definitely found it quite hard, not just physically either. It's 51 stairs going up to the 10m platform and I don't know how many 10m dives I must have done – but mentally as well, it's a really tough sport, I think some people underestimate how challenging it can be. I'll use it as experience for the future, there are better things to come.
"Obviously this past year-and-a-half has been challenging for everyone, but there has been a lot of things thrown my way that I've come through the other side of and I'm proud of that. I'm looking forward to the new season and the next three years, and then hopefully into Paris."