Evie Smith and Tilly Brown added to the British titles from the competition as the 2023 European Junior Diving Championships concluded in Rijeka, as the pair took the gold medal in the Girls A/B Synchro final.
In what was ultimately a commanding victory, they both put in consistent performances during their tenure on the boards that evening – going well through their required dives, before the final three on their list all having a 3.0 degree of difficulty.
It was on the third round where they put in their best dive of their list, and the best dive of the overall event, with a 64.80 score on their Inward 2 ½ Somersaults Pike (405B), before rounding off their performance with a 63.90 on their Forward 2 ½ Somersaults 1 Twist Pike (5152B) – taking the title by over 30 points with a total score of 268.80.
Speaking to LEN's Nick Hope following their victory, the pair were proud of their own performance.
"We're so proud and happy because we've trained so hard for this," said Smith.
Brown added; "It's good to show that consistency and that will definitely give us a bit more confidence."
The penultimate night of competition began with Oliver Heath and Oscar Kane taking second and fourth respectively in the Boys B 3m final in-front of the Croatian crowd. Never dipping below 58 points on any of his final four dives, Heath's Back 2 ½ Somersaults Tuck (205C) on the penultimate round of dives was enough to put him well on his way to the silver medal with a score of 60.20; an achievement which saw him well placed in the event on an overall score of 428.65.
Kane did well to recover from a drop on his penultimate dive to claim fourth place once the final round of dives had taken place, as his Reverse 2 ½ Somersaults Tuck (305C) gave him a massive score of 65.80 and saw him close his account on 417.55 points.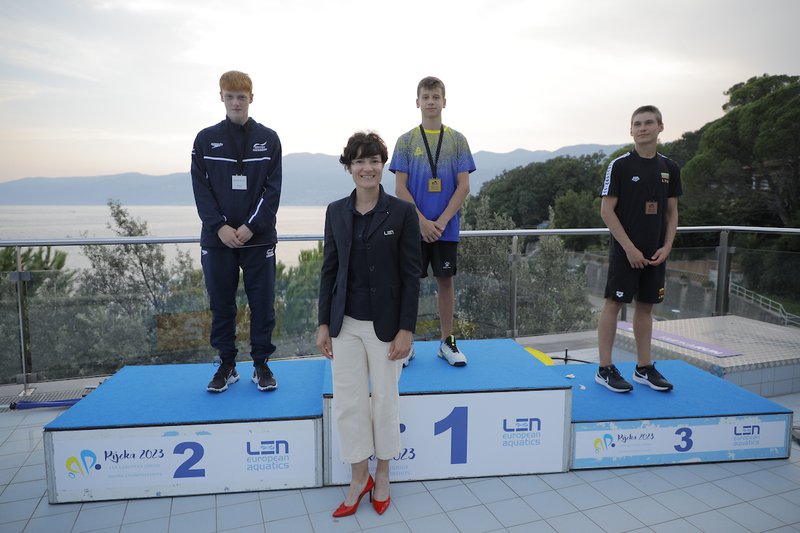 In what was the final event of the competition, Robbie Lee and Bryn James both went in the Boys A Platform final, and it was Lee who ran the leaders the closest before ultimately having to settle for the silver medal in the event.
Opening his account with an impressive 81.60 score on his Inward 3 ½ Somersaults Tuck (407C), he was in the driving seat for the title, before a drop on his third dive set him back. Recovering well with his highest individual score on the penultimate dive (a 83.30 on a Reverse 3 ½ Somersaults Tuck 307C), he got himself back into contention before finishing his list on an overall score of 541.50 – just 15 points away from the gold.
James also went well in the event; having a consistent set of dives right the way through the five rounds – never dropping below 60 points across his list as he took overall sixth place with a score of 479.25.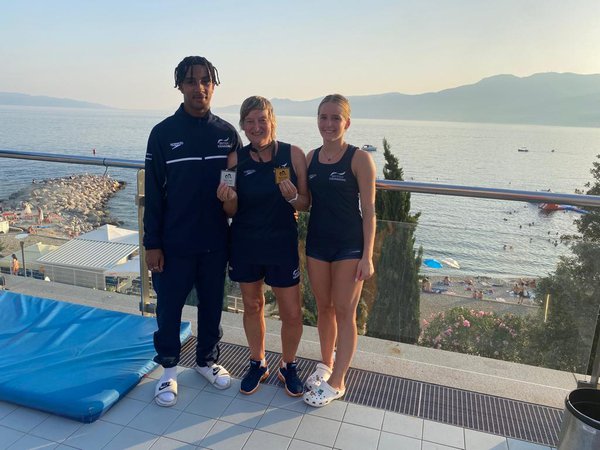 Brown and Smith returned on the final day following their synchro triumph to take on the Girls A 3m final as they closed their account on the coast. Brown began her finals dives with a massive 64.50-score on her Inward 2 ½ Somersaults Pike (405B), before suffering two unfortunate drops in as many dives. She recovered well from this to take an eventual fifth place in the event – thanks in-part to her score from the prelims as well as a well-executed final dive to finish on a score of 370.75.
Smith also went well at times in the event, with her Reverse 3 ½ Somersaults Tuck (305C) in the penultimate round being the pick of her dives in the final, as she ended in eleventh place – scoring 346.05.
Skye Fisher Eames and Juliette John continued the British momentum with respective seventh and tenth-placed finishes in the Girls B Platform final, with Fisher Eames' results being more consistent over the prelims and finals rounds (scoring 272.55 overall), but John having the pick of the pair when singling out an individual dive, as her Back 2 ½ Somersaults 1 ½ Twists Pike (5253B) on the final round gave her 52.80 points before finishing on 260.80.
 Full results from the competition can be found on DiveRecorder.