Jack Laugher twice took to the top step of the British Diving Championships podium after an impressive set of performances on the opening day of action at Ponds Forge - including a Men's 3m Synchro victory alongside Anthony Harding. 
Rio 2016 gold medallist Laugher began his busy afternoon of finals with a near-flawless display in the Men's 1m Springboard contest to claim the gold, before teaming up with City of Leeds partner Harding and showing why the pair are excited by their new partnership as they comfortably claimed the synchro title. 
Home favourite Yasmin Harper was victorious in the Women's 1m Springboard to pick up the weekend's first gold medal, with Dive London Aquatics duo Robyn Birch and Emily Martin combining well to claim the Women's 10m Synchro crown at the end of a busy Friday. 
It was certainly a busy one for Jack, capped off brilliantly with that first national synchro title as part of the Laugher-Harding team.
The City of Leeds pair - coached by Adam Smallwood, the Performance Coach for Olympic Diving in Leeds - led the way right from dive one. Scoring 90.06 points for an eye-catching Forward 4 1/2 Somersaults Tuck (109C) in round five cemented their place atop the podium, and they ultimately finished with 447.69 points to their name, well ahead of Italian team Giovanni Tocci and Lorenzo Marsaglia, who finished second overall on 397.98.
Exciting junior pairing Leon Baker (Southampton Diving Academy) and Hugo Thomas (Dive London) claimed British Championships silver ahead of their appearances at the European Junior Championships in Bucharest in July, closing on 341.40, with Todd Geggus (Southend Diving) and Oscar Wilcox (City of Sheffield) taking British bronze on 282.69.
For the victorious pair, this was exciting progress after their debut outing in February's National Diving Cup.
"It's amazing. We did our first competition together in that National Diving Cup, that went pretty well, nice and smooth and we learned a few things - and then we had a small event here just before this nationals, which went really well," said Laugher.
"Today, a score of 447 is massive. The great thing is I think there's still room for improvement from both of us, so we're really happy with it and looking forward to the rest of the competition season."
Harding added: "Looking back to that competition in February, I think the biggest improvement has come in the third dive, from myself anyway. But like Jack said, I think we can still get more from the last dive too.
"We've worked quite well, I think the synchro is much better, so it's great overall. Looking forward, the first focus is World Championships, but I don't think we've set a goal yet, it's just to do our best. It would be our first time competing internationally, so for me, it's mainly about getting experience for the future." 
Earlier in the day, Jack was in sublime form off the 1m springboard across the Men's 1m prelims and final, taking gold in that event. In the final, the triple Olympic medallist laid down five dives worth in excess of 70 points, an impressive tally from the 1m board. 
A stunning Inward 2 1/2 Somersaults Pike (405B) in round four scored Laugher 86.70 points, on his way to an overall 459.05 score. 
That was more than enough to finish clear of City of Sheffield competitor Jordan Houlden, who bookended his list with two high-scoring dives - including an Inward 2 1/2 Somersaults Pike of his own for 81.60 points - to claim silver on 418.95. 
The bronze went to FINA Diving World Cup medallist James Heatly (Edinburgh Diving Club), who ended on 406.95 ahead of an exciting-looking Men's 3m Springboard contest on Saturday.
On his 1m victory and cramming three lists into one day, Laugher said: "They're quite difficult days, my feet are quite sore now! But they were two great performances in the 1m prelims and the 1m final, followed by that 3m synchro, and I think it's really important to do those long days. Commonwealth Games, for example, it could be quite a packed schedule, day after day, so it's important I get my competition endurance up.
"I'm really happy with how it's gone. It's been the first time I've done a long day in a while. We've not had many competitions, and those comps I have done have been one-offs here and there. I'm really happy with how it's gone and looking forward to bringing it again tomorrow."
In the Women's 10m Synchro, Martin and Birch came out on top in an intriguing contest to take the British title. 
In a nip-and-tuck competition, it was Lois Toulson (City of Leeds) and Maisie Bond (City of Sheffield) who moved to the front early on, thanks in part to a Reverse 2 1/2 Somersaults Pike (305B) that earned 8.5s and 9s from sections of the judging panel.
But Dive London duo Martin and Birch showed greater consistency as the lists went on, and their composure in rounds four and five - including their fine fourth-round Inward 3 1/2 Somersaults Tuck (407C), worth 71.04 points - saw them top the podium on 290.28 points, testament to the commitment they have shown in training recently, in spite of injuries.
Toulson and Bond ended on 267.54 for silver, with Olympic duo Eden Cheng (Crystal Palace) and Andrea Spendolini-Sirieix (Dive London) just behind, claiming bronze on 261.30. 
Reflecting on the performance, Martin said: "We're both really pleased with that. At the National Diving Cup, it was only us in the event, so it was nice to have some competitors and to know that we still came out on top made us really happy.
"There are some great competitors in there, but we know we can go in there and perform the way we did today, and even better. It's nice to know there's still something left in the bag for next time, to perform even better."
Birch added: "The consistency there is definitely pleasing. Emily and I train at the same pool, so we've had a lot of training together, although we've struggled with a couple of injuries. That was only our second time competing together, so we're really happy.
"I think we both felt as well as we could've coming in, given the situation with injuries. We were able to stay calm and try to enjoy the competition, and I think that helped a lot." 
The first athlete on top of the podium for this year's British Diving Championships was Yasmin Harper, competing at her City of Sheffield training base. 
The 2020 champion in the Women's 1m Springboard defended her title in style, leading the way through the prelims and then holding her own in a thrilling final to claim gold.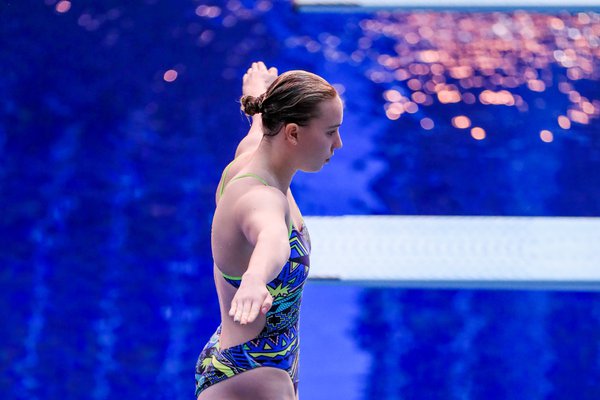 Harper stayed in contention alongside double Olympian Grace Reid throughout the contest. And ultimately, it was Harper's final dive - a brilliantly-executed Forward 2 1/2 Somersaults Pike (105B) - that secured her a crucial 59.80 points, towards an overall tally of 272.00. That was a tiny margin of 0.35 clear of Dive London's Reid, whose fourth-round Inward 1 1/2 Somersaults Pike (403B) score of 57.60 saw her on the way to a final tally of 271.65 for silver. 
Luton Diving Club's Amy Rollinson took bronze in the British contest, on 243.70, with Italy's Elena Bertocchi (261.95) and Ireland's Clare Cryan (261.00) finishing third and fourth overall. 
"I'm pleased with that, because the 1m is always a good way to get started in the competition for this weekend, so I'm really happy that my dives came together in the end," said Yasmin.
"The 3m is the main one for me, so the 1m is almost like a warm-up for that. It's good to get that done before the one that makes you more nervous. It's nice to have the noise from the Sheffield team, and I train on these boards every day, so it's good to know what the boards are like, everything like that."
For full results from day one at the 2022 British Diving Championships, click here.
Make sure you don't miss a moment of action across Saturday and Sunday, with livestream coverage on the British Swimming YouTube channel.