Jack Laugher regained the Men's European title in the 1m Springboard, following Desharne Bent-Ashmeil and Amy Rollinson coming close to a first senior international medal as a pairing in the Women's 3m Synchro.
With changeable weather conditions in the Foro Italico arena throughout Thursday's programme of diving, Jack Laugher pieced together a consistent string of six dives to finish top of the standings in the Men's 1m Springboard medal contest.
The Leeds-based diver started well with a solid back 2½ somersaults tuck (205C) placing him half a point behind his Great Britain teammate Jordan Houlden, who had opened with a higher tariff dive, before taking to the top of the scoreboard at the end of the second round with a well-executed Reverse 1½ Somersaults 2½ Twists Free - the first of two 70-plus points dives recorded by the triple Olympic medallist.
Laugher's best dive of the contest then came in round four with a sumptuous Inward 2 ½ Somersaults Pike (405B) earning him 76.50 points and healthy lead on his rivals, which he didn't relent, closing out on a final tally of 413.40 to regain a European title last won in 2018.
"I'm feeling very happy, last Europeans it was a silver medal on the 1m and the previous one [I contested] before that was gold so I'm happy to get my title back again." said Laugher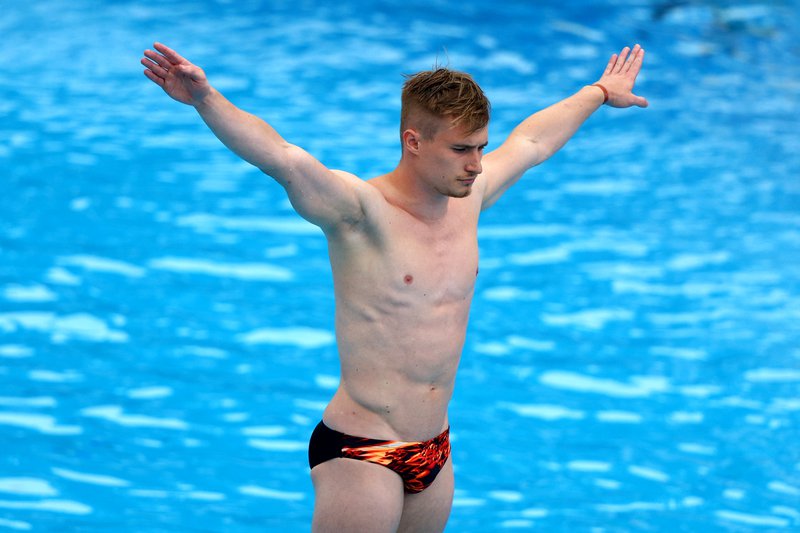 "It was very consistent diving, nothing majorly wrong and no major hits either - today's been really difficult with the change in conditions throughout the day through sun, wind, rain and cloud but I'm really pleased with how I handled it."
A long season has already been littered with medal success for the Adam Smallwood coached diver, including three apiece at Worlds and Commonwealth Games, as he added:
"I definitely have got tired, it's been a long season with all our major competitions in the space of about eight weeks which is a tough schedule. So far I'm really happy with how the season has gone, it's been really hard but I've been continually thinking 'good event, now move on' and I've never taken my foot off the gas. I've got a great team around me, the physios have kept me in one piece and my coach has been really understanding with the struggles of the season and I think we've got to a good place and I'm happy with how today has gone."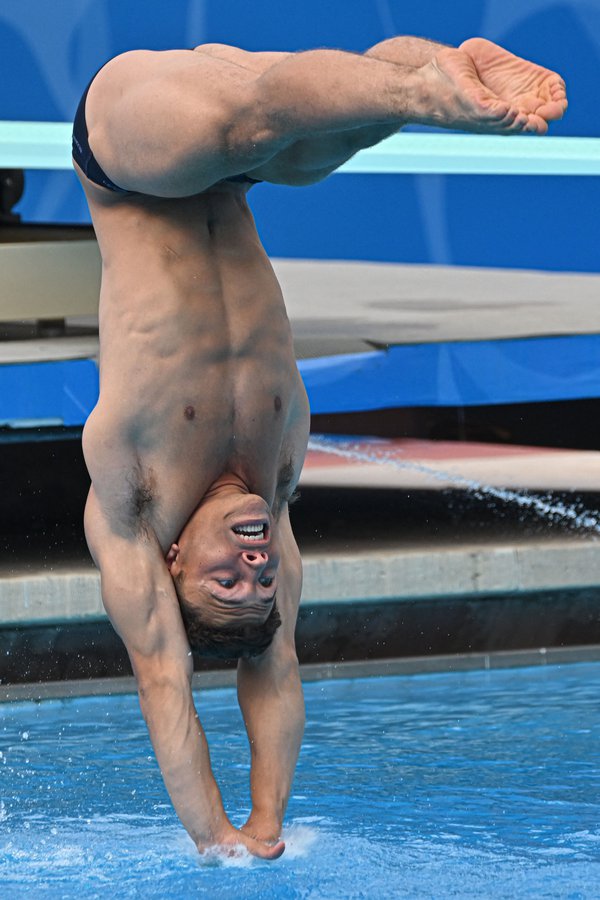 Sheffield Diving's Jordan Houlden placed a highly respectable fifth overall at the events conclusion, and was in fair spirits as he looked towards the 3m Springboard on Saturday, commenting:
"Yeah I've had some highs and some lows in there, the reverse was a bit of a low but you know that's how diving goes, you win some you lose some.
"I'm delighted with how far I've come [this year overall]. I felt like I could of done better in there but you know it's been a long stint for me, I've been having back to back competitions and so I haven't really had the rest in-between. It's been great this year, the best year by far for me so I can't complain"
The day's first final came in the earlier in the afternoon as Amy Rollinson teamed up with Desharne Bent-Ashmeil in the Women's 3m Synchro.
In the 2022 season the pair have built upon a National title, netting experience at the World Championships and Commonwealth Games before coming so close incredibly to a first senior international medal as a couple on the European stage in Rome.

With their Forward 2 1/2 Somersaults 1 Twist Pike (5152B) in the penultimate round breaking 60 points, the bronze medal position was with touching distance for Amy and Desharne. Ultimately however they finished a heart wrenching 0.30 points off the medals in fourth as the Swedish pairing pipped them in the rankings.
Reflecting on the performance, Amy said: "It's just us getting used to diving outdoors. We're still getting used to diving together and getting used to seeing what each other are going to be like in competition.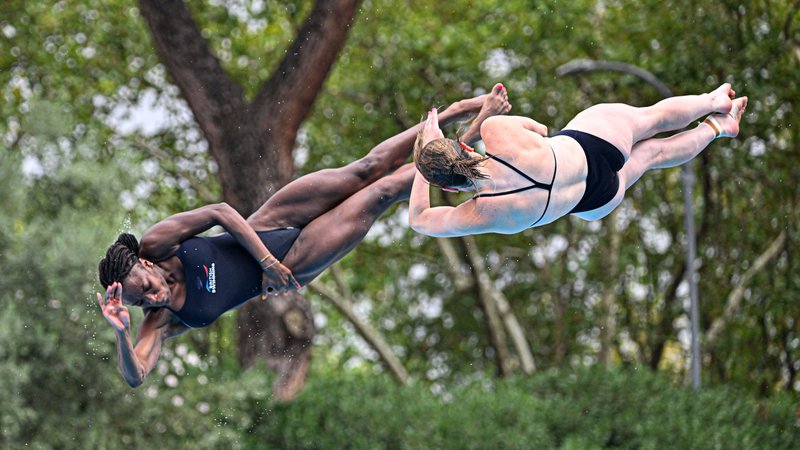 "I feel like the whole thing has just been such a good experience, such a good learning curve. Getting used to completely different surroundings, everything being nothing like we're usually used to. It's been amazing to be around everything."
With Desharne adding:
"Bearing in mind this is my last year of being a junior, this is a good experience and I've got a lot to take away from it.
"I'll now definitely supporting the team [for the rest of the week]. Lots of people keep telling me that they could hear me in the crowd because I was so loud, but I'm not really going to rest fully until the end of this trip - I'm going to do some more 3m practice to have a bit more experience before I have my break."
Elsewhere the High Diving competition got underway with Aidan Heslop and Owen Weymouth putting in their first round dives from the 27m high platform. The pair currently rank sixth and tenth respectively, with the contest spread over three days.
Full results from the diving at LEN European Aquatics Championships can be found here, with full details of BBC live streaming of scheduled event available here.