Lois Toulson and Kyle Kothari secured their European title in stunning fashion, with their final round dive propelling them up into gold medal position.
With the sun beating down on the Foro Italico sporting facility, Toulson and Kothari produced a delightful series of dives in only their second meet together to earn the top step of the podium in a tightly contested Mixed 10m Synchro final.
The opening two required dives settled the Commonwealth silver medallists into the competition, sitting them less than two points off the leaders in third to the Leeds Diving and Dive London pairing a solid platform to build upon.
There was very little to pick apart on the synchronicity in their third round effort either as the British duo scored 69.30 points with a composed Forward 3 ½ Somersaults Pike (107B). That dive moved them up to second, whilst their fourth round dive solidified that position and closed the gap on the Ukrainian couple, Lyskun and Sereda.
With the penultimate round leaders higher up the dive order, a provisional marker was laid out for Toulson and Kothari and the pair didn't waiver as they closed out with a classy Back 2 1/2 Somersaults 1 1/2 Twists Pike (5253B) to take their total to a gold medal worthy 300.78.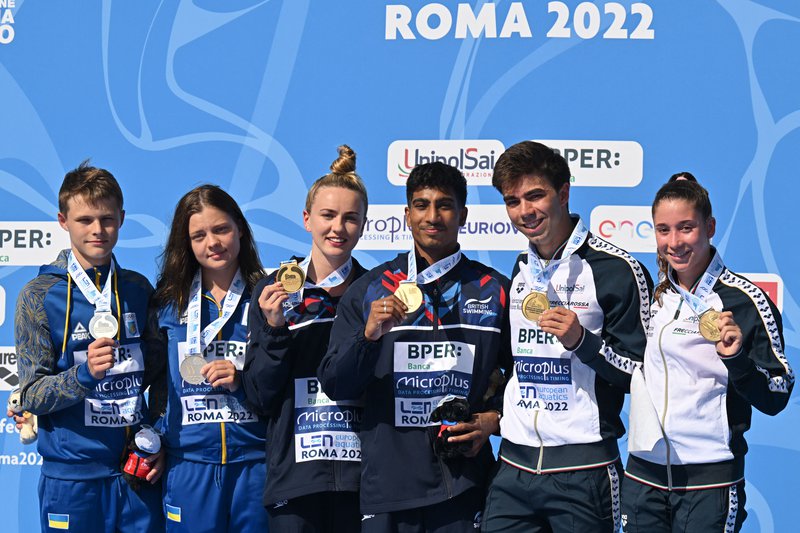 "It's a bit of a shock to be fair, I knew we'd do well but coming away with a gold especially when we're still new together - it's gone perfectly to be honest." said Kothari,
"It was at the Commonwealth's we were told we were doing it, we had the benefit of actually doing quite a few sessions there before we competed together there and had a good competition. It meant that coming here with some of the slim 5m boards not ideal for training lead up, that prior preparation did give us a bit of an advantage."
With Toulson adding:
"I'm pretty over the moon to be honest, European Champion sounds pretty good doesn't it? We were always aiming for a medal and knew there would be tough competition, but to put that last dive in and come away with gold is great."
Elsewhere Yasmin Harper led the British interest in the Women's 1m Springboard, rounding out the final in sixth place.
The Sheffield Diving Club athlete showed a good level of consistency across her list, across both the midday prelims and in the afternoon final, with her best coming with identical scoring Front 2 ½ Somersault Tuck (105B) efforts for 50.70 points in the fifth round of both stages of the competition.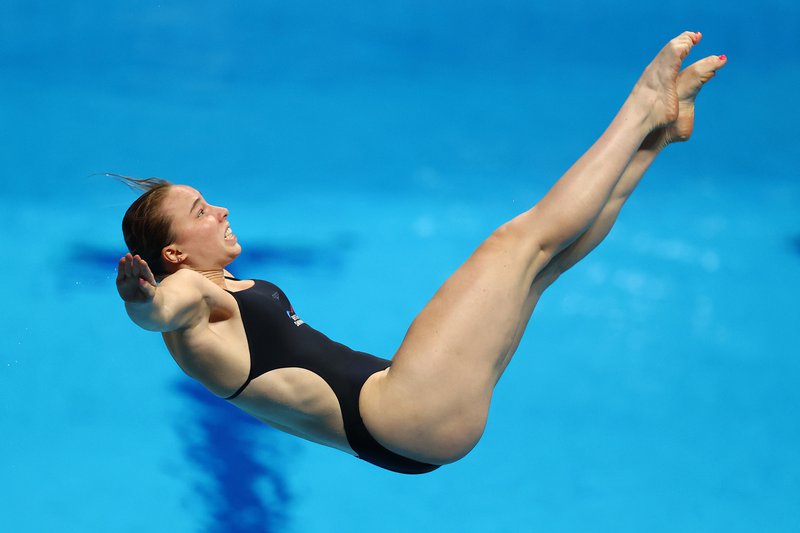 Commenting on her opening event of the European Championships, Harper said:
"Yeah there wasn't really too many mistakes going on in there, I just wasn't great today. For me I think the idea of diving outdoors is worse than actually doing it to be honest – I haven't really had any issues, a bit of wind here and there, but really I just needed to get a competition done.
"Going into the 3m [springboard] I just need to be more confident on my hurdles and attacking the starts of the dives a bit higher for easier finishing."
Earlier Scarlett Mew Jensen had produced the dive of the prelims in the last round, with 58.50 points awarded for her Front 2 ½ Somersault Tuck (105B). Unfortunately the Dive London diver couldn't quite make up the gap to qualify following her misplaced dive in the second round and finished 20th overall.
Full results from the diving at LEN European Aquatics Championships can be found here, with full details of BBC live streaming of scheduled event available here.
Details of how to follow the European Championships in full can be found on our website here.