SportsAid has revealed the 10 athletes on the shortlist for this year's One-to-Watch Award. The annual award was launched in 2006 and looks to shine a spotlight on the achievements of Britain's brightest young sporting prospects.
The success of the One-to-Watch Award's illustrious 'Hall of Fame' speaks for itself as previous victors, including Tom Daley, Hollie Arnold MBE and Courtney Tulloch, have already amassed 42 senior medals from Olympic and Paralympic Games, World and European Championships, as well as Commonwealth Games, firmly establishing themselves as household names in British sport.
Ellie Challis and Katie Shanahan are among the 10 athletes that have been selected from around 1,000 rising British stars, supported by SportsAid, across more than 60 different sports during 2019.
Challis' nomination follows a record-breaking 2019 in the pool, as the 15-year-old was catapulted into the sporting limelight in April when she broke the SB2 class 50m breaststroke world record, touching the wall in 1:05.42 to scoop World Series gold at the British Para-Swimming International Meet in Glasgow.
But it was at the World Championships in London where the Clacton-on-Sea born hotshot's burgeoning career so far peaked, winning bronze in the S3 50m backstroke and finishing fifth in the SB3 50m breaststroke event.
"It's lovely to be recognised for the One-to-Watch Award and for all my achievements. It's really nice and it's that recognition at such a young age that makes it so special for me.
It's been a really quick rise for me over the last eight months – I just take everything in my stride and don't get nervous or overwhelmed about anything. The bigger the event, the bigger the swim, and I just take it all in and try to enjoy what I'm doing and never put too much pressure on myself. In London when I won my medal there was a school trip to come and support me and that was very special.
I don't know what my targets are if I get to the Paralympics just yet – I would love to win a medal but just to go there and get that experience is the main thing and I'd be absolutely thrilled if I got that chance."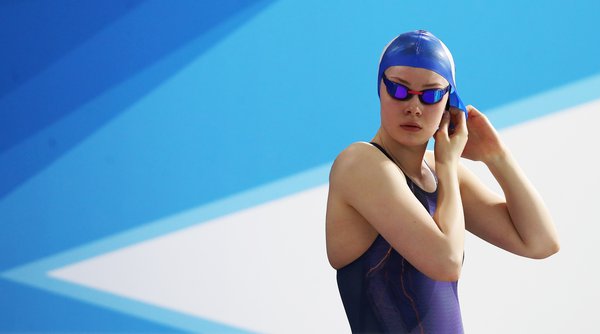 Shanahan, 15, was Team GB's most decorated athlete at the Baku 2019 European Youth Olympic Festival in July, winning half of Britain's gold medals single-handedly as she claimed a hat-trick of titles in the pool.
If that wasn't enough, the City of Glasgow swimmer added three silvers to return with a highly impressive six-medal haul, all whilst breaking European Youth Olympics and British age-group records in the process.

Tokyo is the goal, but testament to the 15-year-old's character, she is already ready to give back to those who helped her along the way.

"SportsAid funding has been so helpful. I would not be where I am today without it. Swimming can be expensive, and that extra money really helps to get to where I am now competing nationally and internationally.

"But now I'd love to give back to the local community where I started swimming. Most people aren't as lucky as I am to have swimming lessons at such a young age and now I've love to inspire others into the sport by showing them by achievements."

Full Shortlist
Aaliyah Powell, 17, from Huddersfield – Taekwondo
AbdAllah Eissa, 13, from Warwick – Squash 
Amy Hunt, 17, from Newark – Athletics
Antonia Bunyan, 19, from York – Goalball
Charlie Aldridge, 18, from Crieffs – Cycling
Daniel Atkins, 18, from Pangbourne – Canoeing
Ellie Challis, 15, from Little Clacton – Para Swimming
Enriko Itauma, 14, from Chatham – Boxing
Karim Chan, 19, from Colne – Para Athletics
Katie Shanahan, 15, from Bishopbriggs – Swimming
The expert judging panel includes Olympic bronze medallist Sarah Winckless MBE (chair), Dame Katherine Grainger, Britain's most decorated female Olympian, Natasha Baker MBE, a five-time Paralympic champion, Nick Hope, BBC Sport's Olympic and Paralympic Reporter, Joslyn Hoyte-Smith of the GB Olympians' Association, and Ian Braid, Managing Director of DOCIAsport, this year.

The winner of SportsAid's prestigious One-to-Watch Award will be revealed at the charity's Celebrate the Next event, sponsored by the Royal Bank of Canada, in London on Tuesday 19 November. Please visit www.sportsaid.org.uk for further information.
(Photo credit: Image of Katie Shanahan courtesy of  Ian MacNicol for Scottish Swimming)