An unforgettable two years for Tom Dean saw him named British Swimming's Champion Athlete for 2021-22 as achievements and successes from across our aquatic disciplines were celebrated at British Swimming: The Awards 2021-22, Supercharged by Speedo in Manchester on Saturday (12th November).
Double Olympic champion and triple 2022 World Championship medallist Dean - who was crowned Outstanding Swimmer of 2021-22 earlier in the evening - was joined on stage by the other sport's Outstanding Athletes before being presented the inaugural Maurice Watkins Champion Athlete prize, with the trophy named after British Swimming's influential late Chair. 
Maisie Summers-Newton - who won two Paralympic golds on her Games debut in Tokyo and then went one better at this year's World Para Swimming Championships - won the Outstanding Para-Swimmer crown, while Tom Daley's maiden Olympic title alongside Matty Lee, as well as an individual 10m Platform bronze, saw him claim the Outstanding Diver accolade. 
Also on stage as one of the Outstanding Athlete winners were artistic swimmers Kate Shortman and Isabelle Thorpe, whose 2021-22 seasons included a maiden Olympic appearance and their first Worlds finals. Aidan Heslop won Outstanding High Diver and Lily Turner the Outstanding Water Polo Player trophy.
After a two-year period of such immense success in the pool and off the diving boards, it was a tough ask for the independent expert panel of judges to select the Champion Athlete - and speaking on his major prize, Tom reflected on feeling inspired by what could yet be to come for British Swimming. 
"It was great to get called up again and to share the stage with the other winners from the other sports within British Swimming - and then hearing the story of Maurice Watkins. I just spoke to his daughter and she was telling me all about what he did for our sports in his nine years with British Swimming, which was incredible. So to be honoured with an award in his name is really special," he said.
"There is such competition that I was up against tonight. The three other guys nominated alongside me for the Outstanding Swimmer Award (Adam Peaty, Ben Proud and Duncan Scott) are all record-breakers in their own right in the last two years, from Olympic medals to defending titles to backing up competition on top of competition - so to be able to step up there and win the award was incredible. I shouted them out in my speech and said anybody could've won this award, it's a real testament to the strength of British Swimming at the moment. It's so great to be a part of that, to be in that energy and to be part of a driving force witin pushing British Swimming to greater heights, it was brilliant." 
Maisie echoed Tom's words for successes across the aquatic disciplines after collecting her Outstanding Para-Swimmer prize, saying: "It means a lot, definitely. Being in an environment with the whole British Swimming team is really special, because we are so used to being just para-swimming or swimming or diving or artistic swimming, so it's just so nice to celebrate everyone's achievements and all the nominees - it's a lovely night.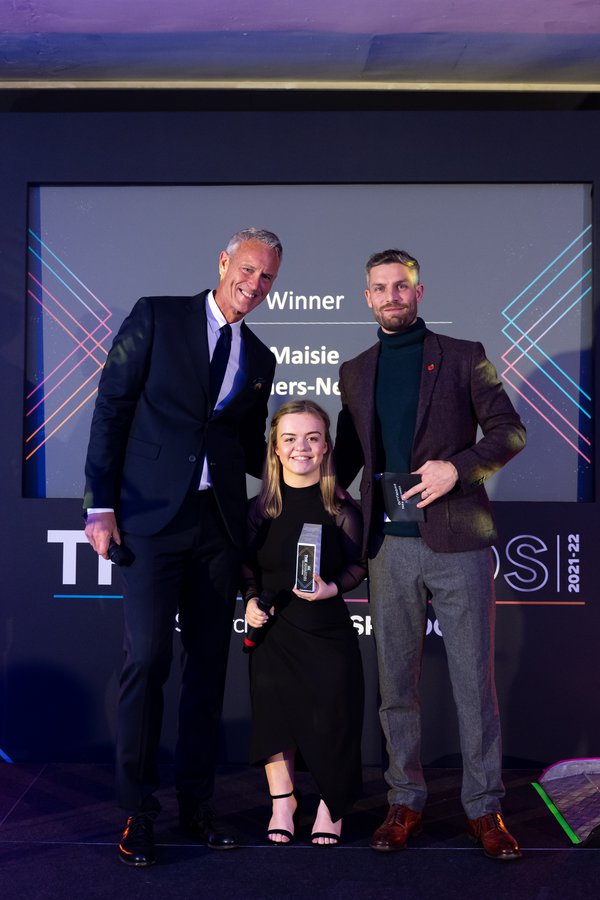 "The Paralympics Games are definitely a highlight of the past two years. That's always been a dream of mine, and to come away with two gold medals is just absolutely incredible and I never thought in a million years that I'd be able to achieve that, so it's been a fantastic few years, I couldn't ask for much more - and then there was the Commonwealth Games in Birmingham, being at a home Games, finally having a crowd there and having my family there to watch me win that gold medal there was really very special." 
There were also a host of deserving winners among the world-class coaches involved across the sports. At the end of a year that saw Jack Laugher and Anthony Harding win World Championship silver and European and Commonwealth titles in their maiden season as a synchro pairing, Adam Smallwood won the Outstanding Diving Coach.
Robin Armayan - the coach of Reece Dunn, who was Paralympics GB's most decorated athlete with three golds and five medals overall in Tokyo - took home the para-swimming category, with David McNulty taking to the stage to collect the swimming award after a stunning two years for his Bath Performance Centre athletes, including Dean, Freya Anderson and James Guy.
On his award, Armayan said: "This means a lot to me. I've sacrificed a lot over the last few years and worked really hard, so to be recognised like that is something very important to me. It's all teamwork. The athletes, I wouldn't be the coach I am today without them, but also my partner who puts up with me, and all the staff I work with at Plymouth Leander and Plymouth College, it's all teamwork." 
The winner of the Outstanding Water Polo Coach of 2021-22 was Theo Nousios, who oversaw British Water Polo League title wins for City of Manchester's women's and men's teams, while the Outstanding Artistic Swimming Coach for 2021-22 was Paola Basso.
Paola oversaw Shortman and Thorpe's qualification for their first Olympics in 2021, while the pair reached their maiden World Championship final as a duet in Budapest earlier this year.
"It is a great honour, because for me, it its the achievement of a long, long process, years of work and an amazing time here, going to the Olympic Games with Iz and Kate. It truly is a great honour," said Basso.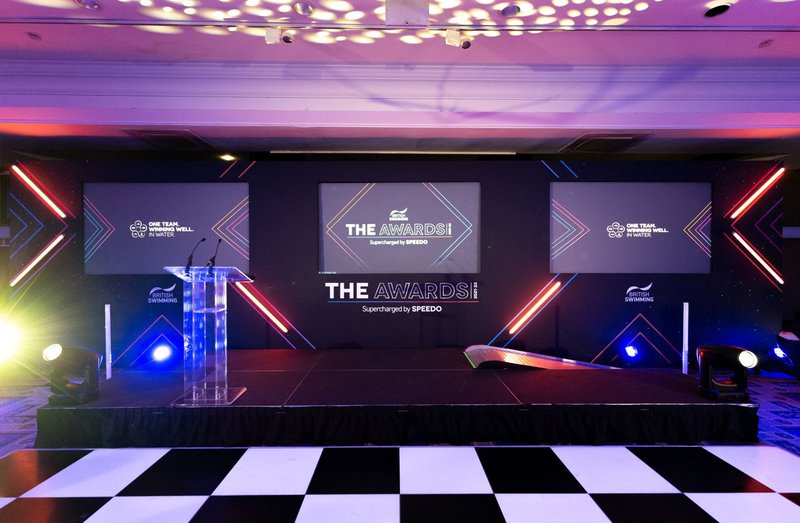 The opening awards of the night were to celebrate the young, up-and-coming talent across swimming, para-swimming and diving. 
After a brilliant breakthrough season that included a haul of gold-silver-bronze at her debut World Para Swimming Championships, Poppy Maskill won the Para-Swimming Emerging Athlete of 2021-22. 
Katie Shanahan - winner of Commonwealth and European medals this summer, after securing two European Junior titles in 2021 - was the winner of the Swimming Emerging Athlete trophy, while the first person up was Andrea Spendolini-Sirieix, whose brilliant two seasons - which included a pair of European golds, two Commonwealth crowns, a World Championship bronze and a top-eight finish at her debut Olympics - were rewarded with the prize for Diving Emerging Athlete of 2021-22.
Andrea said: "It feels amazing. It's been a really hard year, and I've put a lot of work into training, so to know that not only am I getting awards in competition, but also outside of that is great. It's not just thanks to the hard work, it's also thanks to my team, to God and to my family, I wouldn't be able to do anything without their help and their support.
"This award is just a huge confidence boost to carry on with what I'm doing. Work hard, work even harder for competitions and have fun - I'm having so much fun in training and competing, so I'm really looking forward to next season." 
To hear from the award winners, check out their event interviews on the British Swimming YouTube playlist here
WINNERS AT BRITISH SWIMMING: THE AWARDS 2021-22, SUPERCHARGED BY SPEEDO 

Tom Dean - The Maurice Watkins Champion Athlete
Maisie Summers-Newton - Outstanding Para-Swimmer of 2021-22
Tom Dean - Outstanding Swimmer of 2021-22
Tom Daley - Outstanding Diver of 2021-22
Kate Shortman & Isabelle Thorpe - Outstanding Artistic Swimmers of 2021-22
Aidan Heslop - Outstanding High Diver of 2021-22
Lily Turner - Outstanding Water Polo Player of 2021-22
Robin Armayan - Outstanding Para-Swimming Coach of 2021-22
David McNulty - Outstanding Swimming Coach of 2021-22
Adam Smallwood - Outstanding Diving Coach of 2021-22
Paola Basso - Outstanding Artistic Swimming Coach of 2021-22
Theo Nousios - Outstanding Water Polo Coach of 2021-22
Poppy Maskill - Para-Swimming Emerging Athlete of 2021-22
Katie Shanahan - Swimming Emerging Athlete of 2021-22
Andrea Spendolini-Sirieix - Diving Emerging Athlete of 2021-22