Adam Peaty and Tom Daley's historic 2021 performances are still being recognised well into 2022, with the duo voted LEN's European men's swimmer and diver of the year respectively. 
For the 13th occasion since 2008, LEN's member federations and officials cast their votes on the outstanding aquatics athletes across the continent - and the Olympic and European triumphs of Peaty and Daley saw them come out on top for the fourth occasion in both of their glittering careers.
Loughborough National Centre man Peaty retained the crown he won in 2019 (as well as triumphs in 2016 and 2017) thanks in part to the defence of his Olympic Men's 100m Breaststroke title at Tokyo 2020, when he became the first Brit in history to achieve that feat. A world record and gold medal in the inaugural Mixed 4x100m Medley Relay followed - in tandem with Kathleen Dawson, James Guy, Anna Hopkin and Freya Anderson - as well as silver in the Men's 4x100m Medley Relay, where Luke Greenbank, Guy, Duncan Scott and James Wilby were also involved. 
The European Championships in Budapest, just two months before the Olympics, also brought eye-catching success for Peaty, who is coached in Loughborough by Mel Marshall. There, he completed the 'quadruple quadruple', retaining his individual 50m and 100m Breaststroke golds, as well as the Mixed and Men's 4x100m Medley Relays.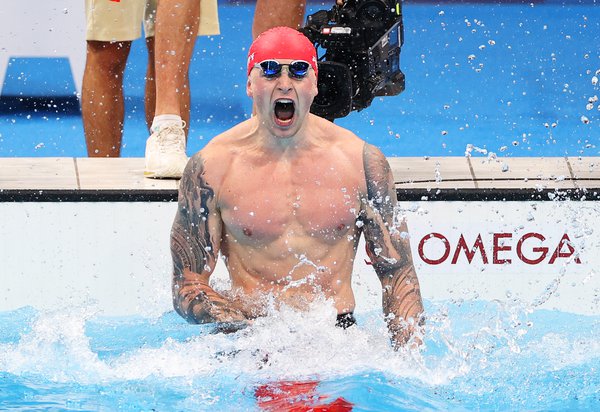 The strength of British Swimming's combined displays across the year proved in the overall voting results. Adam won the men's vote with 35.5 per cent, ahead of Evgeny Rylov (22.6 per cent) and Kristof Milak (21 per cent) in third, with double Olympic champion Tom Dean and six-time Olympic medallist Duncan Scott rounding out the top five.
In the women's category, Kathleen Dawson - an Olympic champion on her Games debut and a new European record holder in the Women's 100m Backstroke - placed third. That award was won by Sarah Sjostrom, with the recently-retired Ranomi Kromowidjojo in second. 
The most emphatic prize win came in the best male diver class, where Daley - coached by Jane Figueiredo and last a LEN award winner in 2017 - romped home with 76.7 per cent of the vote. That was on the back of his unforgettable first Olympic gold, won alongside Matty Lee in the Men's 10m Synchro in Tokyo - before he became Britain's most decorated Olympic diver in history by winning his fourth medal with Men's 10m Platform bronze.
Earlier in 2021, Daley and Lee had combined for gold in both the European and FINA Diving World Cup Men's 10m Synchro, while Daley's individual accolades were added to with World Cup gold and European silver. Jack Laugher was fifth in the men's vote after claiming the third Olympic medal of his career, while Germany's Tina Punzel won the best female diver category. 
British Swimming's other previous winners of LEN's annual European crowns include Rebecca Adlington in 2008, Keri-Anne Payne in 2011 and Laugher (2016 and 2018).