Volunteers are a crucial part of all British Swimming events - and what better time to recognise the efforts and generosity of all those involved than at the start of Volunteers' Week 2020?
People who volunteer at a range of aquatics events up and down the country really do play a key role in ensuring they can take place, run smoothly and be an enjoyable experience for the competing athletes and those watching on. 
While many of this year's events have been cancelled in light of the ongoing coronavirus pandemic, this week still provides a special chance to thank all those who give up their time in volunteering for British Swimming and the Home Nations. 
We caught up with Jackie Harvey and Jackie Laugher, two volunteers who have helped at numerous events in recent years, to get their insight on the opportunities, what they enjoy about volunteering and what they are looking forward to when events return to the aquatics calendar...
---
How did you get involved in volunteering - and how long have you been doing it with British Swimming?

JACKIE HARVEY: I have always volunteered, throughout my life, in different roles. I enjoy meeting new people, learning new skills and giving back to the community.
I've been involved in swimming since 2011. During the Club Championships that year, the Head Coach was a timekeeper short and handed me a stopwatch - and I have not looked back since.
I qualified firstly as a timekeeper, progressed to judge and now I am a British Swimming referee. 
Like many parents, I found the heat of the stands unbearable but still wanted to enjoy the swimming. When asked at ASA Summer Championships in 2015 if I could help out for a sesson on the Field of Play team, I jumped at the chance and have been privileged to take on this role over the past five years.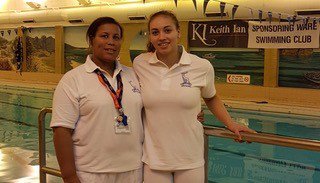 My eldest daughter Grace Harvey is a para-swimmer and we have been on a journey together. She joined a swimming club where no-one had any experience of the para-swimming pathway, so together with her coach Janet Warrington, we all learned together. As a direct result of this, I have since been appointed to the role of Discipline Manager for para-swimming in the East Region.
Many people have enabled Grace along her swimming career, and I want to repay this by helping the next generation to achieve their dreams. 
JACKIE LAUGHER: I've been volunteering in diving for the past 15 years. Both kids really enjoyed their sports, but once Jack (Laugher) was spotted and joined the World Class Start programme, diving became the main focus.
As we lived quite a distance away from the diving pools, it was easier for me to stay and watch, and I became involved just to keep myself busy and to give something back to the sport.
I was Chief Recorder at the British Diving Championships in January. That means I'm responsible for checking that divers are eligible to dive in the event and issue and check all the dive sheets so they conform to the competition conditions. 
I also issue out information to the field of play and announcers so they know the order of the divers and what dive they will be executing. 
What kind of opportunities does volunteering provide? 
JH: Volunteering develops your skill set, which is needed in the modern world.  Meeting new people, working in a team, being able to communicate in diverse situations are all great things to learn. 
My preferred role is poolside, but there are other areas, such as front of house, hospitality, media, events management and technical official to name but a few. 
Volunteering is enriching. This is my hobby - I don't have to do it, I want to because I enjoy it.
The sport of swimming relies on its volunteers and we all need to encourage the younger generation to take part. It's good for your CV and it's character-building.
JL: I've benefited from volunteering by being able to be at some of the most iconic diving events and having a front row seat. 
Don't be worried about trying any of the roles, there are so many that there is sure to be something that you can help with, and we're a friendly bunch who will welcome you!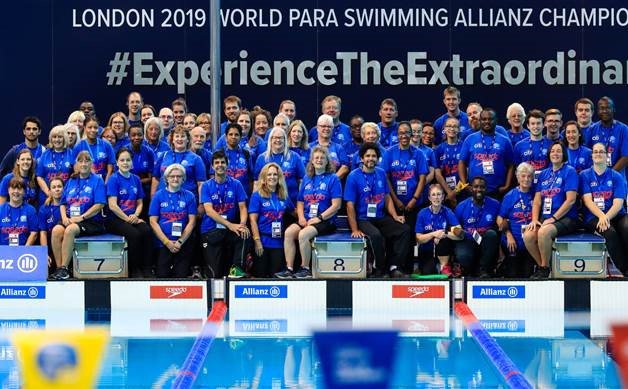 The diving community is just one big family and I love meeting up with them all at events around the country. I've seen tiny divers grow into fantastic athletes and then on to top-class coaches. It's a great privilege to feel involved. 
What is your most memorable volunteering experience? 
JL: Recording at the London 2012 Men's 10m Platform final, where Tom Daley got his bronze. The atmosphere was electric and it was an honour to be there witnessing it.
JH: My most memorable volunteering experience was on the Field of Play team at the World Para-Swimming Championships in London last year. 
It's a wonderful feeling to receive an email inviting you to partake in something special. This was a mammoth 10-day event, and watching the London Aquatics Centre, which is impressive anyway, being transformed into a venue which was going to be streamed around the world made me proud to be involved in the experience. 
I was involved in many roles there. Meeting new people and asking them about the volunteering they had undertaken, I learned there are so many opportunities around the world to volunteer at. There was something for everyone.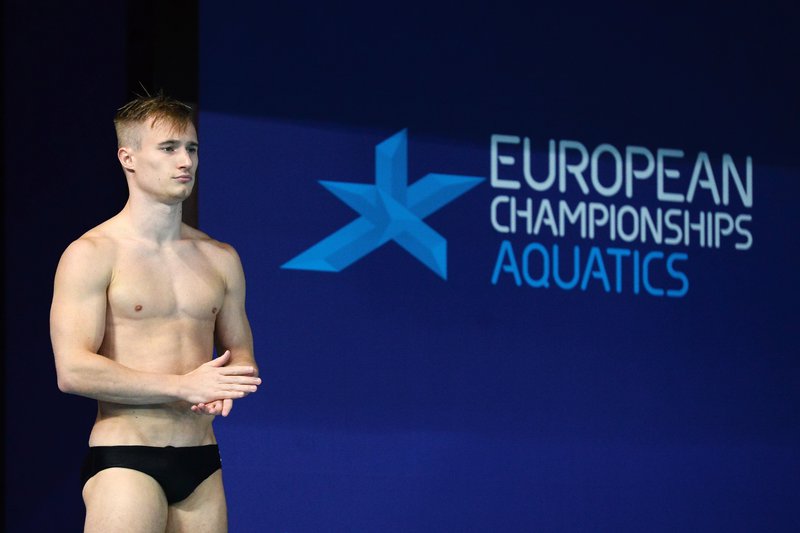 What aspect of volunteering will you most look forward to getting back to when events start happening again in the future?
JL: I'm really looking forward to seeing all of the diving family, my colleague volunteers, coaches and athletes. We've been keeping in contact via internet options but it's not the same as seeing everyone in person. 
But mostly, I've missed watching the beauty and skills of the divers and I'm so looking forward to smelling the chlorine and watching live diving once again.
JH: I'm looking forward to refereeing at my first open meet, working alongside my friends at national events and looking forward to hosting swimming meets for the next generation of para-swimmers.
---
If you are interested in getting involved with volunteering at British Swimming or Home Nations events, visit the volunteering hub HERE.