Stunning performances from across a manic and memorable summer of aquatics has given British Swimming "a great platform" to build on in the two years to Paris 2024. 
So says Performance Director Chris Spice, who has been reflecting on a period that saw four major senior international competitions – as well as a European Junior Championships – in the space of three months.

A total of 76 medals were won by athletes representing British Para-Swimming, British Diving and British Swimming across the World Para-Swimming, World Aquatics and European Championships, with a whole host of record-breaking individual performances along the way.
On top of that, 62 medals were collectively secured by Team England, Team Scotland and Team Wales' aquatics squads at the 2022 Commonwealth Games – plus S14 200m Freestyle gold for Bethany Firth of Northern Ireland – as Britain hosted yet another world-class competition during one of the busiest periods of aquatics action in living memory.
Despite the packed schedule, Spice was pleased with both performance and progress by the teams.
"This summer has very much been a success, and it gives us a great platform to move forward. The point to make is that we've now broadened the base and we've got a really good platform to build on for the next two years," he said.
"Some athletes prioritised different events across the three competitions, some focused on specific ones, so it was very difficult to compare at the very top end where you actually stand – but one key aspect across all of the meets, and certainly across Commonwealths and the Europeans, was to expose as many young athletes as we could to high-level competition and see if we can accelerate their development, and I've been very pleased with that.
"Originally, 2022 was supposed to be a Commonwealth followed by Europeans year, and then of course they put the World Aquatics Championships in and then they took the Worlds out and then they were back in, so we had to get our heads around that.
"From a planning point of view, if you'd told us in the beginning that these results were going to be our performances and we'd reflect on the four major events, then I think we'd all be pretty happy with where we are. Certainly from the Worlds it was a bit of a limited preparation into that because of the timing. We didn't have our usual cycle with swimming and from a diving point of view, the team is used to competing regularly – but when it's thrown at you at the last minute, you know you've got to get your head around it."
Back in June, the World Para-Swimming Championships and the World Aquatics Championships in Budapest began the busy run of events. In Madeira, highlights included a hat-trick of world records for Tully Kearney in the S5 50m, 100m and 200m Freestyle, maiden world titles for Ellie Challis and Grace Harvey, plus some stunning relay results – including a dramatic Mixed S14 4x100m Freestyle Relay triumph and an impressive bronze for the new Mixed 49pt 4x100m Freestyle Relay.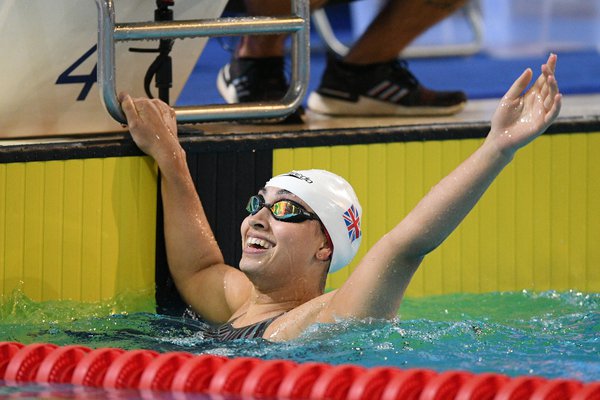 "There were parallels in Madeira with what would come over the rest of the summer, there were some really good performances there in a standalone event. We re-established ourselves as a power on the world stage in terms of medal production (placing fourth on the medal table) and also found some good young athletes that have been in the system and who've really started to perform well," explained Chris, who reflected on the season with the detailed help of Associate Performance Director Tim Jones, who was out in Madeira as part of the British Para-Swimming setup for the duration of the meet.
From there, swimming started the programme in Budapest, where Ben Proud began his historic charge to world, Commonwealth and European glory in one summer with 50m Freestyle victory, with Luke Greenbank and Tom Dean returning with both individual and relay medals in tow as part of an eight-medal haul in the pool.
A record-breaking tally followed from the divers, their collection of six surpassing anything done before at World Championship level by a British Diving team. Jack Laugher made his own history by winning three medals – including Men's 3m Synchro gold alongside Anthony Harding – while there were further synchro and team medals for James Heatly, Andrea Spendolini-Sirieix, Grace Reid, Noah Williams and Matty Lee.
There was less than a month between the curtain call in Budapest and the start of the Commonwealth Games, with all Home Nations earning medals. Team England topped the medal table in the diving and Tom Dean became the first Home Nation athlete in any sport to win seven at a single Games, with one gold and six silvers to his name in the swimming, where Olympic and Paralympic athletes teamed up in the pool.
"We were very pleased with our performances at Commonwealths because that was always on the agenda," added Spice on what was initially scheduled to be the first major on this year's calendar.
"People were still struggling to hang on to some of their tapers through the Games and we saw a little bit of that. Then of course we had Adam Peaty coming back from an injury and trying to rush back to get home for that, but all in all, the Commonwealths were very successful.
"I thought the divers did a great job, the integrated swimming and para-swimming programme worked really well and we got some good performances out of both of them."
The summer was then rounded off with the European Aquatics Championships, which saw Great Britain pick up 15 swimming medals, 12 diving medals and the overall team trophy for diving at Rome's iconic Foro Italico. Alongside a series of brilliant relay performances in the pool and synchro displays from the boards, there were unforgettable individual golds for Spendolini-Sirieix, Proud, Laugher and James Wilby.
"I think the big challenge for us was the European Championships. Doing two meets is one thing, but once you throw in a third, that was the big question mark – but we did great across the swimming and across diving, so to come out from what was a mad competition and end it on a high is brilliant. That amount of competition is quite the stretch to be able to do that psychologically and physically, so I thought our athletes did a brilliant job and the coaches did a super job too," said Chris.
"Given the workload, we took some conscious decisions to protect and manage our athletes through the end of the season by ensuring they did not compete too much and I think that worked really well, as you saw with some of the relay performances. With their input, we managed the athletes sensibly. We need to look after their long term-welfare given the bigger picture of the next two years and beyond."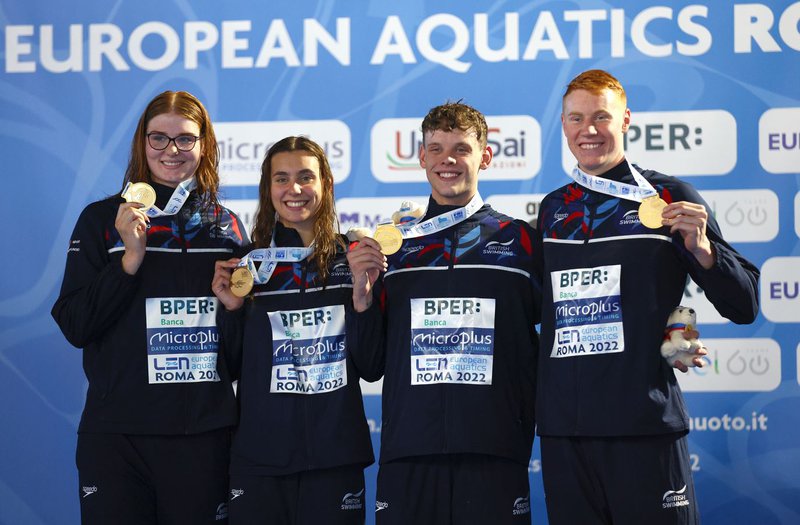 The summer also saw a number of new and developing athletes coming through the system, with Spendolini-Sirieix claiming her first diving gold medals at the European Championships and Commonwealth Games, Medi Harris picking up a handful of medals at the same competitions and twins Scarlett and Eliza Humphrey making their senior international debuts at the World Para Swimming Championships.
"As for people like Katie Shanahan, Medi Harris and Freya Colbert, it's great to see some females popping up into that space, which is stronger than we have had in the past few years. And then added to that, we've got Lewis Burras and Ed Mildred who came through for us at Europeans, as well as people like Jacob Peters stepping up again and becoming more reliable seniors. Those kind of things are really important for us as we go forward. So the most pleasing aspect of it all this summer for me wasn't necessarily the medals but was finding those young athletes," said Chris.
British teams also competed across a number of different events in marathon swimming and artistic swimming during the summer, including at the major championships. The former saw medals won in rounds of the LEN Cup, as well as both the World and European Championships seeing athletes earn valuable experience, while Britain's artistic athletes made Worlds history by reaching finals in every single event there.
Discussing the marathon programme, Spice said: "I think there's a wider question around distance freestyle swimming in the country. If you look at our 400m events upwards, we don't have the same depth as before when that was the real strength of the programme, certainly the female programme in the Beijing days, with Becky Adlington and Jo Jackson, and then Jazz Carlin into Rio.
"We've now got a project that Kevin Renshaw is looking at in terms of a distance freestyle project and starting to work alongside the Home Nations and what that might look like. That's going to be a much longer-term proposition, but certainly we see that as an area of potential improvement."
Concluding his reflections on positive learnings to take forward into 2023 and the rest of this Olympic and Paralympic cycle, Spice was quick to highlight the impact of the personnel out of the water in an unprecedented season of competition.
"What we've found again is the Performance Centres across the board have all delivered. I think we should praise the coaches and also the support staff, particularly in sports science and sports medicine where we've had a lot of disruption due to the restructuring of the department. Given all of the uncertainty around some of those roles, to deliver what we did was pretty outstanding in the circumstances. So praising the science and medicine guys, and also the coaches and other staff on the ground, is really important," he added.
"We can't not mention Ben Proud. To have the triple in the year, if you add the World Short Course title to that last year as well, it's a pretty outstanding achievement for him to have done. He's been a shining light throughout and it was great to see him bounce back from, in his own words, an Olympics he wasn't happy with – so all credit to him to win three on the bounce because there weren't too many people doing that.
"It's great to see Alice Tai back as well, at the Commonwealth Games, it was a phenomenal thing that she did and achieved, and Bethany Firth was brilliant there too. If you just looked through some of those guys that did well in Madeira and then at Commonwealths, Maisie and Grace too, they did fantastically.
"And then clearly the divers, it's been fantastic. It's so hard for Jack because the expectation is on him to win all the time and to keep that level of psychological toughness.
"It's a very psychologically demanding sport and to keep that level of attention on every single dive is tricky but he's been pretty outstanding right from a very good Worlds through to Commonwealths. The key story in the diving, I suppose, is the youngsters that have stepped up – Andrea and Kyle Kothari and Anthony with Jack, they've stepped up in this big year, not forgetting Noah Williams, there really is a bunch of them. British Diving is looking incredibly healthy on the back of the summer and there's a bunch of those athletes that could be around for a long time."
Head over to the diving, para-swimming, swimming and artistic swimming news sections to catch up on all the big stories from the summer.