After a two week 'end of season' break, Luke Greenbank is back in the water and raring to go.
The World Championship 4x100m Medley Relay champion and 200m Backstroke bronze medal had a breakthrough 2019 and was hoping to build on that in 2020, but is philosophical on the way the year turned out.
"Having the Olympic cancelled this year was obviously a massive blow, but as an athlete you have to try and look at the positives, so for me in a years' time, I believe I can be in a much better place than if the Olympics went ahead this year. My goals have stayed the same – I'd like to see continuous improvement year on year, so I'd like to try and improve on what I did at Worlds last year and after that just keep moving forward.
"We have a training structure that's set out and we know is going to work, so the only things that are up in the air are competitions and what camps we're going to get. Mel's gone with the approach that we have to 'prepare for the worst, but hope for the best', so everything is up in the air and you can't really make definite decisions, but we'll do what we can and we'll be in a good place in a year's time."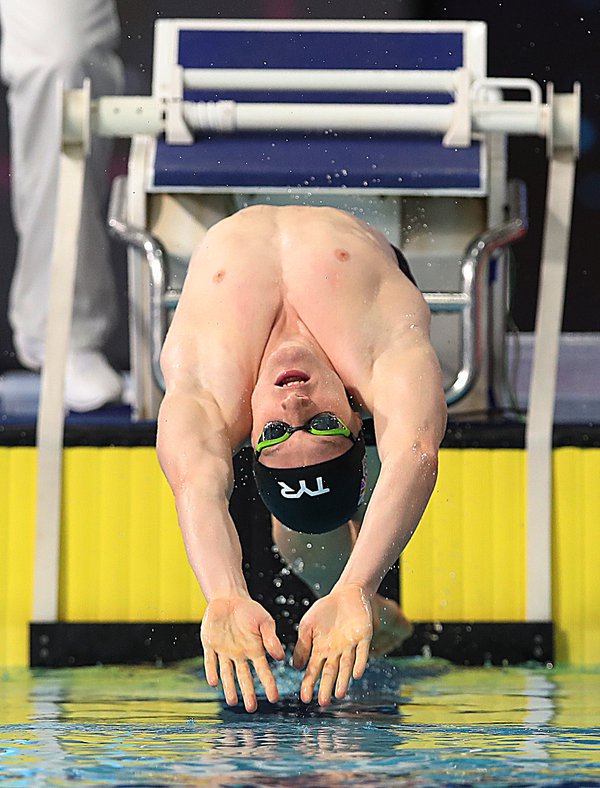 Now back in the water, it's been back to basics for Greenbank, under the watchful eye of his coach Mel Marshall.
"We've been back in this week, but just mornings. It's just been easy swimming this week, with like 3k sessions, so it's not been anything too difficult."
Having been out of the water and regular training for so long in the spring, some will wonder why the backstroker, and the rest of the athletes on the British Swimming World Class programme chose to take a break in early August.
"Although we didn't have a long cycle, this is the time have a break – have it now and then we can hit the ground running in the middle of August and be ahead of where we normally are come September.
"For me personally, the two week break was just a chance to get out of Loughborough and that training environment, and go home and see my family and friends, who I haven't really seen since Christmas. It was nice to be back."
So at this challenging time with many of the usual vacation activities not feasible, what did the Cumbrian get up to?
"Me and my mates went to Honister and did this new thing where you can sit on a platform off the side of one of the cliffs over the valley and have afternoon tea, which was cool!"
Prior to some time off, Greenbank and his National Performance Centre Loughborough teammates were putting in the hard yards, making the most of the golden opportunity to get back in, granted by the government's Return to Training protocols.

"Mel's message was that we want to make the most out of what we can get from a short, half cycle – rather than seeing it as the end of the season, see it as the start of the season. We built up and up and up and then did some 'races' at the end of July before two weeks off. Because we've only had two weeks off rather than the usual three or four weeks, it's been a bit easier to get back in and we're probably further ahead than we'd usually be at this time of the year."

Races you say?!
"They were time trials but we were racing each other, so I was next to Elliot Clogg for most of my backstroke races. They went really well and I was within a second of my 100m and 200m PBs, so it wasn't too bad!
"The fact that we had so much time out of the pool makes you appreciate what you had and gives you that bit of extra motivation to get back in and work harder."
So for those swimmers all over the country who are only just getting back to doing what they love, what advice did Luke offer up?
"Take it easy and build up slowly and hopefully you'll be back to where you were in no time.
"It took me a while to get back to where I was, especially with regards to fitness levels, so that longer aerobic type work, which was a bit more difficult, but it comes back, I promise!"
Whilst the Tokyo 2020 postponement will undoubtedly have been somewhat disappointing for Greenbank and his Great Britain teammates, memories of special days gone by definitely help remind him why he does what he does.

"A few weeks ago it was one year since we won the relay in Gwangju and to be honest it still hasn't really sunk in! I don't know if it ever will – possibly when I've finished swimming but it still feels a bit bizarre that a) it was a year ago and b) that we did it. It gives me a lot of confidence though."
And so it should.