British Swimming's Chief Medical Officer Guy Evans is doing his bit to help fight the spread of coronavirus, working for the NHS during the current global pandemic.
With the sporting world taking an indefinite pause, we caught up with Guy, who is busier than ever as he combines his day jobs with British Swimming & Bath Rugby with supporting the NHS during its hour of need.
"Yes, I'm very busy, but in a very different way! So we went from full speed ahead with the Olympics and in the middle of a Premiership Rugby season, to all of that going on hold and all the fall outs from that; we had to do a lot of work around unity and training environments, and we've then shifted towards doing some COVID -19 clinic work. Often my weekends are taken up with Premiership Rugby and that's not happening at the moment, so it's a good opportunity to swap over to do some NHS stuff."
So just how did he end up on the frontline, trying to help slow the spread of COVID-19?
"Well I volunteered to do it actually, so I don't have to do any of it. My wife's a GP locally, in fact my whole family are doctors: my two brothers are both doctors, their other halves are doctors, my dad is, and my mum's a retired nurse, so it's kind of in the family!
"If I'm honest with you, it got to a point where everything was about coronavirus and how it was all going to kick off, and I was thinking 'how worthwhile is my day discussing with British Swimming where we are going to carry on swimming, when actually the reality is people are dying now'. My background before I went into sports medicine was through general practice, so I got an email saying 'GP returners or retired doctors, would you like to get involved again', and I responded to that and said yes I would.
"I think for quite a lot of retired GPs, they suggested they might want to work behind the phones on 111 and that sort of thing, which I didn't want to do. I thought I'm relatively young, relatively fit, I actually had coronavirus myself about four weeks ago, so I thought I'm probably the right person to go in and do those clinics. And that's when they started doing it, so it's been interesting, stretching the grey matter in a way that I hadn't been for a while, seeing new born babies and 90 year olds and all sorts of things - my bandwidth of what I see has narrowed since I've been in sport! So it's been quite good, quite interesting and I feel like I'm helping."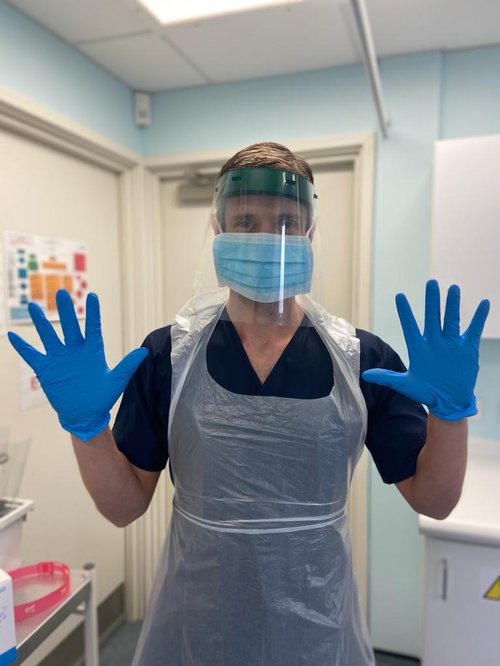 So for people who are quite removed from it and aren't aware, what's the reality of it like when you're on the front line, tackling the disease on the ground?
"Well, let me tell you what it's like for me going into these clinics, which is different from those working in intensive care. A few weeks ago the NHS started funnelling people into COVID clinics, which means I have a list of patients that will come in, they will have a pre-determined report time and they will pull up in their car into a designated parking space. I then ring them from the 'clean' section of the building and I take their history, all the usual information that I would normally do face to face. Then I get fully PPE'd up, so I put on my gown, my mask, my gloves and everything else and I take PPE to them to put on.
"I go out to the car park, hand it to them through their car window. They then put that on, then we both go into the 'dirty' side of the building where there is consultation rooms, and I do an examination, the minimum required to get the information I need. I then take them back out to their car, I take off my PPE, I then go back into the 'clean' side of the building, I phone them again, say this is what I found: you need to be admitted to hospital, I'm going to call an ambulance, or you need antibiotics as you have stuff on your chest and you can manage it that way. So it's quite a rigmarole seeing one patient; usually as a GP you see a patient in 10 minutes, where this is taking half an hour by the time you've done everything.
"At the moment the clinics are coping, and they're not overrun. You wouldn't want them to be much busier, but there is some capacity in them, which is good. And I guess with healthcare in a pandemic like this, you always need to have some level of capacity left, otherwise essentially the health system fails. So we are seeing a steady stream, but it's not to the point where we have people queuing up, which is good. I think that the hospitals, again, have lots of patients on ITU with coronavirus, but they're not overflowing too much, outside the contingency plans that have been made. In Italy, the health system crumbled, whereas here we have made lots of contingency plans, and turned recovery areas and theatres into makeshift ICUs and that sort of thing. They're not overflowed yet. As soon as they overflow, that's when people die. So I think the NHS is actually responding pretty well, at the moment."
Many peoples exposure to the pandemic is purely through what they see in the news, so to hear a first-hand account of the reality of the situation is eye opening. Although still in the midst of one of the busy periods of his life, what has Dr Evans learnt, or how does he reflect on the situation so far?
"I suppose the big reflection I've had is that I love sport, I am a general sports lover, and that's the reason why I went into sports medicine. But even I have noticed that sport is a great unifier, but it has it's time. When times are normal or good then sport is fantastic, but when times are bad it needs to go on hold. And now is the time for me to not just be doing sports work. Sport has stopped, so I need to go and utilise my skills where they are needed in the NHS. And that's a big reflection for me. It has made me reflect on my role and profession.
"I think when we get to the Olympics next year it will heighten it for me even more, because hopefully the buzz would have changed from a global pandemic, where I'm lucky I can use my skills to really help there, to next year everyone will be focusing on the Olympics and the buzz that comes with sport. Getting back into that and being able to do that side of my work will be amazing, and I won't take that for granted. That's probably the answer to your question, to not take any of the incredible sports events that we get involved in for granted, as this shows it can just be taken away."
As he already mentioned, Guy actually had coronavirus himself at the start of the outbreak, and shares his experiences.
"I'd say I had mild symptoms, but that's mild medically. I didn't need to go to hospital, I didn't need ventilation, but it was unpleasant. I had five days of fever and a dry cough and a banging headache pretty much every day, so it was unpleasant but still fits under the mild bracket. It was quite hard not having the NHS testing, as this only came in at the back end. So for a while I was thinking is this it? Is this not it?
"My wife was off work at the same time, and I'm thinking she needs to go back to work, is she safe to go back, and actually she was tested and she had it too. Interestingly she never had a fever and very little cough, she just had loads of snottyness and fatigue, so it was quite different really between us in terms of what we experienced."
To end a positive note, the British Swimming doc gave a mention to all those doing their bit at this difficult time.
"There have been quite a few examples of people showing that sport has it time, and when you're in a crisis everyone is able to prioritise what is important and do their bit to help the cause - everyone can do that in their own way. Adam Peaty is doing that - he has taken a skill, which is he is lucky enough to be very athletic, and he has put himself in a difficult spot [100k ride] in order to help others and put himself through some hardship. Geraint Thomas doing it as well is fantastic. Everyone can do their own bits and it's great to see that people are."