For Britain's up-and-coming distance freestylers, there is no substitute for genuine race exposure, as they prepare for a busy few months ahead on the back of the LEN Open Water Cup curtain-raiser in Eilat, Israel at the weekend. 
In the competition's first 10km marathon swimming race of the year, two-time World Championship competitor Tobias Robinson led the way for a five-strong British cohort, placing 13th overall in the men's race and leaving himself ninth in the LEN Open Water Cup standings after accounting for Australian athletes in the results list, with the Australia team using the meet as a World Championship qualifier.
Behind him were Swansea University duo Joe Deighan and Nathan Hughes. Deighan was 31st (24th in the European event) and Hughes did not finish. 
On the women's side, Leah Crisp and Amber Keegan finished just two places apart as they mixed it in a field with some of the world's best, with Bath Performance Centre swimmer Crisp touching 16th overall - and 12th in the LEN standings - and City of Sheffield's Keegan 18th overall and 14th in the Open Water Cup table after five laps of the Red Sea course, her first race over such a distance. 
Next on the horizon for the distance athletes is next month's British Swimming Championships in Sheffield, before the World Aquatics Open Water Tour event in Sardinia, which will serve as the primary World Championships selection contest in conjunction with additional, specific time considerations from the pool as well. 
And according to Nathan Hilton, British Swimming Performance Pathway Lead for Swimming, the experience gained in Eilat will be of huge value to the swimmers as a key stage in the season begins to unfold.
"Looking at the weekend and the group of athletes we took to the LEN Open Water Cup opener, Toby Robinson is more experienced, the other four had a little less experience - in the case of Amber Keegan, it was the first 10km race that she's ever done," he said.
"For those four, it was a big learning curve for them in terms of tactics, in terms of feeding, understanding what the pace is like in those races and all manner of things, really. So for a pretty inexperienced team, I think they did a good job.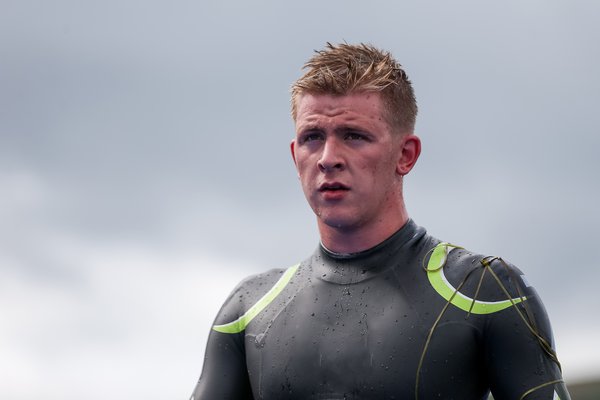 "In our country, where the climate doesn't support year-round open water swimming, it's difficult to be able to access the racing and training opportunities to be able to develop the skills required to be competitive at that level. 
"So any opportunity where we can expose these guys to racing against some of the world's top swimmers, it's going to develop them massively. From that point of view, the racing skills are a big thing moving forward for them, particularly for the more inexperienced people in that team now.
"Next up, all of them will be racing at British Champs, but they'll be in various states of rest or fatigue, depending on what their priorities are. We've got about nine weeks until the selection race, so once we've been to that race and we know how many people we'll be taking out to World Championships in July, we'll head out to Setubal the week after for another 10km event." 
For full results from the LEN Open Water Cup event in Eilat, Israel, visit the LEN Open Water Cup webpage.