Olympic silver medallist Duncan Scott triumphed in the clash of the Men's 200m Freestyle titans to bring the curtain down in style on the British Swimming Championships 2022.
University of Stirling's Scott defeated Olympic champion Tom Dean by a tight 0.19 seconds in a pulsating final that saw James Guy – a member of the Olympic gold-winning Men's 4x200m Freestyle Relay team, like Scott and Dean – take third.
It had been billed as the race everyone was waiting for and it certainly did not disappoint, as a field packed full of Olympians battled for the British title.
Bath National Centre's Guy - who has put in an impressive set of early-season performances - was narrowly in front at the 150m mark, before Scott and Dean powered their way down the final 50m and with 25m to go, it was too close to call.
Ultimately, Scott clocked the fastest 200m Freestyle time in the world this year to get the touch and take top spot, with Bath National Centre's Dean winning silver in the second-quickest time.
Showing how highly he values British Swimming's world-class quality in this event, Scott said: "We set ourselves quite high standards in the 200m Freestyle and that is quite important, that's why we've got to where we have and had such success in that 4x200m in Britain.
"It's probably one of the staples I was talking about within the British team - the 4x200m Freestyle Relay comes along and the expectation, being part of the British team, is it's going to medal. Now the target is on our back and we've got to try to set the world standard. Look at the final, we've done well there as a group tonight. A lot of the boys, we've been chatting through the week about how we know we can move things on again in the summer, which is pretty pleasing.
"To be honest, I was quite disappointed with how the heats were as a 200m Freestyle in Britain as a whole, I thought we were quite lazy this morning. I don't know if it was a couple of us feeling sorry for ourselves on last day of the meet, but I just thought the standard we need to try to hold, it wasn't good enough. But some people moved it on quite a bit there tonight. It was good to see. I just hope we are able to keep moving things on the rest of this year and the next few years then into Paris."
The meet as a whole brought Duncan a new British record in the Men's 400m Individual Medley, as well as another British title – in the fastest global time of the year thus far – in the 200m Individual Medley. So how does he reflect on the week?
"The 200m Freestyle on the last day of a trials is always a battle because day six in Ponds Forge is quite a difficult one. For that, it makes it that bit better because it is such a battle. I'm really delighted with my week's racing, it's been pretty challenging, the first time I've had the 400m IM in the schedule too which adds to that intense fatigue, so I'm happy with it," he added.
Meanwhile, Olympic champion Dean reflected on a British Championships that brought him new personal bests and World Championship consideration times in both the 100m Freestyle and 200m Individual Medley, on top of that 200m Freestyle silver in the event in which he was already pre-selected.
The Bath National Centre man said: "The 200m Free at the end of this week is always so special - we saw it at the last Trials and we saw it here as well. It's like the blue riband event for British Swimming at the moment, it's so strong. We showed that with the 4x200m Free at the Games, we've got so much depth - and a one-two with Duncan, I don't think I'll ever get tired of doing that.
"There was no pressure on that race at all. I knew I'd booked my ticket and confirmed my place in the top two tonight, but there was no pressure. What I really wanted to do was get that 100m Free and my 200m IM sorted, I got PBs in both of them and qualification in both of them, which is brilliant. I haven't trained my 200m IM in three years, so to come and pop a 1:57.1, I wasn't expecting that at all. It's probably the best week I could've hoped for, I'm really happy with how the team has done and how I'm back to my best, it's nice to be back in that position again."
Earlier on the night, Ben Proud powered his way to a sixth British Swimming Championships 50m Butterfly gold medal with the fastest time in the world this year.
He triumphed by 0.38 seconds from Bath National Centre's Jacob Peters, who set a new personal best in winning the silver medal ahead of third-placed Adam Barrett (Wycombe District).
Bath University's Proud said: "That was much better than I expected. With coming to this unrested, trying to train through, last night (in the 50m Freestyle) was how we expected – but this swim here was better. Me and coach Mark Skimmings spoke about the race this morning, really focused on small details, and it's one of those races where I executed them and it paid off.
"I had to make the most of being pre-selected, which is what we've done. It's about building through the year. A few of us are quite lucky to be able to train through and then peak in the summer.
"It will be a good couple of competitions back to back, which will be good fun to take part in, but we have to get this training bit in to be able to perform in the summer. All this racing is brilliant just to get yourself primed and ready to go, suits back on and get back into it."
Edinburgh University's Kara Hanlon won her first senior British Swimming Championships title as she clocked a new lifetime best to narrowly edge a thrilling Women's 100m Breaststroke final.
Only 0.11 seconds separated the top three, with Hanlon coming back strong in the final 25m to get to the wall first, ahead of Loughborough National Centre's Sarah Vasey.
Derventio's Imogen Clark, who was victorious in the 50m race, was quick off the blocks and led at the turn but couldn't hold off Hanlon and Vasey and had to settle for the bronze.
Hanlon said: "I'm so chuffed with that [first senior British title]. I saw to my right how quick Imogen went out, but I always knew she was going to go out quick - it was just about bringing it home for me. I'm not sure what it was, but trying to make that 36.0 coming back has been the goal this season. Hopefully this just builds into faster swimming in the summer."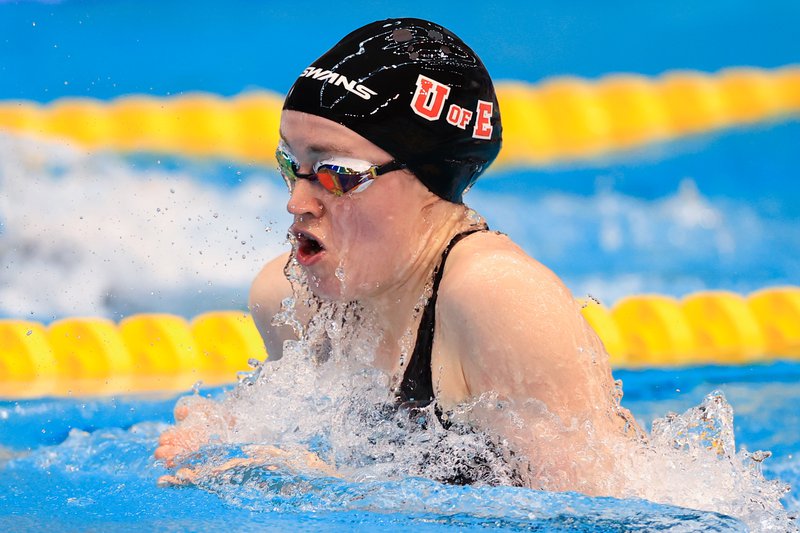 Olympic bronze medallist Luke Greenbank held off a determined challenge from Brodie Williams to claim his second British title of the 2022 championships.
Loughborough National Centre's Greenbank clocked the fifth fastest 200m Backstroke time in the world this year but was pushed all the way by Bath National Centre's Williams.
Only 0.33 seconds separated the duo with Greenbank adding the gold to the 100m Backstroke title he won on the second day of the championships. Williams had led at the halfway stage but Greenbank was ahead as they hit 150m and a fantastic final turn saw him stretch clear, with City of Sheffield's Jay Lelliott finishing third.
Greenbank said: "It was quite a tough race. Maybe I went out a little too hard on the legs, and I had Brodie next to me, pushing me all the way to the end. It's nothing special, but for where I am at the minute, I had far from ideal preparation coming into this competition. I was ill with the flu for a couple of weeks, that knocked me back a little.
"I just wanted to come here and get some racing exposure, that's one of the positives I can take from the week, that I have been competitive and progressing. There's a lot to learn. A good block of training over the next 10 weeks into Worlds, a solid block and then I think we'll be in a good place."
'Super happy' Laura Stephens said adding the Women's 100m Butterfly British gold medal to the 200m title she bagged earlier in the week was a 'massive confidence boost'.
The Loughborough National Centre swimmer – who recently moved from long-time training base Plymouth Leander – beat 50m Butterfly champion Harriet Jones in the last women's final of the British Swimming Championships – and admitted it was a case of 'job done'.
Stephens had clawed back a fast start from Jones at the halfway mark and she held on to win by 0.67 seconds, with University of Stirling's Keanna Maccines third.
Stephens said: "I really wanted to drop time from the heats, I wasn't expecting that much of a drop, so I'm super happy with that. I listened to what Dave [coach David Hemmings] said, went through my process and then the scoreboard showed me something I wanted to see!
"It's a massive confidence boost to come here this week and come away with two golds from two events. That's job done and everything I wanted, so I'm really happy with that."
Fleur Lewis executed the perfect race plan to win her first British senior title in the Women's 1500m Freestyle gold after overhauling a determined effort from City of Sheffield's Amber Keegan.
The Barnet Copthall swimmer was 10 seconds adrift as Keegan built a substantial lead as she set a quick pace from the off. Lewis, however, bided her time and slowly began to reel Keegan in and had taken the lead as they turned for the final 50m.
She eventually triumphed by 2.82 seconds, with Keegan taking the silver medal ahead of Bath National Centre's Leah Crisp.
Lewis said: "It was mainly just about trusting my swimming, my training at home. I train to back end things normally. I didn't actually know if I could catch her, I'm not going to lie – but as the race went on, I slowly saw that I was catching up, which gave me more energy to swim faster.
"I tend not to focus on the crowd because it makes me more nervous. I just try to focus on my race and what I'm doing, instead of anybody else, as I can't control anything else, so I focus on my race. It was good, but it was hard!"
To catch up on the reports from every finals session from this year's British Swimming Championships, head to our 'What's On?' page here.