It is your final chance to vote for Duncan Scott to be crowned the first ever National Lottery Awards Athlete of the Year.
The 21-year-old, who has earned 10 senior international medals this year, including becoming Commonwealth Champion in the 100m freestyle, and European Champion in the 200m freestyle.

And we want to make sure this achievement is recognised on the national stage, as the award is decided on public votes.
You can vote for Duncan by:

Clicking here
Calling 0844 836 9732 (Telephone voting calls cost 5p max.)
Using #NLADuncan on twitter (Only one retweet or tweet will be registered from each account throughout the voting period – uses of #NLADuncan on Facebook and Instagram will not be counted)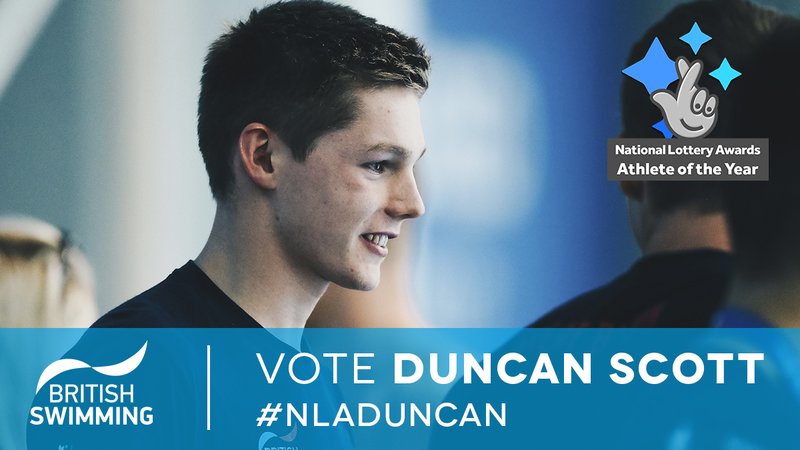 The other nominees are: Alex Danson (Hockey) Emma Wiggs (Para Canoe) Lizzy Yarnold (Skeleton) Mahama Cho (Taekwondo) Katie Archibald (Cycling) and Menna Fitzpatrick and Jennifer Keho (Para Skiing).

The athlete who finishes in first place will receive a £5,000 cash prize to award to a National Lottery funded project of their choice.

Duncan's nominated cause is Edinburgh Limb Loss Association (ELLA) supporting lower limb amputees, by arranging social events, including swimming sessions.

The victorious athlete will also receive an iconic National Lottery Awards trophy and attend a star-studded glitzy awards ceremony to be broadcast on BBC One on 26 September 2018.

Voting closes tomorrow, so make sure you have had your say.