Seven British swimmers will set foot onto the pontoon for the 2023 LEN European Junior Open Water Championships in Corfu, Greece at the end of September.
Set against the picturesque backdrop of Corfu, junior marathon swimmers from all over Europe will converge to vie for victory in their age category events across the 29th September - 1st October 2023.
The British team features seven athletes, each selected based on performances at the British Swimming selection event, hosted by Swim Wales at Swim Wales Challenge Series (Open Water) in June.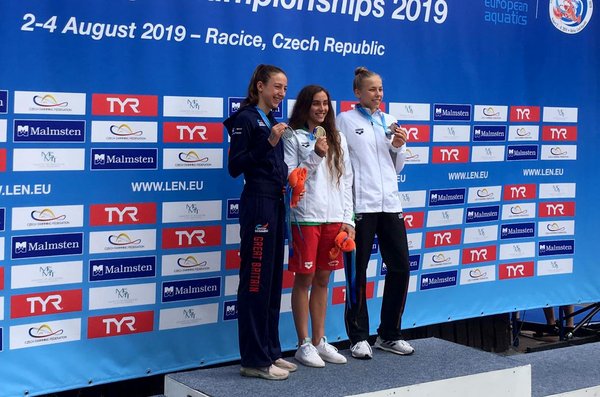 Ella Dyson spearheads the team's experience as a European Junior silver medallist from 2019, and will contest the Women's 10km race. Sean McCann lines up for the respective Men's event for athletes born in 2004/2005, after both were first through the finishing gate in their age category at Llandegfedd Reservoir.

Samuel Williams and Lucy Fox, both members of Wycombe District club alongside Dyson, will swim the 7.5km course in Corfu for athletes born 2006/2007 - each securing individual wins over the distance in Wales to meet the outlined selection criteria.
Meanwhile 1500m Freestyle British Champion, Amelie Blocksidge, is set to build further experiences international stage on the back of picking up a gold and a silver at the 2023 European Youth Olympic Festival (EYOF) in Maribor, and her 1500m Freestyle silver medal at the European Junior Swimming Championships in Belgrade last month. The 14 year-old swimmer is joined on the team by two City of Salford clubmates, Katie Lee and Benjamin Ross - having led Lee over the 5km line at the selection race in June, whilst Ross was the fastest finisher in the respective 14-15 year-old men's classification.
The championships in Corfu concludes with opportunity for Great Britain to enter a quartet from the travelling team into the Mixed U19 4x1.25km relay event.
Marathon swimming team selected for the 2023 LEN European Junior Open Water Championships in Corfu, Greece (29th September - 1st October 2023):
Amelie Blocksidge (City of Salford) – U15 Women's 5km
Ella Dyson (Wycombe District) – U19 Women's 10km
Lucy Fox (Wycombe District) – U17 Women's 7.5km
Katie Lee (City of Salford) – U15 Women's 5km
Sean McCann (City of Leicester) – U19 Men's 10km
Benjamin Ross (City of Salford) – U15 Men's 5km
Samuel Williams (Wycombe District) – U17 Men's 7.5km