Katie Shanahan and Tom Dean won a couple of thrilling individual medley showpieces as the penultimate night of British Swimming Championships action saw six athletes go inside World Championship qualification or consideration marks. 
Both of the qualification times beaten were in the Women's 200m Individual Medley, as University of Stirling competitor Shanahan edged out Abbie Wood (Loughborough Performance Centre) for the British title at the end of a superb head-to-head contest. 
Duncan Scott claimed Men's 200m Individual Medley silver behind champion Dean as both Olympic gold medallists clocked consideration times, a feat matched by Ben Proud in sprinting to Men's 50m Freestyle glory and Daniel Jervis in a fine Men's 800m Freestyle victory.
Shanahan lined up in lane two as Saturday's curtain call final took to the blocks under the Ponds Forge spotlights, while Wood readied herself a couple of lanes over in pole position having topped this morning qualifiers. With the clocks reset, Olympic finalist Abbie took the race out strongly – turning over half a second ahead at the 50m mark. Shanahan's speciality in the backstroke reversed the tidings, setting up Wood to counter with her world-class breaststroke ability.
Despite the separating lane, the pair clearly could sense how close-fought the final length would be and pushed each other right to the line and underneath the World Championships qualification mark. For Wood this was her fastest medley performance since lowering her personal best in Tokyo - however, a stoked Shanahan found the edge by six hundredths to stop the clock in a huge personal best of 2:09.40. European Junior champion Leah Schlosshan claimed a pacey bronze behind the pair.
"If I didn't have Abbie down that last 50m, I would not have been able to do the time I've done. I could definitely see her in the last five metres and whoever had won, I'd have been happy," said Shanahan
"I'd probably say that 200m Individual Medley [was my standout for the week], actually. After the 400m IM, I was really pleased with that, and then my 200m Back, but this race has been my highlight and ending my week on that, I'm really, really happy.
"I could not have done any of those three swims without the people in the background. There is such a big team pushing us on - it's not only us in the pool, it's not just the girls, it's everybody on poolside, coaches, family and everything."
With Wood adding her thoughts following the thrilling encounter, she said: "I am just so grateful that Katie was there, pushing me on. I haven't gone that time in a couple of years now, and I think without her there, I wouldn't have been able to do it - and she did an amazing PB.
"I knew I was on good form from the freestyle, they were PBs for me and I just wanted to get my name in the hat for the relays. Freya [Colbert], Laura [Stephens], Katie - they've been such standout girls this week, and just to know we've all been doing the work and trained together, in altitude, we've been pushing it on together."
Meanwhile, the versatility of Olympic champions Dean and Scott was put firmly on show as the pair headlined the Men's 200m Individual Medley medal contest. Having matched each other for pace over the opening 50m, Scott's backstroke strength built a small advantage on Dean, who responded to close with a gap on the outbound breaststroke to the final turn.
With just over a tenth separating the pair at the start of the freestyle leg, it was another classic closing tussle between the friends for the top step of the podium. Ultimately,  a hair's breadth was in it as Dean claimed the victory, with both under the 1:57.61 consideration mark. Behind them, Carnegie's Mark Szaranek swam a well-controlled race to pick up the bronze.
Dean was full of praise for his counterpart and what close competition brings to elevating the sport after claiming the gold, commenting: "Duncan is an incredible athlete, I've always said that - he just happens to be an incredible athlete that does the same events I do, which is part and parcel of it. Coming from the same country I always think is quite good because I know I'm always going to get a good race when I come here and that's always a lot of fun. I think it's good for the sport and it's good for British Swimming. Head to head at Commies he got the touch on the 200m Free and the 200m IM but at the Olympics I managed to get the touch on the 200m Free and here again on the 200m IM, so I think it's really great for the sport.
"I'm excited for the 200 Free, it's more of a main event than the 200 IM, so hopefully I'll be able to be a bit stronger on that. I've been training more for the free than the IM but loads more guys are doing the 200 Free than the 200 IM. It's a stacked race because everyone wants to be in the 4x200m team, but I know the engine's there, which is good."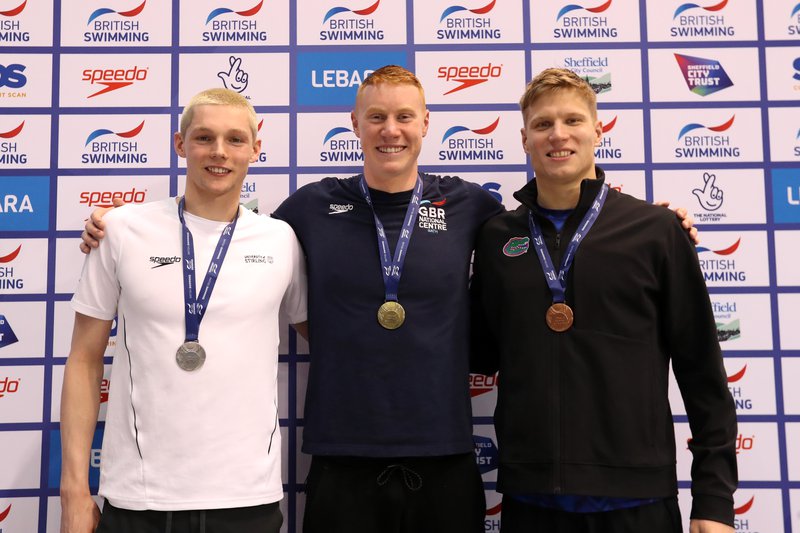 Meanwhile, Ben Proud (Bath University) reclaimed his title as the fastest British man in water during an electric Men's 50m Freestyle final. The world, Commonwealth and European champion took to lane three after a measured morning heat. Nevertheless, there was no doubt his focus would be dialled up to hold off the challenge of Lewis Burras (Repton) and Matt Richards (Millfield) come the medal contest.
Indeed, Burras and Richards applied plenty of pressure, both going under the 22-second barrier - Richards for the first time - but Proud powered his way to victory within the 21.85 consideration time to make his case for Fukuoka selection.
"That was brilliant. This morning, I was a little bit ropey, I've not done as much racing this year and to be honest, my preparation for this has been a little different, so I really had to draw as much as I could out of myself. If I didn't dip under 22, I'd have been third and that would have made some real complications for this year, so I had to get in the zone and have some good practice," said Ben.
"I'm really chuffed with that, but I'm also happy for the other guys. Two guys dipping under 22, Matt Richards for the first time, it's super cool to see and it's just great to be a part of some real racing. 
"That 4x100m Freestyle team is incredible, it's going to be great to watch it, and naturally those guys doing it will be good at the 50m as well. It's nice to see that, but also nice to get that title here, even though I was just looking to do what I needed to to qualify and then trying to get the best performances this summer when it matters."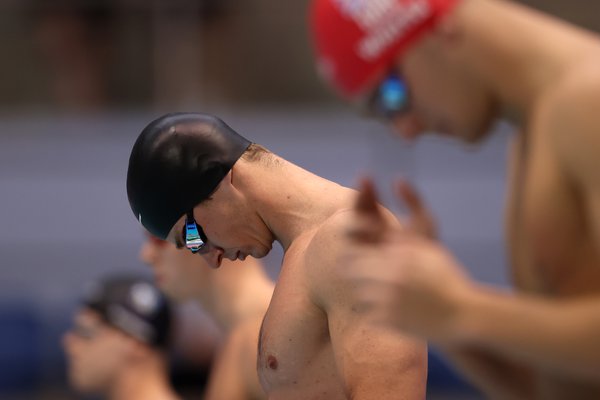 Freya Colbert continued her standout meet with a third British title, slicing over two seconds off her lifetime best in the Women's 400m Freestyle to cap a commanding performance.
The Loughborough Performance Centre swimmer had broken the elastic on the rest of the field by the 200m mark and stayed true to her race plan with no let up as she time trialled toward her hat-trick gold. A solid duel to complete the podium standings transpired behind, with Leah Crisp (Performance Centre Bath) doing just enough to keep Shannon Stott (Hatfield) at bay to take the British silver.
"I knew going into it that I had a Worlds time and that I had the capability for more and I'm really happy with the times that have come along with it as well. The 400 IM was the best race of the meet for me. Everything about it was great and I got a good world ranking from it as well. I had high hopes and exceeded my target," explained Freya.
The Men's 800m Freestyle fastest seeded heat was the first event under the starter's orders on Saturday night with two athletes to have already taken British titles in 2023 occupying the centre of the pool.
1500m Freestyle gold medallist Daniel Jervis (Swim Wales High Performance Centre) wound up the pace through the early lengths to move to the front of the field, with 400m Freestyle champion Luke Turley (Bath Performance Centre) sitting on his feet one lane over.
By the bell, Jervis was well over a body length clear and was racing against the clock. The Tokyo 2020 Olympian went to the legs and kicked home in a new personal best of 7:47.81 to obtain his second Worlds selection time of the meet, this consideration mark following his 1500m qualifying time. Turley came in second in a lifetime best, with Loughborough University's Tobias Robinson rounding out the podium.
Delighted to have taken a second title of the week in one of his 'favourite pools', Jervis said: "I'm very happy with that, I'm very glad it's over! I was very nervous tonight, I don't know why because I had absolutely zero pressure but I always have high expectations of myself, and if I don't hit those expectations, I beat myself up.
"So I think coming away from there with a two or three-second PB, I can't really ask for more, so I'm very happy.
"The feeling when I touched the wall and heard the crowd the other day after the 1500m Freestyle, that was brilliant. I feel like you go through 90 per cent of hell in training, and then that 10 per cent, feeling that feeling, it's amazing, I loved it."
A brilliant head to head between Lauren Cox (Loughborough University) and Medi Harris (Swim Wales High Performance Centre) caught the eye in the Women's 50m Backstroke final.
The early advantage appeared to be with Cox, who emerged from her underwater first to get up into her stroke, however Harris' swim speed brought the pair parallel as they headed under the flags. Diving for the line, Cox timed her finishing kick to perfection propelling her hand to the wall five hundredths ahead of her rival. Blythe Kinsman (Mount Kelly) was next to stop the clock, showing a positive progression in her heats to final performance which maintained her third-placed qualification and take bronze in a new British age-group record time.
"I got a PB in my 100m which I was really pleased with. It was almost 59 point so hopefully that'll come but it was really good to end on the 50m." said Cox
"I did a 27.9 when I was out in Florida in training, and I've had a really good taper so it gave me a lot of confidence. I should be able to swim in a straight line pretty quick with all those things! I'll hopefully be able to make one of those teams, but I'm really excited to be back."
For the full results, as well as information ahead of the final day's action, check out our "What's On?" page.