Luke Greenbank, James Wilby, James Guy and Tom Dean ensured Britain ended the swimming programme of the World Aquatics Championships on the podium as they claimed a brilliant bronze in the Men's 4x100m Medley Relay. 
The traditional competition closer of the men's and women's medley relays always provide entertainment – and so it proved again for the British team, three years on from a historic Worlds gold in Gwangju.
This time around, the GB quartet found themselves locked in a thrilling, three-way battle for third with Australia and France.
Loughborough Performance Centre man Greenbank – a silver medallist in the individual 200m Backstroke earlier in the meet – has become a staple of this relay in recent years, and he dropped 0.4 seconds on his morning swim to deliver a brilliant opening leg and give Britain an early platform in fourth when he handed over to Wilby on the breaststroke leg.
Wilby also dropped considerable time in this final, at the end of a busy competition of individual and relay swims, moving past the French and into third at the halfway stage, before five-time World Championships swimmer Guy took over for the butterfly.
Jacob Peters swam that section in the heats – becoming a Worlds medallist himself now in the process – with Guy stepping up here to strengthen GB's position in third as he passed on to Dean for the anchor leg of freestyle, a role Lewis Burras took on in the morning, earning himself a bronze medal on senior international debut too.
Dean was eyeing a hat-trick of bronzes this week when he took over, and he was not willing to let that slip despite being chased by Australia's Kyle Chalmers, pacing his opening 50m well and then providing the back-end speed to touch in a time of 3:31.81 for that podium spot.
Speaking afterwards, it was clear how much it meant to double Olympic champion Tom to be a part of this particular event.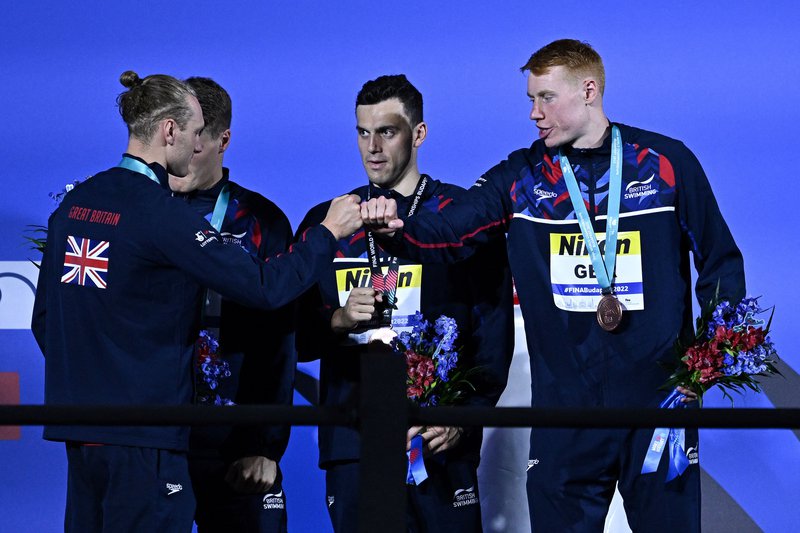 "It's my first time with these boys in the medley relay, I've never done a medley before so it's really special to be a part of it. You think back to 2019, they had such a special race when they the World Champs and Duncan did that incredible freestyle leg - so to be part of a team with such history is amazing," he said.
"When I saw everyone celebrating, I knew we were on the podium, so that was quite special."
Guy added: "The main goal for this meet was just to try to see what we've got. This year has been quite a weird year, having a World Championships thrown in, but to get a bronze on the world stage at the start of a big year is very, very good.
"Compared to the likes of the USA, who are massive, we're a very small nation - but our strength is there and we've showed we've got a bit of stamina towards the end of the race. I could definitely feel it [fatigue] a bit towards the end of the race there, hitting the waves, but no excuses, it was a job done and obviously we've got the Commonwealth Games in four weeks' time. I'm 26 now, it doesn't get any easier!"
At the end of his third finals performance of the week, Wilby said: "We've all had that busy schedule, and so you can have a little bit of fatigue sometimes, but it's just putting in the race, tactically just right to put the next leg, in this case Jimmy, in the best position he can be to hand off to Deano and then hopefully get on that podium."
As for Greenbank, his 200m speciality does not stop him from being a crucial part of the relay over half the distance.
"I'm used to swimming in this relay now. It's me going out there and doing the best I can do for the team, that's the mindset you've got to have - it's not about being a 200m swimmer or whatever, it's about going in there and really putting your all in," he said.
This medal ensured the team ended the 2022 version with five medals to their name – a gold for Ben Proud in the 50m Freestyle, silver for Greenbank in that 200m Backstroke and a trio of bronzes – Dean in the 200m Freestyle, the Men's 4x200m Freestyle Relay and this men's medley display.
Britain's involvement in the final night of swimming at these World Championships began with Dan Jervis in the Men's 1500m Freestyle finale. 
After a fifth-placed finish at the Olympic Games, the Swansea University man was keen to move things on from his heats swim here – and he duly delivered.
While Italy's Gregorio Paltrinieri was on the opposite side of the pool, pushing the world record all the way, Jervis focused on his own race in lane eight, pacing it well throughout and not allowing events elsewhere to distract him from the race plan. He ultimately touched in 14:48.86, a drop of more than eight seconds from the heat, a season's best and his third-fastest of all time.
It left him in positive spirits at what is to come later this summer and over the next two years into Paris 2024.
"I'm really pleased with that. The thing I'm pleased about the most is, yes it's a really good time, it's my third-fastest ever, and I came into this meet not tapered, I've been quite open about the fact that this isn't my main meet of the summer. But in training, I've really been struggling with the sport at the moment. Physically, I'm capable of doing everything, but mentally, I've just had this wall that I've really had to fight against - and when I think I'm over the wall, something will happen and I'll just think, 'I've missed it again'.
"But today, that's a good indication that if I'm relaxed, if I enjoy it, that can happen - and I've really loved my time out here. The team has been fantastic, there's been really good support, the GB team has really been there with me, I've loved it and that was a great swim.
"The thing we've been going off for this meet, it's like the start of a trampoline. It's a three-year cycle, now there are two years left to Paris. This is a good first bounce on the trampoline, and if I can just get bigger, bigger and bigger, my main aim has always been Paris and that swim there has just proved that even though sometimes I am mentally struggling with it, I can just do it and get myself there."
Soon after Jervis' swim over the longest distance in the pool, Hopkin walked out for the final of the shortest – the 'splash and dash' of the Women's 50m Freestyle.
The Loughborough Performance Centre athlete clocked a season's best in the semi-final, and while she could not quite replicate that here, the swim was still enough to leave her ranked seventh in the world after a meet full of individual and relay efforts.
"I was just happy to be in the final and be in the mix with some of the best in the world. It's good to get that experience," said Anna.
"I always want to be faster, this week I've not necessarily done the times I want to, but we've got a lot more opportunities this summer, so there's a lot to work on and hopefully we can build on through the summer."
For full results from the finals, click here.
Visit our 'What's On?' page here for a full rundown on how you can watch and listen to all the key aquatics action from Budapest.