British Swimming's European medal tally got another relay boost in Rome, as Tom Dean, Matthew Richards, Anna Hopkin and Freya Anderson delivered silver in a thrilling Mixed 4x100m Freestyle Relay finale.

As was the overriding tactic, the team front-loaded with two men first, as 200m Freestyle Olympic champion Dean took the team out solidly, managing to hold with the leaders before handing to his frequent relay teammate Richards.

A man who is building as this meet progresses, Matt put in a decent shift too, pulling the group up to third place at the halfway mark, with Hopkin tasked with cutting the 0.89s deficit to the top.
Anna did well and dug in to keep within a body length of the new front three, before handing over to anchorwoman Anderson with the team very much still in contention for the podium places.
With Freya half a body length behind the leaders after the takeover, she started to charge with 25 metres to go, a flat-out racing finish seeing her overtake both Sweden and Italy from what seemed an unlikely position to hand GB a silver medal on the touch, only half-a-second behind the eventual winners France and three tenths ahead of fourth-placed Italy.
Ed Mildred, Lucy Hope and Jacob Whittle will also all receive medals for the part they played in the heats.
Reflecting on her fifth medal-winning performance of the meet so far, Anderson said: "Everyone's been telling me it was so close between fourth and second, so I'm just really happy to get my hand on the wall and get that medal. On reflection, it's been such a busy year that I can't really complain getting medals at Europeans. A gold would've been lovely, a gold tonight would've been nice, but I can't complain with two more silvers to add to the collection."
Dean added: "The results are coming in, but that's a credit to my team as well. I'm feeling quite tired physically, but we all knew that coming in, that was to be expected. Dave [coach David McNulty] is telling us as we're going out, 'you've done a whole lot of racing this summer, give it all you've got, just squeeze out a few more races and have fun'.
"It's such a good laugh doing the mixed relays, you never know what's going to happen. People change up the order last minute from other countries, it's unpredictable, it's fun - and Freya's finish was nuts."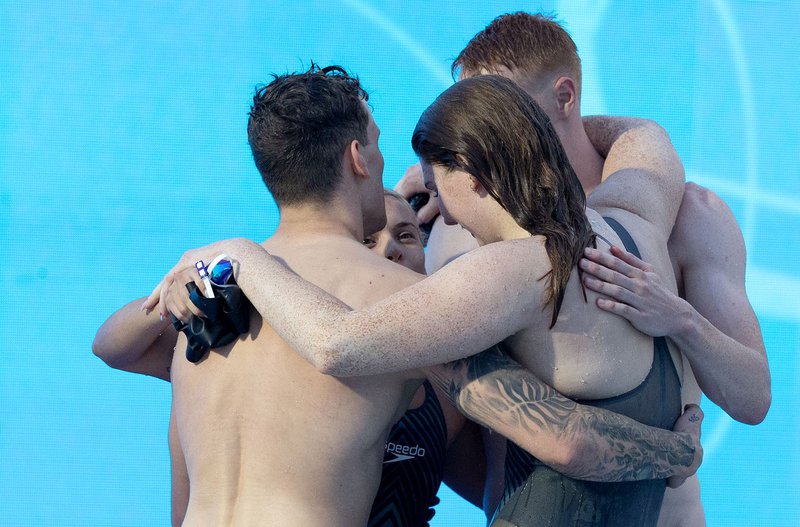 Hopkin said: "It was great to get on the podium, to get silver when it was so close between bronze and silver, it was amazing that Freya managed to get the touch. It's always special to be on the podium, no matter what the times are or how we're feeling, it really lifts us up."
Richards concluded: "It's brilliant. As we've said, we're all tired, we're all somewhat hanging on, so to come away with a silver in that event is really promising for the future. I think we'll only go from strength to strength in that event. Deano and I have more to give on that, I'm sure Freya and Anna would probably say the same. So going into next year and the year after that, I think we're all in a great position."
Keanna Macinnes was the only individual finalist of the session for British Swimming, as she went up against a strong field in the Women's 100m Butterfly Final.

She came up in contention after the start, before maintaining her speed to the turn. She then managed to get the better of Belgium's Roos Vanotterdijk down the last 25 metres to touch in seventh place, just outside of her seeded time and in good form ahead of her favoured 200m event.
Two Brits were in for the semi-finals of the Women's 200m Individual Medley, as Katie Shanahan and Freya Colbert lined up in the first of what were two stacked races.
It was Shanahan who put in the best performance in her race, as she flew out of the blocks to be in the mix after the butterfly leg, before using her trademark backstroke speed to cruise past the leaders, holding her nerve all the way through the race to touch in first place, ultimately the fastest qualifier of the lot. 
The City of Glasgow Swim Team athlete was understandably ecstatic after her swim, which also delivered a huge new personal best of more than a second, a time of 2:11.84.
"I'm really happy with that. I was overdue a PB in that event, I just decided tonight to take it out from the very start, I knew it was going to be hard to make it back. Some of these girls aren't quite swimming at their best at the moment, so I just thought I'd take that opportunity and push it from the start," she said.
"Knowing that I've already won a silver medal here and winning two medals at Commonwealth Games, it's just that hunger of wanting more. I'm not one to ease off at the end of a meet, I want to do the best, I want to push that medal tomorrow night. It's the hunger of knowing I've done so well, wanting to keep that going."
Colbert, meanwhile, missed out on the final by a single place, despite clocking her own new PB of 2:13.65. 
Medi Harris continued her busy schedule as she went again in the first semi-final of the Women's 100m Backstroke. Coming into the race as second seed, she took the pace out, touching first at the halfway point following a decent start.
She kept her stroke steady as she came into the wall, being touched out by the two swimmers either side to finish in third place, which comfortably sees her into tomorrow night's final in fourth overall.
Also in semi-final action, ahead of her silver relay exploits, was Hopkin, as she put in a solid swim to progress through to the final of the Women's 50m Freestyle. The 26-year-old went in the second of the two races, knowing that a sub-25 second swim would be enough to put her in with a chance of a place in the final tomorrow night.
She was up with the pack after the start, doing well to swim on the shoulders of the sprint-starlet Sarah Sjoestrom the whole way through the length, before getting her hand to the wall in third place to qualify in fifth.
Another name returning to the pool was Mason Wilby, with the Men's 200m Butterfly semi-finals on the agenda. The GB debutant ultimately placed 16th in the contest.
For more info on results, start lists and how to watch every session of swimming on the BBC, click here.