Adam Peaty picked up where he left off a week ago, lowering his new world record with a memorable win on the last night of ISL action in 2020.
He wasn't done there though, breaking his British record in the 50m Breaststroke, in the first of three skins swims, where he would ultimately triumph.
It was in his favoured 100m Breaststroke though where he re-wrote history once more, backing up his legendary status in the long course pool. Displaying his usual power down the 25 metre lengths, the Olympic champion was flying and despite what felt like the longest glide into the wall in history, he made actual history with a 55.41 swim. What made it perhaps even more exciting was that it was needed, with rival Shymanovich equalling the record Peaty set last weekend to finish second.
Back in the water for the last event of the day, the Men's 50m Skins, where breaststroke was the chosen stroke, Peaty wasted no time, confidently dispatching a strong field with a 25.41 swim, bettering the British record he set last week. It was harder in the second swim, with only two advancing to a third and final swim, but second place was enough to see him through.
It was poignant that in her pep talk before the final swim of the entire ISL season, London Roar and British Swimming's National Centre Loughborough Lead, Mel Marshall, said to Peaty: 'Ever since I've known you, you've been the last man standing', and that he was, as he never looked like touching anything other than first.
Of his achievements on the night, Peaty said:
"I'm very happy to come away with another world record and on the 50 again it was another British record and a PB, so I'm getting closer to the 50 world record, which would be ideal! I tried to use my energy to get the best swims I could – still a lot to grow, still a lot to learn, but I think I'm in a very good place going into a long course season now, and the Olympics.
"I'm very happy with my performances and I think the team can be very happy with where we ended up – it was very, very close."
Earlier in the night Duncan Scott and Freya Anderson smashed the Men's and Women's 200m Freestyle British records within the space of five minutes, with a pair of brilliant short course swims.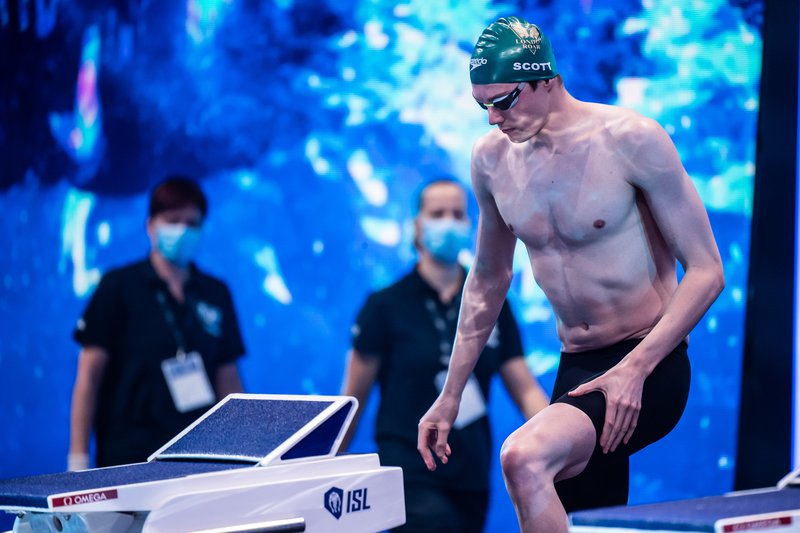 Duncan Scott brought the first British and London Roar victory on night two of the Grand Final, as isolated down in lane one he could focus on his own race, leading at the halfway point. The Steve Tigg coached all-rounder never looked like relinquishing his lead, a technical masterclass seeing him home in 1.40.25, a convincing victory lopping almost half a second off his old record.
With the commentators lauding him as the most versatile swimmer in the world as the athletes climbed onto their blocks, Scott produced another magical swim in the Men's 400m Individual Medley, coming within two hundredths of another British record, as he annihilated the rest of the field.
Leading throughout, the World Champion didn't hold back, a strong breaststroke and even better freestyle seeing him home well clear. In fact British swimmers swept three of the top four spots in the race, Tom Dean using his freestyle power to come through for third, with Max Litchfield, who was Scott's closest challenger for the most part, touching fourth. Aimee Willmott also produced a strong swim in the women's event, the University of Stirling swimmer coming home in fourth place.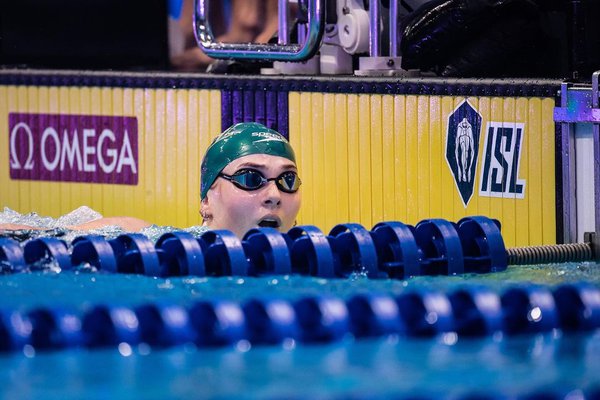 Having already revised the 200m Freestyle record to 1.52.60 in winning match eight of the 2020 season, Freya Anderson swam a typically measured race, charging down the final 50m to drag herself from fourth up to second, touching in 1.51.87 to obliterate her previous mark.
Earlier in the night the David McNulty coached swimmer had taken fourth in the Women's 100m Freestyle, with four swimmers separated by just five hundredths of a second! Once again though, she finished quickly, equalling her personal best, which was perhaps a sign of what was to come.
In the end, after six weeks of intense swimming, it was Cali Condors who lifted the ISL trophy remaining unbeaten throughout, with defending champions Energy Standard second and London Roar third.