The British Women's and Men's 4x100m Freestyle Relay quartets ensured they will be part of two intriguing contests on the opening night of finals at the World Aquatics Championships in Budapest after the GB team got their programmes underway. 

Both relay teams produced promising heats performances to qualify fourth-fastest for their respective finals, with the two foursomes containing senior international debutants keen to make an early mark.
Earlier in the morning, meanwhile, Abbie Wood (Women's 200m Individual Medley), Laura Stephens (Women's 100m Butterfly), Ben Proud (Men's 50m Butterfly) and James Wilby (Men's 100m Breaststroke) got their jobs done with professional displays to book semi-final spots later in the day.
On the relay front, it was the female quartet of Lucy Hope, Anna Hopkin, Medi Harris and Freya Anderson who teamed up well to secure a lane in the final. Olympian Hope got the team off to a solid start, before Hopkin – part of that history-making Mixed 4x100m Medley Relay team in Tokyo – sprinted down her two lengths to give GB a platform at halfway. Worlds debutant Harris took over on leg three and then handed over to anchor-specialist Anderson, who produced her usual strong finish to overtake Brazil and touch third in the heat, fourth overall.
Moments later, Lewis Burras, James Guy, Matt Richards and Jacob Whittle looked in good form to win their heat and make sure of that finals passage. Burras led from the front in his first senior international swim, with the experience of Guy – at his fifth World Championships – taking them on from there and putting the Brits in front by halfway.
Richards and Whittle did not look back from there, keeping the red GB caps at the head of the pool ahead to make sure it was job done on morning one.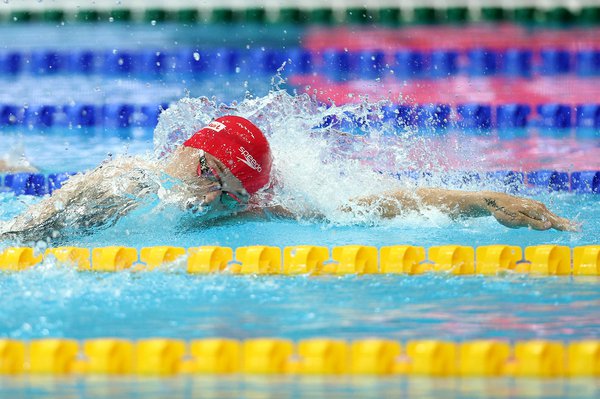 "It was really good, good to get the job done. We've won our heat, so it should be a good final tonight. It's good to get that first swim out the way, get it done and a nice way to set up the meet - I'm really happy with it," said Whittle.
Burras added: "That was my first World Champs swim in the books, I'll never have one of those again. The time was okay, processed it to the best of my ability. It's a new environment, and I'm just looking forward to moving it on now."
Wood was the first Brit into the iconic Duna Arena pool in the 200m Individual Medley on Saturday morning – and she delivered a solid heats swim to secure her safe passage into the evening's semi-finals.
As ever, the European medallist built well into the medley and looked good across the breaststroke-freestyle section to place sixth overall in qualifying, preserving energy in the process but getting the GB ball rolling nonetheless.
"I wanted to set the team off on a good note but also a calm note. I feel like the energy of the team is quite calm and relaxed, it's about being efficient and getting the job done," said the David Hemmings-coached athlete.
"I learned from Tokyo not to try to be the best in the heats and use my energy across the rounds."
There were further semi-final spots booked shortly afterwards in the Men's 50m and Women's 100m Butterfly events. Ben Proud – the 2017 world champion in this contest – powered down the single length to touch third in his packed heat and seventh overall, with a faster swim than his entry time. Bath Performance Centre man Jacob Peters went in the same heat but missed out on an evening swim, placing 21st. 
Just beforehand, Laura Stephens went in the women's 100m event to get her programme underway in Budapest, and she did just enough to come back later in the day, qualifying 16th for the semi-finals.
Loughborough Performance Centre athlete Wilby clinched a stunning silver in the Men's 100m Breaststroke at the last World Championships in 2019 – and his goal of reaching that podium again started with a good heats swim to progress to the semis.
Wilby came back well in the second 50m to place fourth in his high-quality heat and 11th overall in qualifying, with the aim to move it on in a few hours' time.
Elsewhere on the day, Freya Anderson 'prepared' for her relay swim with an outing in the Women's 400m Freestyle, alongside compatriot Freya Colbert.
In a stacked event, Anderson swam to a 14th-placed finish, with Colbert coming 18th after her very first swim at this level.
Speaking on the experience, the Nova Centurion athlete said: "I was looking forward to just getting in there, seeing how it would feel and everything, and I'm looking forward to building on it as we move through the meet into my other events.
"It was a bit slower than I would've liked, but I think it's the fastest heats swim I've ever done in the morning, so a good heats swim but unfortunately I won't get to do it again this evening."
Brodie Williams came close to a berth in the Men's 400m Individual Medley final, giving everything in his heat – including a brilliant 100m of backstroke – to come 10th overall, two places off an evening lane, while distance freestyler Dan Jervis swam his fastest heats time in a Men's 400m Freestyle race to come 14th.
For full results from the heats, click here.
Visit our 'What's On?' page here for a full rundown on how you can watch and listen to every finals swim from Budapest.