Triple European champion Molly Renshaw has retired from elite swimming, bringing the curtain down on a senior career that spanned more than a decade and saw the Loughborough Performance Centre athlete earn multiple major medals and compete at two Olympic Games. 
Molly's senior international debut came in Shanghai at the 2011 World Championships, when she competed in the 200m Breaststroke event, aged only 15 years old. Although that breakthrough meet was followed up by her narrowly missing out on London 2012, she would go on to claim her maiden senior international medals for Team England at the Glasgow 2014 Commonwealth Games, winning 200m Breaststroke bronze and silver in the Women's 4x100m Medley Relay. There was another silver soon after, in the 200m Breaststroke final on her European Championship bow in Berlin.
The 2016 European Championships in London saw Renshaw claim her first continental title, as she helped Britain's Women's 4x100m Medley Relay team to gold. She would finish just outside of the individual medals with a fourth-place finish in the 200m Breaststroke, although it would prove perfect preparation for the Olympic swims a few months later.
She secured herself a place in the Team GB swimming squad for her debut Olympics in Rio in 2016, before progressing comfortably through the rounds of the 200m Breaststroke - and setting a new British record in the semi-final - to reach the showpiece, in which she ranked sixth overall. The year was then rounded out with a world title in the 200m Breaststroke at the World Short Course Championships in Canada.
From there, the David Hemmings-coached swimmer – who previously came through the ranks at Derventio Excel under Mark Rose and Andi Manley, before working under Kevin Renshaw in Loughborough – went on to appear at the World Championships in 2017, in what would be the third of her five Worlds appearances for British Swimming. The summer of 2018 saw Renshaw collect a bronze medal in the 200m Breaststroke at the European Championships in Glasgow, after claiming silver in that same event earlier in the year at the Commonwealth Games.
Renshaw reached three finals at the 2019 World Aquatics Championships in Gwangju, before earning selection to her second Olympic team after smashing the British record in the Women's 200m Breaststroke at 2021's British Swimming Selection Trials. She would go on to claim a stunning gold in the same event at the European Championships that year, before missing out on a podium place at the Tokyo Olympics by just a couple of places with a sixth-place finish.
In what will ultimately be Renshaw's final year in the sport, she made the final in both the 100m and 200m Breaststroke events at World Championships number five in Budapest, before rounding off her stellar career with a Commonwealth bronze medal in the 4x100m Medley Relay with Team England in Birmingham.
Speaking on her retirement, Renshaw was full of admiration for the team at the British Swimming Performance Centre, Loughborough – where she is one of its longest-serving members - as well as a host of other people in her support network.
"I just want to say a massive thank you to everyone who has supported me over the years. I have had the best support network I could ever have dreamed of at Loughborough. We've got world-class facilities and the staff are absolutely world class as well," she said.
"Obviously a massive thank you to Dave, my coach, he has coached me for the past six years, and to everyone else - whether that is physios, strength and conditioning, sports analysis team. Everyone has, in some kind of way, been a contribution to my career and my success, and I definitely wouldn't be where I am without them.
"I want to say a massive thank you to my family and friends. My family are the reason I am where I am today - without my parents driving me to training at silly o'clock in the morning, I definitely wouldn't have achieved what I have over the years, so they are a massive part of this. The athletes I've had the pleasure to work with over the past 10 years, they've made a massive contribution as well. Surrounding yourself with a really good team is key to success.
"I am so grateful that, over the past 10 years, I've had an amazing network and such amazing facilities."
As well as playing her part in the water, Molly's wealth of experience has seen her taken on an important leadership role for British Swimming teams at all levels, at competitions and training camps alike.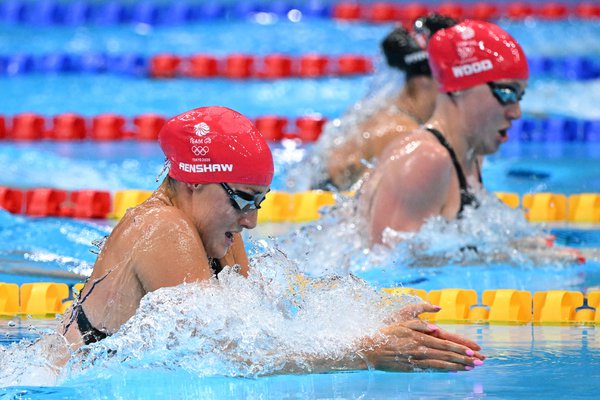 Now, in some final reflective comments on her career as she looks to move away from the pool, she is looking forward to new challenges outside of the pool.
"It's really sad to let the sport go, but I think it's the right time for me. I have to be a little selfish and move on with my life. I never really dreamed of achieving this much in the sport - to have gone to two Olympics and numerous World Championships, European Championships and Commonwealth Games, it's just been an absolute dream," she added.
"I'm now really excited for the next chapter of my life now, whatever that holds, something completely different and to be out of the water for a bit!"
Paying tribute to Molly's impact for British Swimming teams over an 11-year period, Performance Director Chris Spice said: "Molly's contribution to British Swimming has been exemplary throughout her decade with us. She has become one of our most experienced athletes and has always been a consistent performer, in and out of the water. She was a great 'racer' who came to life in the arena.
"Her achievement of medals at World, European and Commonwealth level are something she should be very proud of, as well as the senior role she has taken in recent years as a wealth of talent has come through the ranks on the women's side of our team. All at British Swimming will wish Molly the best for whatever comes next."