James Wilby stormed to his maiden individual European title in the Men's 200m Breaststroke to cap a night that saw British Swimming claim a medal of each colour in Rome. 
On the fourth night of action at the European Aquatics Championships, Wilby produced an outside smoker from lane eight to kickstart a memorable 15-minute period that also brought Women's 200m Freestyle silver for Freya Anderson and bronze for the Men's 4x100m Freestyle Relay quartet of Jacob Whittle, Matt Richards, Tom Dean and Ed Mildred. 
It was Loughborough Performance Centre man Wilby who lit the touchpaper by securing his third gold medal in a fortnight, following triumph in the 100m event and Men's 4x100m Medley Relay at the Commonwealth Games.
Wearing a GB cap here rather than Team England, the David Hemmings-coached athlete went out strong from the outside over the opening 100m, sitting fourth at that turn but well in contention and away from the attention of those pushing in the centre lanes.
It was on the third lap that he made his move, surging up to second at 150m and then into the lead by 175m, before holding on, despite the fatigue of his third major meet this summer, to touch first and claim the gold.
"It's been a year where my approach has been very different, it's been a lot more enjoyment focused and just making sure that I'm really happy doing the sport, in training and through the competitions," he said afterwards.
"This is our third major international - I honestly try not to think about that too much because I don't want to think how tired I potentially am. But at the end of the day, I'm just really happy, I'm really enjoying myself. 
"I loved that race, I've loved the past couple of races I've done these last few days, and so the performances are coming when I'm in that state. That's what it means, and that means everything to me now.  I said to myself straight after the semi-final, 'why do I keep doing this to myself?', sometimes cutting it a bit fine in the outside lane! But I knew coming into this evening it would be a case of racing my own race, sticking to the process and that would deliver a good result.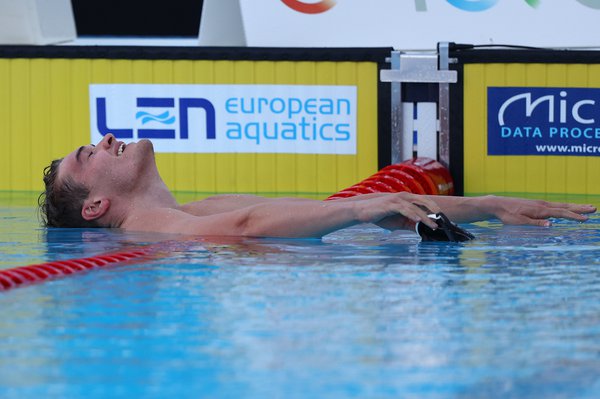 "It's an advantage in the fact they can't see what I'm doing, but then a disadvantage in that I couldn't see what they were doing. It was a real wrestle down that last length, the last 25m, but I executed my process just like I wanted to. The same as it's been a couple of times this year, it's not about the time, it's just about getting in and racing it, I came away with the gold and I'm so happy with that."
As James was talking through his race victory, Anderson was diving in at the start of the 200m Freestyle finale, going in search of her fourth medal of the meet. As well as two relay medals, Freya took bronze in the 100m Freestyle after attacking early on, but her biggest work was done in the final 100m here, turning fourth at halfway and then moving up to second by the 150m mark.
From there, it was a fierce tussle with the Netherlands' Marrit Steenbergen, with Freya - coached by David McNulty at the Bath Performance Centre - clawing her back with every stroke to the wall, eventually touching just 0.16 seconds off the gold to take a hard-earned silver.
"The body is very sore right now. I cannot complain with a medal, I'd have loved to have won gold but it's the third meet this season and I can't complain at that," said Anderson.
"I've been learning a lot every time I race, learning how to manage the physical and emotional energies surrounding meets. I've got a lot in my back pocket to take forward from here."
Finally, it was over to the young quartet of Whittle, Richards, Dean and Mildred in the Men's 4x100m Freestyle Relay showpiece.
The team of three teenagers and 22-year-old Tom had all gone in the morning's heats, but they backed it up in the final, with Whittle leading things off from the start and handing over to Richards, who delivered a pacey second leg to leave Britain narrowly fourth at halfway.
From there, Dean - alongside Anderson as one of the busiest GB swimmers of the cohort this summer - delivered his usual impactful 100m in a relay, although this was as the third man, pushing the team up to second as anchorman Mildred dived in. 
Under pressure from teams either side, Mildred showed fine composure over his two laps, holding firm even as the Hungarians went past to ensure he touched third and made sure of the bronze. 
Speaking on the result, Whittle said: "We're very pleased with that. The boys did very well, it's great to get our first medal for the team. It's been a tough week so far, so it's really boosted us for the end of the meet."
Richards added: "We are trying not to cling on, we are trying to push on, we are trying to keep going. It has been a long season, it's a long meet as well, a lot of races - I know personally I've got about four events to go. That's a really good start. It took us a while to get into it, especially the lads, we've all come in a bit tired after the Commonwealth Games, but that was to be expected, we are building through the meet and that's all we can ask for."
Dean said: "It's a good feeling. Our majors were Worlds and Commies, this is my 31st or 32nd international race in the space of two months, it's unheard of, so I always came with the mindset of potentially leaning towards the relays and the individuals taking a step back, because I've done what I wanted to in them this summer. 
"Coming off the high of the Commonwealth Games, the emotions, the physical exertions, achieving that big seven medals and then to come here on the end of the summer, it was always going to be a tough meet. So the fact four lads were able to pull out their quickest swims of the meet and get their hand on the wall for that bronze medal, it's spot on!"
Mildred had the final say, adding: "I knew I had to do something special, especially to cling on with the Hungarians there. But I'm glad to come away with a medal and do my part for the team. I found out pretty much as I got back to the hotel after the heats that I was doing the anchor. I like being under the pressure and I felt like I definitely performed under it there. 
"Every swim is a learning experience. I'll definitely take a lot away from it, being in such an environment."
The evening began with Medi Harris' first individual final of the meet. Having already won medals of all three colours across relay efforts in the opening three days, Harris lined up as the third-fastest seed in the Women's 50m Backstroke finale. 
She got a good start to be right up with the central leaders at the 25m mark, but she was not quite able to surge to the wall for a podium place, ultimately finishing fifth ahead of her favoured 100m event getting underway on Monday morning. 
In the Women's 100m Butterfly semi-finals, Keanna MacInnes followed a strong heats swim to drop a substantial personal best in the evening, qualifying her for Monday's final.
It was a standout result for MacInnes, a 200m specialist who was building towards her favoured event but proved she is in good form with a PB of 58.55 seeing her through in eighth.
"I'm really, really happy with that. Obviously the 200m is my main event, so I wouldn't have expected to be getting through to the 100m final. This morning gave me a lot of confidence, going in seventh, and then I fixed a few things that I missed this morning, so that probably made a bit of a difference," she said. 
"Off the back of the Commonwealth Games, I was a little bit disappointed with how I'd swum. Again, this has just given me more confidence that the 200m should be fine, because it feels nice, relaxed and easy, so that should be good for the front end of the 200m."
There was a near-miss for Kara Hanlon in the semi-finals of the Women's 200m Breaststroke, as the Edinburgh University athlete finished a mere 0.14s off the top eight and a place in the final.
Kara moved things on well from her morning heat, clocking a season's best with a well-paced swim but ultimately placed 10th overall. Still, it is another valuable learning curve for Hanlon in her first major meet representing GB. 
"I was pretty pleased when I looked at the time, that's my season's best and only 0.2s off my best ever, so I can't be complaining at that - but I suppose just to see the 0.14s off the final is a bit gutting," she said.
"I'd have loved to have given that another chance, but I'm really pleased with how I've been getting on, this is all about experience for me.  I'll come back with my coach next season, we'll chat through all this and I think there's so much to be taken into next season and even further, so I'm just grateful to be here, learning every day and I'm loving it."
Elsewhere, Jonathon Marshall's first taste of a senior international semi-final saw him finish 14th in the Men's 50m Backstroke. 
For more info on results, start lists and how to watch every session of swimming on the BBC, click here.