Freya Colbert, Lucy Hope, Medi Harris and Freya Anderson combined to get Britain on the medal table on the opening night of action at the European Aquatics Championships in Rome.
In their second swim together as a Women's 4x200m Freestyle Relay quartet, Colbert, Hope, Harris and Anderson kept themselves in contention for the European title from lane one throughout a thrilling race, before ultimately touching for silver behind the Netherlands to ensure a British presence on the podium after day one at the Foro Italico.
Leading things out on the opening leg - as she did in the heats - Nova Centurion athlete Colbert took the race out hard from the outside, handing over to Hope with a narrow lead. Lucy was one of two competitors, alongside Freya Anderson, who had also raced the 100m Freestyle semi-final earlier in the session, but she bounced back quickly from that one to lay down a solid 200m and ensure Britain were ahead at halfway.
From there, it was over to backstroke specialist Harris, who has showed time and again in her debut senior season that she can handle whatever is thrown at her. After a steady opening 150m, the Swansea University racer put in a strong back 50m to hand over to Anderson with all three medals still very much up for grabs. 
Anderson has become a staple anchor for women's relay teams over recent years. Here, a fierce contest ensued with the Dutch team in the centre of the pool - and while she was just out-touched for gold, Freya's pace kept Britain well clear of the chasing pack to ensure it was a satisfying silver on night one, with medals also awarded to Tamryn van Selm and Holly Hibbott for their efforts in the morning's heats.
Reflecting afterwards, she said: "I think I was a bit hard on myself, saying I left it too late - but taking a step back and looking at it, this is our third competition of the year and putting it into context, I'm pretty happy with that.
"The girls put me in the best position they could, so I just had to get my hand on the wall. Being in this environment, outdoors, in one of the nicest pools in the world, it helps you find something, and the crowd is amazing here. The team is really relaxed, we've got ourselves on the medal table now, so hopefully we can keep the ball rolling."
Hope added: "Coming in as the defending champions, all the girls won all the relays last year, we had confidence in ourselves that we could pull together four good swims.
"I think we were hoping for the gold, but to come away with silver after the morning swim, we can't really be upset. We swam four good legs and we're all really happy with the silver."
On her pacey opening effort, Colbert said: "Because I swim the 400m as well, I knew I needed to be out if I wanted to come back, because we were on the outside - I wanted to be in front of the girl inside of me.
"I just went for it, I think I might've paid for it a bit on the last 50m, but I'm happy with how I swam, no regrets, going out and giving it all I could."
As for the versatile Harris, how was that experience of being on the podium for a freestyle relay?
"I just go in and swim as hard as I can, I guess. I just wanted to be near the other girls, so to be able to swim with these was really special - and I kept thinking I need to give Freya the best chance, so I had to swim hard," she said.
"Going to Worlds and Commonwealth Games has really helped, and getting to know the team has been really good. I've come into each meet just trying to enjoy each one as they come, and that's definitely what I'm doing, especially with the relays."
There was no podium place for the Men's 4x200m Freestyle Relay team. As with the women's event, the final quartet was a brand-new one for this meet, with Matt Richards leading off, Jacob Whittle up second, Kieran Bird in third and Tom Dean bringing the effort home. 
Also going from an outside lane, the British team saw the podium chasers steadily pull clear and keep themselves there.
Ultimately, it was a sixth-placed finish for a new-look team, with valuable relay experience set to be a key theme for athletes across this third meet of the summer. 
Earlier in the night, Katie Shanahan was the standout individual swimmer in a GB cap as she qualified third-fastest for Friday's Women's 200m Backstroke final.
The City of Glasgow Swim Team athlete is riding the crest of a wave after winning two medals at the Commonwealth Games, including in this event. After a solid heats swim, she dropped more than a second in the semi-final, holding a steady speed from the central lane before moving things on in the closing 50m to move past her nearest rival and win her heat.
Despite a faster second heat, Katie was still in the top three qualifiers into the medal showdown, where she will hope for more of the same form that has been on show over the past fortnight.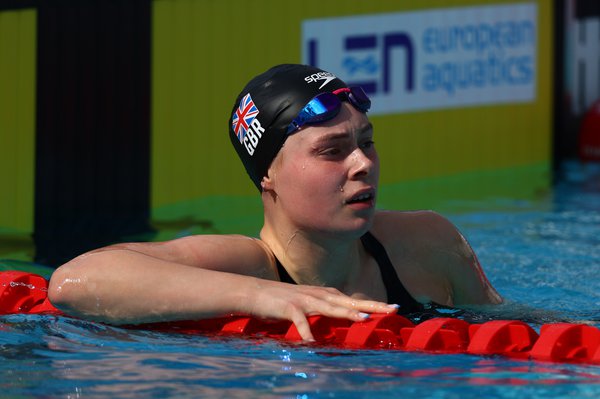 "I'm really happy with that, to come into a semi-final and get first place I'm just really proud of myself. Obviously I've had a really busy summer so far with Commies, and to come away with two bronzes there I was just so proud. Hopefully I can carry that momentum on and hopefully do another fast swim tomorrow night," said Shanahan.
"I just want to carry on that momentum and not look back too much now that the Commies have passed, and put it behind me so that I can focus on this meet. My schedule isn't as busy, even though there are semi-finals here for me and there weren't at Commies. I'm just excited for my last meet before a big break, and just see how fast I can go."
Relay medallist Anderson was the first member of the British team to book herself a lane in an individual final after a well-paced swim in the Women's 100m Freestyle, ahead of her 4x200m Freestyle Relay exploits. 
Going alongside compatriot Hope in the first semi-final, Freya - a multiple medallist at both World Championships and Commonwealth Games so far this summer - kept pace with the leaders well down the opening 50m, turning third in the race and keeping steady alongside the race leaders to finish in that position.
Only one swimmer in the second semi went faster, meaning Freya will line up as the fourth seed in Friday's European final. Hope came back well in the back 50m but had just too much to do and agonisingly missed out on the final by a single place, finishing ninth. 
There was also a finals ticket booked by new Commonwealth champion James Wilby in the Men's 100m Breaststroke. As one of the athletes - with Anderson another - to have had a packed programme across Budapest and Birmingham, Wilby was looking to feel his way into the meet on day one - and he built into the 100m semi-final as the race progressed.
Despite a pacey start from those in front, the Loughborough Performance Centre man's stroke rate got him back into the contest down the home straight, and he got the touch for fourth in his semi and eighth overall to ensure he will be able to go for a medal next time out.
In the same semi-final, senior GB debutant Greg Butler came 15th overall. 
For full results, as well as information on how to watch every session on the BBC, click here.