The British Para Swimming team celebrated nine medals, including golds for Tai, Kearney and Firth, on day two of the London 2019 World Para Swimming Allianz Championships.
Alice Tai continued her medal charge on night two of the London 2019 World Para Swimming Allianz Championships, with a masterclass in backstroking. Breaking her own World Record, Tai secured her second gold of the meet with another dominant performance in the Women's S8 100m Backstroke final.
Victory never looked in doubt as 20-year old Tai pulled further and further away from the rest of the field. She powered home to take the championship crown in a time of 1:08.04, with Tupou Neiufi (NZL) winning silver in 1:16.37, while her GBR teammate, Megan Richter, came home to win bronze in 1:17.95.
A delighted Tai said of her performance:
"I actually looked at my time when I turned. It's a bad habit of mine and I thought oh gosh I'm going to really have to push it here to get this world record. I really wasn't expecting it and I'm quite emotional."
Speaking about teammate Megan Richter's bronze medal, Tai continued:
"I'm honestly so, so happy for Megan. I know she's had a really good year's training and I love the fact I can share the podium with her."
Despite winning bronze, the race itself had been stressful for Richter. She said:
"I ripped my race suit just before the start so I was worrying about that the whole time. The first 50 was good, but I hit the lane rope on the way back which wasn't great. I was hoping for a low 1:17 but I'm happy with that and it makes all the hard work worthwhile."
Tully Kearney kickstarted the British celebrations at the start of the evening by winning her second gold of the meet in the Women's S5 200m Freestyle. Kearney dominated the race from the start and powered her way down each of the four 50 metres, touching in 2:46.92, a new Championship Record. Arianna Talamona (ITA) won silver in 2:51.43 and Monica Boggioni (ITA) took home the bronze in 2:57.96. Britain's Suzanna Hext pulled out of the final on medical grounds, but hopes to be back racing at the weekend.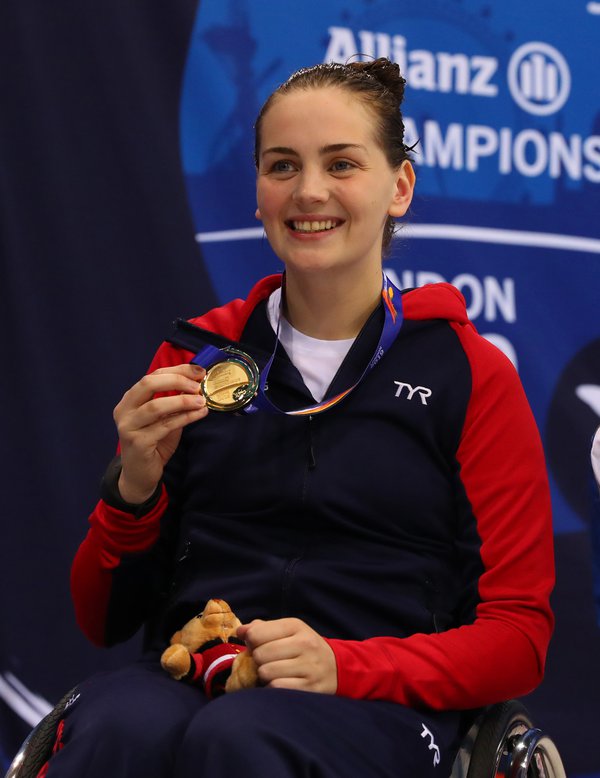 Kearney said of her race:
"I knew that going out from the start looked a winner. I knew I had to go out quick and stay ahead so that's what I tried to do. I died off a bit but I think that's to be expected as I've had a pretty tough season. It's just under a year since I had surgery; I've had multiple injuries and even five weeks ago I was in hospital not thinking I'd be able to compete. For me to come here and have the fitness to be that close to my PB, I'm so pleased."
Bethany Firth went one better than the silver she won last night, with gold in the Women's S14 100m Backstroke. The athlete who trains under the guidance of Nelson Lindsay and who is Paralympic champion in the event, took the title in a new Championship Record time of 1:05.97.  Valeriia Shabalina (RUS) won silver in 1:07.23 ahead of Firth's GBR teammate, Jessica-Jane Applegate, who won her second bronze of the meet in 1:08.33.
Firth said of her performance:
"I'm so happy, the crowd have been amazing. I'm coming back from injury and I was just trying to retain that title and that's what I've done."
Applegate also spoke of the race, and said:
"I'm a little disappointed. If I'd gone season's best I may have got a silver. But that's me just being hard on myself as it's not really my event."
Stephen Clegg broke the British Record again on his way to a silver medal in the Men's S12 100m Butterfly final. Clegg turned first at the 50m mark and was shoulder to shoulder with Dzmitry Salei (BLR) in the final 15m. It was the athlete from Belarus who took the touch in 57.28, with Clegg winning silver in 57.36. Yaroslav Denysenko (UKR) picked up bronze in 57.70.
Despite being so close to gold, Clegg was far from disappointed and said:
"I'm really happy with that result. I've progressed again and that's all you can ask for. I've learned a lot from the last twelve months and I can take all of this to Tokyo. I'm thrilled, and the crowd, wow! I had goosebumps today."
Jordan Catchpole and Louis Lawlor were both delighted at securing medals in the Men's S14 100m Backstroke. World Record holder for the event, Viacheslav Emeliantsev of Russia took gold in 59.62, with Catchpole and Lawlor powering home to take silver and bronze respectively, Catchpole in 1:00.86 and Lawlor in 1:01.47. GBR teammate, Rhys Davies, finished eighth in 1:03.04.
Catchpole said of his second place finish:
"I wanted more. I'm going to go back home and train ten times harder and come again next year and see what happens."
Lawlor was delighted with his performance and said:
"That was a huge surprise, I didn't expect that at all. It's a dream come true. One race, one final, one bronze! I've loved every minute here and this will give me a platform to move forward."
Maisie Summers-Newton and Ellie Robinson both contested the Women's S6 100m Freestyle final, which saw Yuyan Jiang (CHN) collect her second gold medal of the meet to add to the S6 400m Freestyle one she secured on the opening night. Jiang came home in 1:11.53, with World Record holder for the event, Yelyzaveta Mereshko (UKR), winning silver in 1:11.85. Summers-Newton secured the bronze in a time of 1:13.87, just edging out Robinson who touched in 1:14.14.
Summers-Newton said of her race:
"I just tried to stay relaxed and I felt positive before the race. It's an event where I don't have that much pressure on me and maybe that helped. It's also an event I never thought I'd medal in and it puts me on a high for the IM tomorrow. I'm really happy."
In other events, Stephanie Millward finished fourth in the S9 100m Backstroke final, posting a second PB of the day with a time of 1:13.55, whilst Mikey Jones was close to his season's best in the final of the S7 400m Freestyle, finishing eighth in 4:49.74.
Live results and the event schedule can be found 
here
 and you can catch all the action on Channel 4 
here
.