Britain served up a stunning double 200m Freestyle gold-silver combo on day three of the Para Swimming World Series inc. British Para-Swimming Meet in Sheffield, as Bethany Firth and William Ellard surged to titles.
Jessica-Jane Applegate and Jordan Catchpole provided GB company on the podium with powerful finishes of their own after pacey starts from the eventual champions - while all four swam inside the respective World Championship S14 qualification times on a fast-finishing night at Ponds Forge.
The back-to-back one-twos began in the Women's MC 200m Freestyle, as Firth further illustrated her world-class qualities in the event with a comfortable victory, pacing it to perfection to go 2:09.45, earning 872 points in the process.
She will be looking to defend the world crown in Manchester in a few months' time, an event she is already looking forward to being a part of with her British Para-Swimming teammates.
"My goal coming in to this was to get qualifying times, and to make sure that I'm swimming faster in the evenings than I am in the mornings. That's what I've managed to do and that's all I can really ask for at this stage in the season," said Bethany.
"There's a lot of new and upcoming swimmers [in Britain] and it's great for our team to have a mixture of old and young. If we can keep this going then we are definitely going to be in a great position at Worlds. I'm so excited for Worlds and that it's going to be a home competition. It's going to be such a good time and we'll have lots of people cheering us on. I can't wait to get there and show the world what we can do."
Behind Firth, long-time teammate Applegate secured her first World Series medal of the meet by touching for 819 points, her time of 2:12.21 dipping inside the 2:12.42 consideration mark. 
Pushing with every last stroke to the wall, the Norwich athlete ensured she did what she needed to meet the Worlds time and secure a podium spot, following Firth home. Behind them both, fellow S14 swimmer Louise Fiddes was an agonising single place off making it a British clean sweep of the podium, finishing fourth on 772. 
Speaking on her race, Applegate said: "I was happy to get that race done! I've not had the best prep coming into this competition to the point I've surprised myself how well I've done - I've managed to get two consideration times [at the meet] so I'm really pleased with that after some challenges with injury and illness coming into these trials."
Elsewhere in the event, Ellie Challis did her customary job of breaking her own British record in the event for a second time in the day, bettering her morning swim with an eye-catching 3:40.87 as she continues to go from strength to strength in the freestyle arena. 
Straight after those contests, the men's equivalent served up another display of outstanding quality.
Leading the way was St Felix School man Ellard, whose breakthrough meet has now seen him claim two World Series golds. This one came courtesy of a blistering front end, with William turning some distance clear at the halfway stage, and holding that lead to the 150m mark.
Catchpole showed good persistence and pacing to close the gap down the home straight, but Ellard had more than enough left to reach the wall in a dominant 1:55.54, nearly two seconds inside the Worlds mark. He was pleased to see Jordan chasing him to the wall too. 
"It's been good. The support I've got from all the coaches has been very helpful, both the GB coaches and my coach from back home," he said. 
"I tied up towards the end and saw Jordan coming back, but the front-end speed really helped me there. We live in the same town, we should hopefully both be part of a 4x100m Freestyle Relay team at Worlds too, which will be great with a teammate from the same town."
For Jordan himself, the Paralympic champion feels there is still room for improvement - but the progression is definitely there as he clocked a 1:57.17, inside the 1:57.50 requirement.
"I'm happy with getting under the time, it's not at my PB so there's things to go back and work on but I can't complain tonight. It's still early in the season so I'll go back and see what I can work on to move the time down and go from there," he added.

Louis Lawlor was joint seventh on 788 points.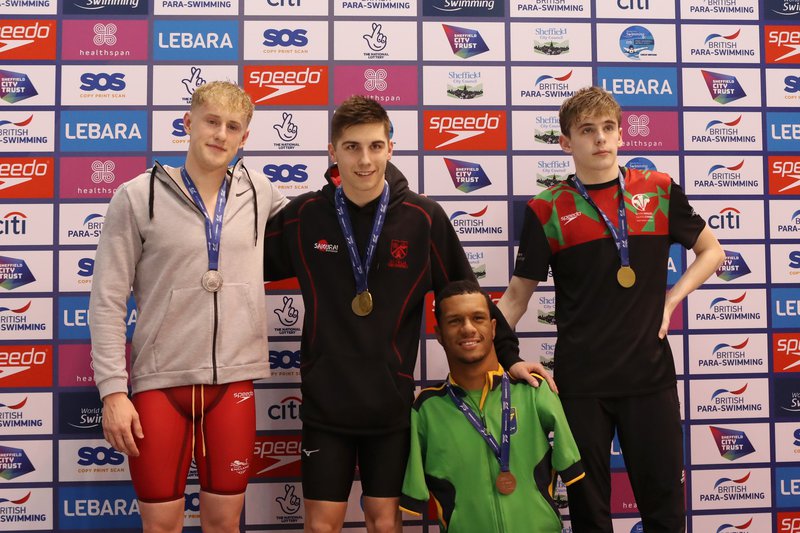 Sam Downie and Michael Jones both just missed out on their respective World Championship qualifying times in the Men's MC 400m Freestyle, despite solid swims, while Oliver Carter ensured it was three Brits in a row on the results sheet thanks to a sizeable personal best.

East Lothian Swim Team athlete Downie placed 10th overall after scoring 823 points in the World Para Swimming multi-classification competition format, clocking a new personal best of his own of 4:42.88 that was not quite enough to go under the S8 Worlds consideration mark.
"It was a PB but in training we've been going a lot quicker so it's not quite what we were targeting but it's in the right direction so there's positives to take from it. I still know what I need to do to improve," said Sam.
Jones of City of Manchester Aquatics was likewise close to the S7 mark in coming 11th, while University of Stirling man Carter was pleased with his performances in both heats and finals, moving things on and finishing 12th on 794 points.
In the Women's MC 400m Freestyle, Maisie Summers-Newton ranked as the top British finisher, following up a pair of World Series titles on the opening two days of competition with eighth here on 798 points.
Also testing themselves over distance in the World Series finals were Brock Whiston (12th), Grace Harvey (15th) and Faye Rogers (16th). 
Leah O'Connell got British involvement in the day three World Series finals underway in the Women's MC 50m Butterfly showpiece.
The S7 athlete powered down one length of fly to drop substantial time for her morning heats swim, placing 11th overall, before reflecting on a valuable progression heats-to-final and outlining the goals that lie ahead in 2023.
"That was definitely an improvement from this morning, I'm very happy with that. I upped the stroke rate in the last 25m which is what I agreed with my coach to do and kept my head down into the end which is good. I'm a bit out of breath at the minute but yeah, I'm happy overall with that swim considering the time from this morning," said the Manchester Performance Centre swimmer.
"I've got the Berlin Citi Para Swimming World Series event in May and then British Summers in July, so they are the main two meets for me this year, to concentrate on my fly and get that time down towards a 37."
Earlier in the day, Northampton SC's Scarlett Humphrey downed her fourth S11 British record of the meet when she went a 5:44.65 in the Women's MC 400m Freestyle heats. 
For full results, ticket info and links to the British Swimming livestream, head over to our What's On? page.