The Tokyo 2020 Paralympic Games may still be seven months away - but Britain's para-swimmers are currently experiencing what life will be like in the immediate run-up to the Games with a training camp in Japan. 
A 19-strong team of athletes are based at the Suzuka Sports Garden in Suzuka, a two-hour bullet train ride from the heart of Tokyo and the very place they will be situated before the Paralympics kick off on August 25th, making it the location where they will look to put the final preparations in place for a bid to outdo their tally of 47 swimming medals from Rio 2016.  
The three-week camp - which runs from January 6th-28th - has been organised to give the athletes the opportunity to acclimatise to the venue and undertake training in that environment, with plenty of pool and dry-land work having already taken place during the squad's first nine days in Asia. 
As well as getting plenty of lengths in the bag, a purpose-built gym area has also been set up by Strength and Conditioning Coach Jamie Barnard. That setup will be dismantled on departure and stored in Suzuka until the summer, when it will be reassembled ahead of the Games.
Away from training, there have been meetings with the local community and cultural experiences for the British athletes involved. 
Five-time Olympic champion Ellie Simmonds and Rio 2016 silver medallist Scott Quin met the mayor of Mie Prefecture (the region in which Suzuka is situated), along with Head Coach Rob Aubry, Head of Sport Science & Sport Medicine/Team Leader Cath Gilby and translator Rachel McCrystal. 
Gifts were exchanged and the team answered lots of questions from their hosts, with the meeting even making the local evening news bulletin. 
Elsewhere, a group of local para-swimmers joined the British group on Saturday for a small swimming session, before a meet-and-greet Q&A. A guided tour of the Honda factory has also been fit in on top of the team's busy training and recovery schedules, while a trip to Games host city Tokyo is planned for later in the trip. 
For Simmonds, the camp so far has been an ideal way to start a big year ahead for all involved.
"The camp has really kick-started 2020 on a high note," she said.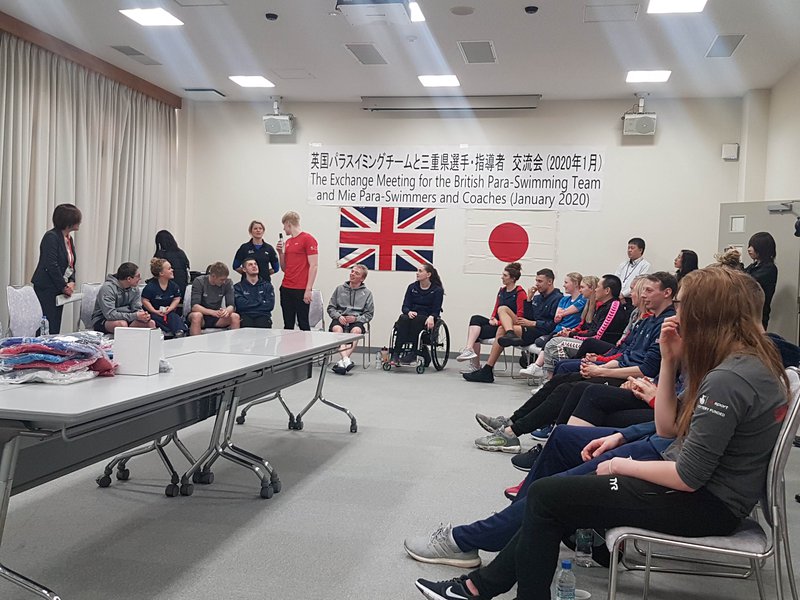 "Being surrounded by your teammates has made training that bit more fun, and being able to learn the Japanese culture gives us great preparation leading up to the Paralympic Games." 

Teammate Grace Harvey is in agreement - and she says the bespoke setup is helping pushing the athletes on in their preparations for August and what is to come before then.
"This is the best camp I've been on; the athletes are all so supportive of one another," said the Manchester National Performance Centre swimmer.
"It's a great experience to be able to familiarise ourselves with the holding camp before the Games.
"Training has been hard, but it's been fabulous having new training partners to swim with, as it enables us to push each other in the water." 
Here's what a few more of the British para-swimming team are saying after the first week of the Suzuka camp...
Tom Hamer 

"The hotel's great, the food is incredible - because I love Japanese food - and the pool is amazing.
"It's actually just been a really nice vibe across the whole group, with all the athletes and the staff as well. The staff have been amazing, mixing in with all the swimmers.
"I think I've sat on a different table every time with a different member of staff. There's no clinginess with anyone, everyone's just getting on as a team and it's really nice.
"It's nice to have a chill-out room. We're all down there every day playing cards - we could do with some more board games now because I think we've been through them all!
"The internet's been great here, so we can always FaceTime our family back home which is nice too.
"Overall, it's been a really good camp so far. It's given me a rough idea for Tokyo in the summer - things I might need to bring, things I could change, how to sort out my recovery strategy better, how to manage things."
"The training has been great and the camp's very exciting, with many extra activities - yoga, nail salons, card games.

"We went on a visit to the Honda factory to see how the cars were made and another trip to the local shopping mall."
Scott Quin

"The first week of camp has been very good. As a group, all we have done first week is eat, swim, gym, nap, eat, swim. 
There isn't a lot to do away from training, but as a group staff and swimmers have been really good, socialising and making team bonding stronger, learning and living the Japanese lifestyle to honour their respected culture."