By her own admission, Justine Lucas is not much of an expert when it comes to swimming - but that does not stop her from helping Britain's elite para-swimmers on their journey to the sport's pinnacle. 
Justine is the Performance Lifestyle Advisor for British Para-Swimming, a role she took up towards the start of 2019 after retiring from professional rugby, a career that had taken her all the way to a Rugby World Cup final in 2017. 

In this month's Women in Water feature, we talk to Justine about looking after athletes' development and mental health, her views on equality in sport - and why she knows just what it takes to get the very highest level. 
British Swimming (BS): Rugby clearly gave you so much as a player, both on and off the pitch. Talk us through your experiences in the sport.
Justine Lucas (JL): So I was actually a latecomer to rugby - I didn't pick it up until my final year of university. I had always played hockey growing up and I was a football goalkeeper, so I played both of those sports for Loughborough University.
One of the other keepers went along to one of the taster sessions for rugby union, and she said, 'you should come along, I think you'd enjoy it', because the fitness they do in rugby is much more relevant to a football goalkeeper, in terms of getting up and down and whatever else, rather than running for miles.
I went along on a Tuesday evening - and I literally never looked back. I remember the coach saying to me, 'you need to quit football and play rugby'. I had always been quite a big build and quite strong, and I feel like I had just found it and felt, 'this is the sport I'm meant to do'.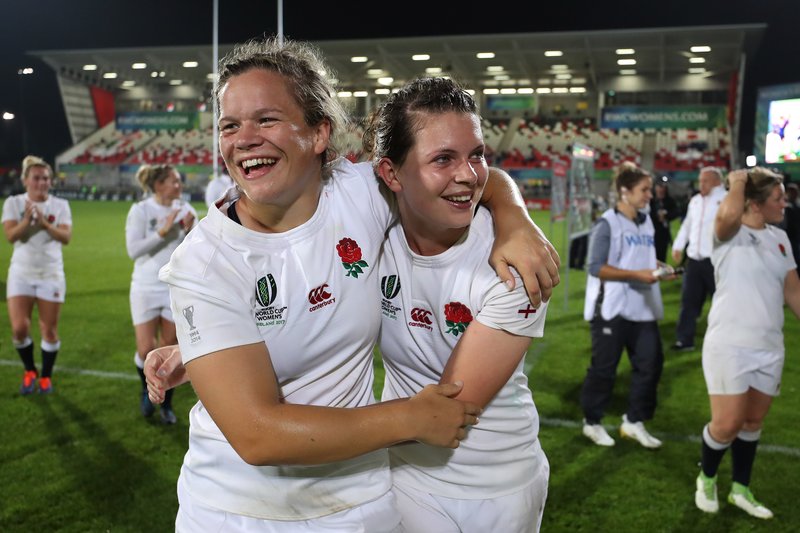 Justine started playing rugby in 2011, joined then-Women's Premiership club Lichfield the following year and then earned her first senior cap for England in 2013. 
She describes that progress as "a whirlwind" journey, and one that ultimately saw her playing as a prop for her country for six years. 
That time included a run to the final of the 2017 Women's Rugby World Cup, with Justine coming off the bench as England lost 41-32 to New Zealand in a thrilling showpiece. 
BS: What was that unique experience like?
JL: It was amazing. We were lucky enough to be contracted and made full-time professional rugby players in the lead-up to that Rugby World Cup, which was something that none of us had ever dreamed of. It had always been that we did it alongside work and that was it, that was how it was going to be.
But I got the call to say we were being contracted, because we wanted to go and put a mark down at the World Cup.
As you know, unfortunately we didn't quite do that and we came second in the final against New Zealand. 
But I played in a World Cup final, played in front of 18,000, played live on ITV. It was one of those games where when we were playing it, it was just crazy. At half-time, we felt 'we've got this' - and then they just turned it on in the second half.
We didn't quite come away with it, but it was amazing. Loads of my friends from uni came out to support, loads of the rugby girls were there, friends and family, it was just amazing. 
Obviously it takes you a while to get over the fact you've lost. But on reflection, what an achievement, even though it wasn't what we set out to go and do. 
Less than two years after appearing in that breath-taking final, Justine was gearing up for a very different challenge - beginning her role as Performance Lifestyle Advisor with British Para-Swimming. 
So how did the transition from top-level rugby prop to aquatics sport support staff member come about?
JL: Alongside my playing career and after leaving university, I had always been in roles that helped and supported people, and that was really what I wanted to do - I just wanted to help other people.
So out of uni, I worked for the National Career Service and worked as an employment advisor. Later, I went over and worked at the University of Birmingham. Basically, I supported students living in accommodation with all of their welfare, helping them with that transition in moving away from home and into uni life. As you can imagine, there's a lot of mental-health related issues around that.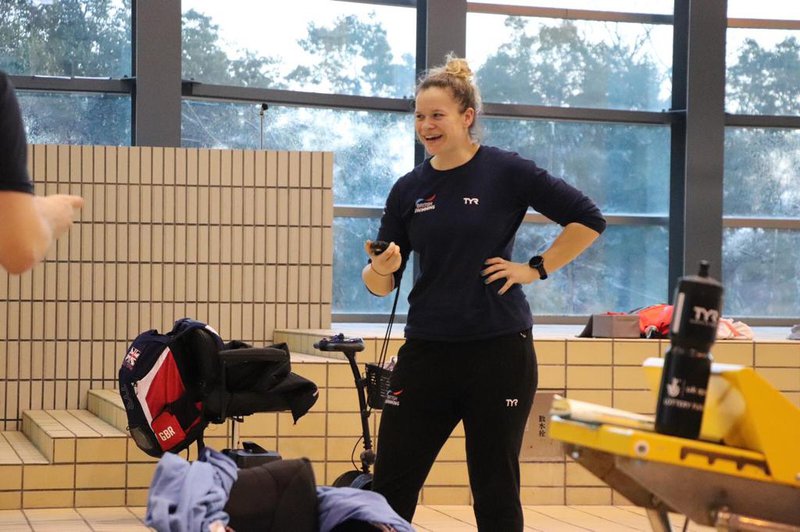 It was in that job that I then took the sabbatical to play rugby full-time. But I think it just got to the point after the World Cup, and transitioning back into having to work, where I wasn't enjoying rugby anymore.
Anyway, I believe in fate and that things happen for a reason. I got a pretty bad injury where I basically tore my calf in half - it wasn't very nice!
I remember being in the physio room and talking to the physio, saying I wasn't sure if I wanted to do this anymore, I'd really struggled since the World Cup, I hadn't really enjoyed it. Lots and lots of different things contributed to it, but I just felt that maybe it's time to move on.
The physio said, 'I've seen this job, it's called Performance Lifestyle Advisor for the British Para-Swimming team'. That sounded cool - it was almost what I was doing in my jobs, combined with sport. I thought, 'that would be amazing, but it's probably not the right time, I'm injured, I'm not going to go for it'.
So I put it on the backburner. That was just before the Christmas, and then just after Christmas, it got to the point where I was over the injury but I just didn't want to play rugby anymore. 
It then turned out that British Swimming hadn't recruited the first time for the Performance Lifestyle role, and they had put it out again. 
I thought, 'right, this is a sign - I'm meant to go for that job!' I felt like it had come to quite a natural end with my rugby, and then I'd found that job and that thing that I felt I could move on from rugby with, being able to give back to sport.
Sport has given me so much and helped me develop so many skills, it's given me so many best friends, and I just feel like this is my chance to give back to sport and help others through those hard times.
I absolutely love the job, and I'm so glad it worked out the way it has.
Justine's role sees her working closely with athletes away from the pool. 
She headed out to Japan with a 19-strong group of para-swimmers in January for the Suzuka immersion camp, and she was also involved in the build-up to last year's World Para-Swimming Championships in London. 
So what does her work entail? 
JL: Performance lifestyle work is basically helping the athletes with everything outside the sport.
So I haven't got a clue about swimming! I don't know about it. I can swim, but it's not my background. 
My role is just the support with everything around the sport. So that can be supporting with education, moving through education into university. When someone is quite young, there might be clashes with competitions and revision and exams, stuff like that, so it's helping them to manage that, building relationships with the schools, that kind of thing.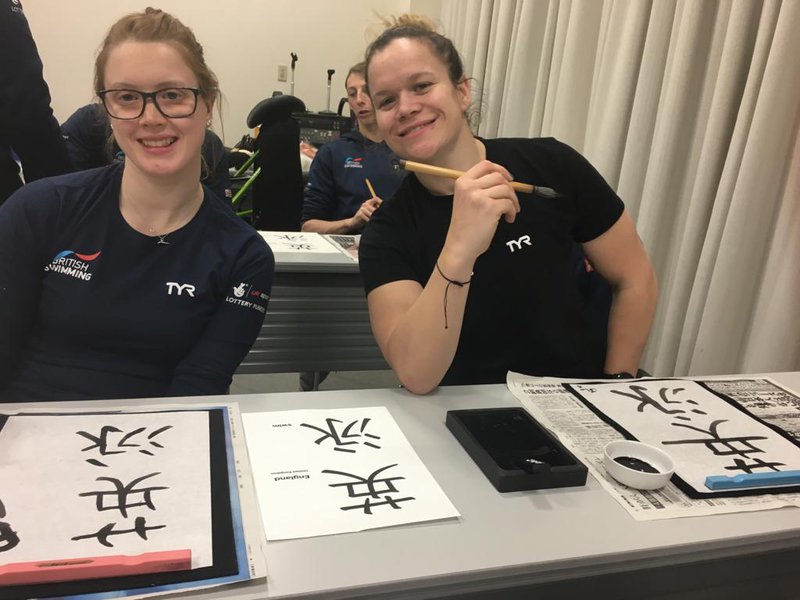 It's also supporting them with career and personal development, encouraging them to do stuff alongside their swimming, because at the end of the day, like I did, I had to transition out of rugby. They are going to have to transition out of swimming and go into the 'real world' and get a 'proper' job.
So if they can start developing those skills alongside their swimming, they are going to find it easier when it does come to that point.
And then it's just being a bit of an emotional sounding board. I've been on camps and to competitions as well, helping them fill their time, and we've done quite a bit of stuff around self-care when we are on camp, keeping them busy and learning new skills.
Everything outside of the pool, basically. I have held a stopwatch or two in my day and helped out where I can at the pool. It's just being there for them, really.
BS: Having now worked intently across two separate sports at elite level, how do you feel about levels of equality in sport?
JL: Being a woman in sport myself, I do find it frustrating, the inequality in sport. 
I do think team sports are quite different, because obviously male team sports generate a lot of income, and there is always that argument that 'the men sell out 80,000-seat stadia and you can barely get 10,000 in'.
But actually, we still train as hard, we still put as much effort in. I understand that, yes, I don't think it's ever going to be equal pay or equal coverage - but there has to be some point where you actually understand how much we put into it.
It's quite refreshing coming into swimming, where males and females are on much more of a level playing field. 
I guess it's to do with the UK Sport funding as well, because that is equal - it is based on your performance, not on your gender. So that is quite nice to see, and then obviously competitions are mixed genders.
It's a weird one when I am at a competition, because everyone is mingling in together, whereas in team sports, obviously I was part of the England women's team, but I didn't know any of the men's team.
So it is nice to have that kind of mingling - it doesn't matter what event you do, if you are male or female, whatever, everyone is friends and getting on with it, helping each other.
Then I guess that swimming doesn't get as much coverage as some other sports, and especially not the para-swimming side. 
At the World Championships in London last year, Channel 4 did a great job of covering the championships. It's just getting it out there, isn't it? Everyone that watched it thoroughly enjoyed it, and they did really well with the ticket sales, trying to get schools and stuff in - it made for such a great atmosphere.
I just think that people should watch more sport in general. I love it, and every time you watch a different sport, you're like 'that's amazing, I didn't know that could happen'.
Justine will be playing her part in helping Britain's para-swimmers gear up for the Paralympic Games in Tokyo, which have now been rescheduled for August 2021 and will receive international coverage. 
Given the current circumstances, which led to the postponement of the Games, her role of working with the athletes and checking in their lifestyle, situation and mental health might perhaps be more important than ever.
This is the second in our new monthly Women in Water series. Check back to the website for the next instalment in May.