Maisie Summers-Newton and William Ellard made it double British World Series gold on the opening night of finals at the Citi Para Swimming World Series inc. British Para-Swimming Meet. 
With 35 nations represented across the meet, the first day of action from Ponds Forge International Sports Centre in Sheffield presented world-class competition for the GB athletes, with Summers-Newton and Ellard coming out on top in the Women's MC 200m Individual Medley and Men's MC 100m Freestyle respectively, while Ellie Challis, Grace Harvey, Stephen Clegg and Lyndon Longhorne all took to the podium too.
Maisie came close to her world-record time on the way to a dominant victory in the 200m IM, securing the World Series title - while compatriot Harvey joined her on the podium after claiming bronze. 
For Paralympic and world champion Summers-Newton, a score of 991 points showed how close she is to her best even at this stage of the season, with a characteristically dominant back half paving the way to victory. 
Racing alongside Northampton teammate Scarlett Humphrey played its part too, as Maisie gears up for another tilt at World Championships success in Manchester later this year.
"I absolutely love breaststroke, it's my strongest in the IM, and when I'm turning from the backstroke to the breaststroke, that's when I'm like, 'come on, I can enjoy the race now!'" she said.
"Having Scarlett next to me was fantastic. She was a little bit faster than me in the heats, so my aim was literally to try to beat her and to get as close as possible. We had a good old race and I managed to catch up with her on the breaststroke, so I'm really pleased.
"I'm very happy with where I'm at. I got a little nervous before the meet, after a more closed-off meet last year, I was nervous to race against some of my international competitors here. 
"But swimming here and that close to my PB, I'm really pleased and I think it puts us in a great position looking towards Worlds. It's another few months of hard work and hopefully everything will come together then.
Harvey, meanwhile, paced her race well to ensure she reached the wall in a time worth 866 points, securing her the World Series bronze by a single point ahead of Bethany Firth, who was well inside the SM14 Worlds qualifying mark.
The first British World Series medals of the week arrived in the Men's MC 100m Freestyle, as Ellard (St Felix School Swimming Club) produced a brilliant display of freestyle swimming to claim the Men's MC 100m Freestyle title in style, smashing his personal best in the process.
Ellard built well on a strong start to reach the wall in 51.97, enough for a points total of 974, edging Brazil's Gabriel Bandeira into silver. Behind them, Stephen Clegg's opening final of the meet saw him on the podium for bronze (934 points), thanks to a swim well inside the 54.46 S12 qualifying time that sets him in good stead for a busy few days ahead.
As for William, his first experience of having a World Series gold medal around the neck is testament to his efforts shown in the training pool recently.
"That's a 1.3-second PB from when I came here this weekend, so I'm very happy. We have been doing some good work back home and it's paid off today," he said.
"It's given me a lot of confidence going forward and has shown that I can compete with those at the top of British Para-Swimming, so I'm looking forward to seeing what's next."
S14 duo Jordan Catchpole (927) and Louis Lawlor (871) also went well to finish inside the World Series top 10.
There was also a World Series bronze for Challis in the Women's MC 150m Individual Medley, as the Manchester Performance Centre competitor ended a busy opening day of her programme with a podium spot and a new British record in the SM3 category. 
Ellie was certainly pleased with her opening swims in Sheffield, with targets aplenty for the days ahead - and excitement to match.
"The 150m IM is an old event for me but also a new one. After 2019 Worlds, as it's not in the SM3 programme, I stopped it, but we've brought it back the last few months. I was hoping to improve heats to finals, I didn't expect it to be quite that much - but I'm really happy about it and I think there's a lot of progression for me in this event in the next couple of years," she said. 
"I'm used to swimming a lot by myself, so to have the Chinese athlete next to me was quite a lot of fun on the backstroke length, just to see someone there and someone just ahead of you, just to push you on a little bit more.
"Hopefully it'll be a good day tomorrow, and then I'm looking to progress my 200m and 50m Freestyle, because that is what we've been focusing on. My freestyle has progressed massively, so I can't wait to race it."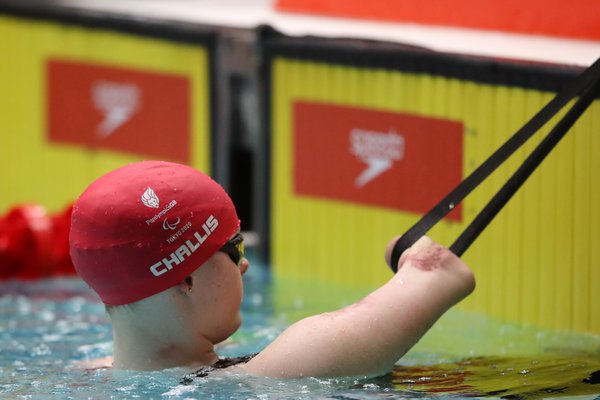 Lyndon Longhorne followed suit in the men's event, securing World Series 150m Individual Medley bronze after an intriguing battle with fellow SM4 athlete Andreas Ernhofer down the home straight. 
That finish saw him come within 0.02 seconds of his personal best and British record from eight years ago, having a new British best in the 100m Freestyle earlier in the day.
"It was good, I enjoyed it. I pretty much matched my PB from 2015 so I can't complain. I think there's space for a little more work, though - there's lots of room for improvement. For now it's a case of working on the medley - that is a strong point for me, it's just a case of working on the back end a bit more," he said.
In the Women's MC 100m Freestyle, Toni Shaw finished as the top-ranked British athlete, placing fourth in the World Series final after a strong two lengths. 
The Paralympic medallist's efforts also saw her dip inside the World Championship qualifying time of 1:04.69, worth 903 points in the World Para Swimming multi-classification competition format.
There were also top-10 finishes for Poppy Maskill and Jessica-Jane Applegate, while Northampton Swimming Club's Scarlett Humphrey broke the S11 British record for the second time in a matter of hours, having claimed it for the first time in the morning's heats.
"I'm really pleased. It felt much better than this morning. I've not really enjoyed the 100m Free too much previously, but this season, it has really come on. Getting the British record in it and then lowering it is a very special feeling," said Scarlett. 
"My strength is going out fast, so the faster and harder I go, the better the race goes! I said to myself, 'just treat it like a 50m, go out as hard as I can and then just cling on at the end' and it seemed to have worked. I'll take confidence from this, that if I stick to the plan, the plans are working, so trust myself and stick to it."
Elsewhere on the night, Rhys Darbey earned himself a World Championship qualifying time in the Men's MC 200m Individual Medley with a fine swim, finishing as top British swimmer and going inside the 2:13.82 mark for the SM14 category. Cameron Vearncombe was right behind him in the placings, finishing sixth overall to Rhys' fifth.
For full results, ticket info and links to the British Swimming livestream, head over to our What's On? page.