Alice Tai continued her 100% record, securing her fourth gold medal in as many events, with Great Britain adding three golds and a bronze to their medal tally on day four of the London 2019 World Para Swimming Allianz Championships.
Tai swam the race of her life to claim her fourth individual crown of the Championships, with gold in the Women's S8 400m Freestyle. Following this morning's heat, Tai said her race plan would be to stay on the shoulder of Jess Long (USA), who has not been beaten in the event for over a decade, then race it out with a sprint finish to decide the medal order. This she did, timing her charge to perfection as she took the lead with 100m to go.
Tai, who cites her love of racing, was not going to be stopped from there on in, powering home to the delight of the crowd in a time of 4:49.01. Xenia Francesca Palazzo (ITA) came through strongly for silver in 4:51.21, while Long was pushed into the bronze medal position, finishing in a time of 4:51.45.
Tai said of her performance:
"I was so nervous before that race as Jessica had posted such a good time in the heats. My PB for the event is 4:47 and I've not gone close to that since 2014, so I knew I needed to pull it out the bag. My purpose was just to race hard but at one point I got scared as she was quite far ahead. I also know what her splits are like and I know her back end is really strong and I was honestly scared that after I overtook her she'd come straight back at me in the last length. I really did have to dig in, close my eyes and get every ounce of energy out of me. I honestly didn't expect to win that."
Tai, who is better known for her sprinting, said of her success at distance events:
"I definitely prefer sprints - 400s are a lot more tiring for me and I struggle with them. My coach has been working a lot more in training on trying to improve my aerobic base for them. We knew there would be a medal opportunity here - I'm glad he saw that opportunity and it's paid off."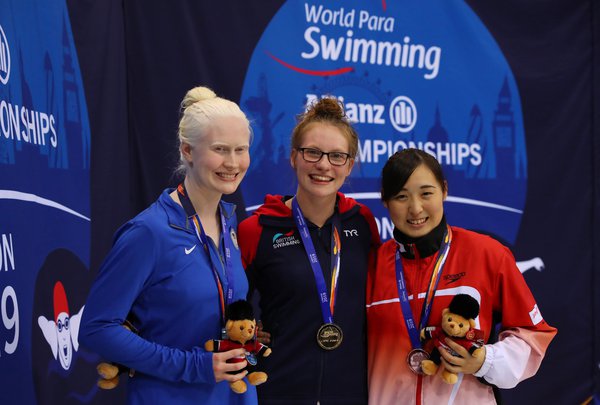 Rebecca Redfern may have had to wait until day four of the competition to compete, but she made sure she was going to enjoy her moment of glory by storming to victory in the Women's SB13 100m Breaststroke final.
Redfern had predicted that the gold medal would come from her or Colleen Young (USA), and with 20m to go it could have gone either way. Redfern however shifted up a gear, pulling away to take the gold medal in a new Championship Record time of 1:14.73. Young secured silver in 1:16.14, while Ayano Tsujiuci (JPN) landed bronze in 1:19.85.
Afterwards a delighted Redfern struggled for words, saying:
"How amazing is that. I have no words! To be up there with the likes of Maisie (Newton-Summers) who has won gold already and to be classed as one of the World Champions is incredible."
Asked about race preparations before these Championships, Redfern continued:
"I've been working a lot on stroke rates so I had that 1-2-3-4 in my head the whole way and just kept that stroke rate. I think that helped me bring it back in the last 50. I've not been in a big race since Rio so to be able to do it in front of a home crowd is amazing.  I knew that my mum was in the crowd and I wanted to make everyone proud."
Ellie Challis could not hide her surprise and delight as she won the bronze medal in the Women's S3 50m Backstroke, coming home in a new British Record time of 58.91. Edenia Garcia (BRA) won gold in 56.71 while the silver medal was won by Leanne Smith (USA) in a time of 58.42.
15 year old Challis, the youngest member of the Great Britain team in London, said:
"I'm really shocked - I don't know what just happened. That was my second time under the minute, which was my goal this year. I did it this morning and I did it now."
Speaking about how she felt before the race Challis said:
"I felt quite cool about it. There's no point getting worried about it, I just wanted to focus on my race. I went out there to get a time rather than a medal; this tops everything. Going in there being one of the youngest, on my first international competition with Great Britain, there's no pressure you just race and it felt amazing. I enjoyed the whole thing."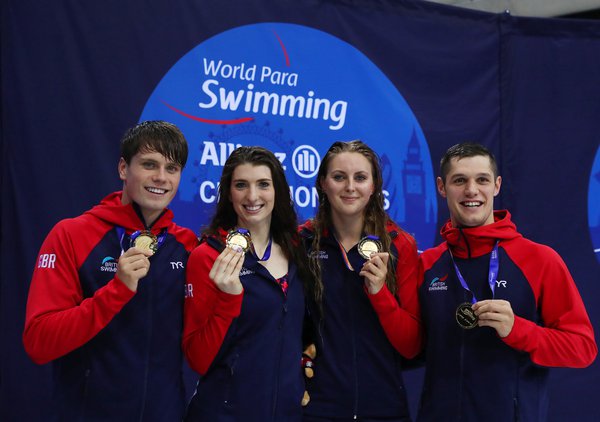 A quartet of Tom Hamer, Bethany Firth, Jessica Jane Applegate and Reece Dunn provided a fantastic finale to the night, breaking the world record on their way to gold in the S14 Mixed 4x100m Freestyle Relay.
Hamer got the team off to a perfect start, handing over to Firth in first place, who in turn handed over to Applegate. It was anchor man Dunn, however, who blew the opposition apart, making up ground on the team from Russia before powering away to take victory in a new world best time of 3:42.21. Russia took silver (3:45.32), with the team from Australia in the bronze medal position (3:51.60).
Applegate spoke of Dunn's final leg and said:
"I know Reece is an absolute animal and is a chaser. He loves to race. He's been setting records this week, so we had great confidence in him bringing us home."
Dunn himself spoke of the third gold medal of the night for Great Britain, and said:
"With 15 metres to go I thought I'd love to do a good swim here and pull through for the team. We all went out with a positive attitude and it paid off."
Zara Mullooly broke her own British Record on her way to a fourth place finish in the S10 100m Freestyle final, touching the wall in a time of 1:01.28. Paralympic Champion and World Record Holder for the event, Aurelie Rivard (CAN), won gold in a new Championship Record time of 59.83 with Chantalle Zijderveld (NED) and Lisa Kruger (NED) winning silver and bronze respectively in 1:00.71 and 1:00.76.
Mullooly said of her performance:
"I'm really happy with the time. I've been so far off my PB this whole year, so to go under it here, I'm so happy with it. My season's best before this was 1:02 high so to go 1:01 low, is so much better, I'm really happy."
Live results and the event schedule can be found here and you can catch all the action on Channel 4 here.