Great Britain's Women's U17 water polo team finished their LEN U17 European Championships campaign in 13th place following some impressive performances on the continental stage in Manisa.
Craig Figes, Swim England's Water Polo Programme Lead, took charge of the 13-strong squad for the tournament in the Turkish city – the team lining up in Group D alongside Turkey, Serbia, Ireland and Ukraine for the preliminary stage of the competition.
Going against the Irish team in the first match of the entire schedule, the girls got off to a winning start as they dominated the game in style, with the team taking a 21-3 victory with Amelie Perkins netting an impressive six goals on their way to victory.
With the team going in Group D, which was the only group to consist of five teams instead of the usual four, they played many of their games in quick succession. After lining up against Ireland in the morning, they were then back in the pool for their second game on the same day – losing out to eventual group winners Turkey in a hard-fought 5-9 score against the hosts.
The squad battled hard throughout and continually made life difficult for the hosts, who were only able to pull away in the third quarter. Perkins returned to the top of the scoresheet, as her and Lucy Blenkinship were in fine form once again in attack, with two goals each, while Laura Skelton also fired home.
It was in their third game of the competition on the following day where they put in arguably their best performance of the entire tournament, though, with the group coming away with a solid 9-9 draw against a strong Serbian team.
With some impressive saves from goalkeeper Zara Christie to stop their opponents from taking the game away from them in the third quarter, the group could've easily come away with the victory had things fell their way in the game – as Perkins once again netted the most goals for the Brits throughout the game; finding the net four times.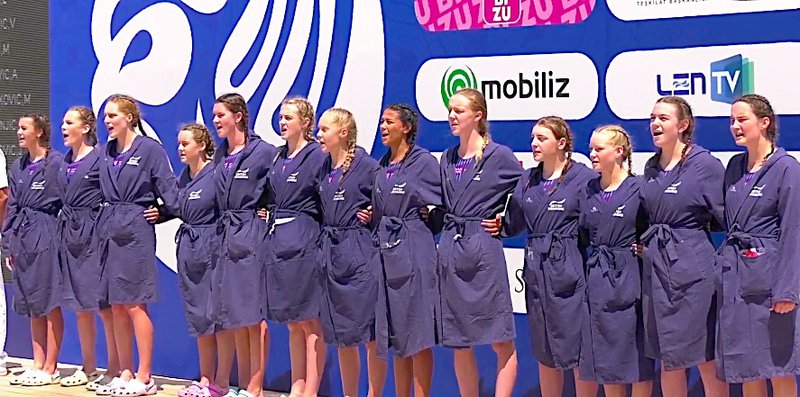 Their final group game against Ukraine was a tale of two halves for the team, with their opponents taking a 4-1 lead following a poor first quarter from the British team. Although they did manage to battle back and get themselves back into the game, even reducing the deficit to one at the halfway stage, it wasn't to be as Ukraine were able to stay in front and take the victory by a score of 10-12. Perkins was once again the top scorer in the game, with four goals.
Figes gave his thoughts on the girls' performances following their final group game, on a day that so easily could've gone the way of the British team.
"It was another really, really, tough match for us. Obviously, we're disappointed because this time we didn't win, or we didn't draw like we did yesterday.
"Against Serbia we fought and managed to get a draw, which was really, really good for us.
"Obviously, when you fight hard and you come away on the wrong side of the result, it's more disappointing and harder to take, but I'm just really proud of how we stayed in the game after a difficult start.
"We stuck at it, we kept working hard, kept trying to play our game throughout.
"Congratulations to Ukraine. They played really, really, well. We're disappointed, but we'll try to move on for the next game.
"I'm really proud of the girls and how they stayed in the game and fought really hard to the end. But we've definitely learnt some things that we can take into our next match.
"I think we've had some really competitive matches in this group and it's great to play in such a wonderful facility, in front of a really good crowd."
Moving in to the 13th-16th classification games, it was clear that the team were unfortunate to not have been involved in games higher up the order – a claim that couldn't have been supported any better than their strong 14-3 victory over Switzerland to see them move into the 13th-14th place play-off.
It was a commanding victory for Figes' squad in the end, who worked hard throughout to ensure they returned to winning ways after the disappointing loss to Ukraine two days prior.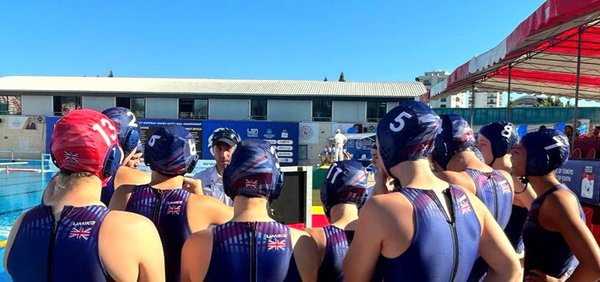 Centre forward Perkins produced another powerful performance, top scoring with five goals and taking her tournament tally to an impressive 21.
Their final game of the competition came against Romania, who sealed their place in the play-off for 13th place after a narrow 8-7 victory against Great Britain's fellow Group D opponents Ireland.
Rounding off their time at the Championships, they took a dominant 12-5 win to top their respective classification round.
They took control of the game early on with Lucy Blenkinship setting the tone with a superb first quarter hat-trick.
Romania struggled throughout to find a way past Great Britain's well-organised defence, and further goals from five athletes, including a Lily Ross hat-trick and Blenkenship secured the victory and a productive set of results from the group, who conclude their time as a team together following the tournament.
Captain Amelia Brooksbank commented after the game: "Romania did play some really good water polo, which we did have to adapt to, like their drop, but I feel like we came at them really strong and got off to a good start. I think the most challenging thing was towards the end, as it started to get really a lot more physical and tough, so we just needed to keep focused and stay positive.
"It was our last match as a squad, so it was a very emotional one and it was good to finish on a high. As captain, I'm just super proud of how far we've all come and I'm really, really proud of all the girls and how well we've played over this tournament.
"We've been as a squad for four years now, so it's been a long journey. We've been through some highs, some lows, but we've all stuck together and it really showed in that match at the end, and it was so good to finish on a win."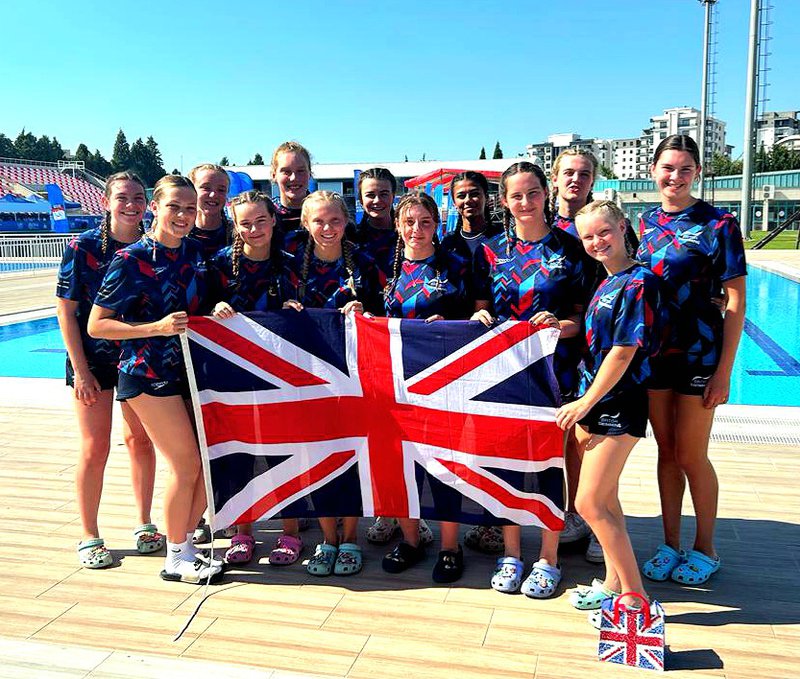 Full results and tournament goals from Great Britain's LEN U17 European Championships campaign in Manisa, Turkey:
Zara Christie (GK)
Amelie Perkins - 23
Charlotte Pritchard - 3
Lily Ross - 6
Lucy Blenkinship - 12
Eve Barnes - 4
Lilly Pryce - 2
Anna Kilb - 2
Laura Skelton - 8 
Amelia Brooksbank - 1
Becky Smith - 3
Hannah Pyper - 7
Christina English (GK)
--
Head coach: Craig Figes
Assistant coaches: Izzy Howe, Katy Cutler
Team Manager: Siobhan Barnes
Day 1 (Group D)
Great Britain 21-3 Ireland 
(2-1, 7-0, 8-1, 4-1)
Turkey 9-5 Great Britain 
(4-3, 2-1, 3-0, 0-1)
Day 2 (Group D)
Great Britain 9-9 Serbia 
(3-1, 1-3, 1-2, 4-3)
Day 3 (Group D)
Ukraine 12-10 Great Britain 
(4-1, 4-6, 2-2, 2-1)
Day 5 (13th-16th Semi-Final)
Great Britain 14-3 Switzerland
(1-1, 6-1, 3-0, 4-1)
Day 6 (13th-14th Final)
Great Britain 12-5 Romania 
(5-0, 2-1, 4-2, 1-2)
Totals
P 6, W 3, D 1, L 2, GF 71, GA 41
Full results from the competition can be found on the LEN Website.