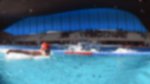 British Swimming Championships 2021
#BSC21
13 Apr 2021 — 18 Apr 2021
British Swimming is pleased to announce that the 2021 British Swimming Championships will return back to the London Aquatics Centre, following a 12 month postponement of the original date.
Due to take place at the iconic London Aquatics Centre at Queen Elizabeth Olympic Park in 2020, the event will make London its home some 12 months later than originally planned, and is now scheduled for 13-18 April 2021.
With the Olympic Games postponed by 12 months due to the COVID-19 pandemic, the 2021 British Swimming Championships will feature highly in the qualification process for the Tokyo Games. As in previous years, the meet is also envisaged to help select teams for the remaining 2021 summer international meets, both senior and junior.

Read the full event announcement here.
Further details of the championships including entry process and spectator information will be available in due course.

The Schedule, Conditions and Entry Information will be published under the Coaches tab once available.
Details of Coaches Passes for all 2021 events will be listed here once available.

Upcoming events
Tickets currently unavailable
Ticket information for this event is not available yet, check back soon for more information.