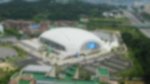 FINA World Championships Gwangju 2019
#Gwangju2019
12 Jul 2019 — 28 Jul 2019
Gwangju 2019 is the 18th edition of the FINA World Aquatic Championships and will see World titles contested across all of the aquatic disciplines. Our GBR teams will be looking to build on the success' of the Budapest 2017 Championships as our Artistic Swimming, Diving and Swimming programmes all look to bring their seasons to a close in South Korea.
Athletes competing at the FINA World Championships - Gwangju 2019 will be selected and announced in early 2019.
Information for coaches of attending the World Championships will be sent to you upon selection for the respective discinpline teams.
Upcoming events
FINA TV - Gwangju 2019
Catch all the coverage of the Gwangju 2019 European Championships on the BBC.