Great Britain's artistic swimmers are "relishing the opportunity" to become the first British team to compete at a FINA World Championships in nearly a decade ahead of their first day of competition on Friday. 
The artistic swimming programme in Budapest runs from 17th-25th June – and while now-established pair Isabelle Thorpe and Kate Shortman are again entered in the duet events, they are also joined by a further eight athletes as part of the team set to contest the technical, free and combination events.
Robyn Swatman, Daniella Lloyd, Laura Turberville, Millicent Costello, Isobel Davies, Isobel Blinkhorn, Daisy Gunn and Cerys Hughes complete the 10-strong cohort ready to compete at the Alfred Hajos Swimming Complex. Shortman is additionally entered in the technical solo competition.
While it will be a third World Championships appearance for Shortman and Thorpe – who made their Olympic bow together last year at Tokyo 2020 – the team will be in action at the event for the first time since the 2013 competition in Barcelona, when the British squad finished 11th in the free routine event with a score of 82.570. Katie Clark, who was part of that GB team in 2013, will be travelling to Budapest as one of the British coaches.
Karen Thorpe, Swim England artistic swimming manager and British Team Leader, said the creation of a new High Performance Centre, based at Bristol's Hengrove Park Leisure Centre, last year had been a key factor in entering a team into this year's World Championships.
She added: "The squad are relishing the opportunity to be in the first team to represent their country at an artistic swimming World Championships since 2013.
"The High Performance Centre was set up in September 2021 and has played a huge part in the increase in the team's technical ability.
"It's going to be exciting to see how they handle performing on the world stage as we work towards our ultimate goal of them competing at the Paris 2024 Olympic Games.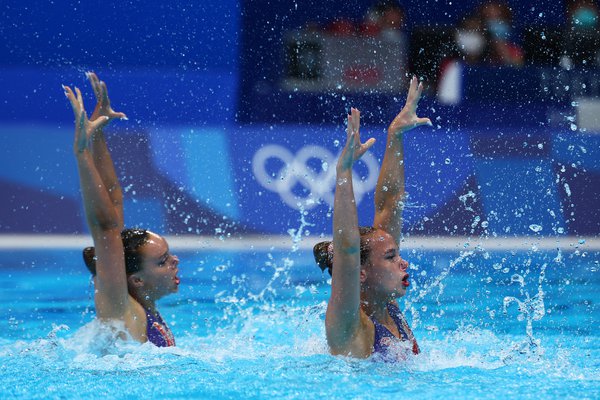 "The athletes have all started university this season and learning to cope with studying full time and managing a 30-40 hour training programme.
"It has been very challenging, especially as the last month has involved university exams and a packed training schedule in the run-up to the championships.
"The squad have been at an overseas camp, where they put the final touches to their routines in an outdoor pool so they are fully prepared for Budapest.
"Kate and Iz will swim both the technical and free duet, while Kate will also swim the technical solo.
"They haven't competed since the Olympic Games last year and are keen to show their developed and improved routines and technical level."
Karen praised Parkwood Community Leisure for its part in hosting the High Performance Centre.
"Hengrove Park Leisure Centre has been our home and base for all our training this year," she said.
"Parkwood Community Leisure has provided the team and duet with super facilities and have been extremely accommodating with our ever-evolving change of plans.
"We hope to make them, and the rest of the country, proud in Budapest."