Britain's artistic swimmers are on track for a clean sweep of finals at their first team appearance at a World Championships in nearly a decade after some brilliant performances in the opening days of competition in Budapest.
Four days into the packed artistic programme, there have been three top-10 finishes across the Tech Solo, Tech Duet and Free Combination team events, with the 10-strong outfit also preparing for this evening's Tech Team finale (Tuesday 21st June). 
Kate Shortman has been involved across the board, with the Tokyo 2020 Olympian finishing seventh in that Tech Solo final to open up the campaign for GB. Kate scored 85.1632 from the judges to secure her best-ever solo result on the Worlds stage.
That result was then followed up with the familiar sight of Shortman and Thorpe teaming up in the Tech Duet - although in new circumstances. At their third World Championships - and back at Budapest, where they made their Worlds debut back in 2017 - the pair qualified for their maiden World Championship final by notching 84.8081 in the preliminary stage. 
In the final, a slight improvement of 84.9751 ensured they finished the overall competition as the ninth-best ranked duet in the world. Competing in the showpiece had been a long time - and countless hours of concentration and dedication - in the making, as Kate acknowledged afterwards.
"I feel like it's been so long coming. This is our third World Championships, and from the very first one, we wanted to make a final. Now we've done it, and it was amazing," she said.
"If we make all the finals in team, duet and solo, it'll be 10 events this week for me. It is a lot, at least two events every day for nearly a week. It is a lot, waking up at 5am most days to prepare, do the hair and make-up and get ready to compete - but you just get on with it. This is what we train for. It's easy to forget in training that you are training for a competition, for something big. While you're here, you have to enjoy it."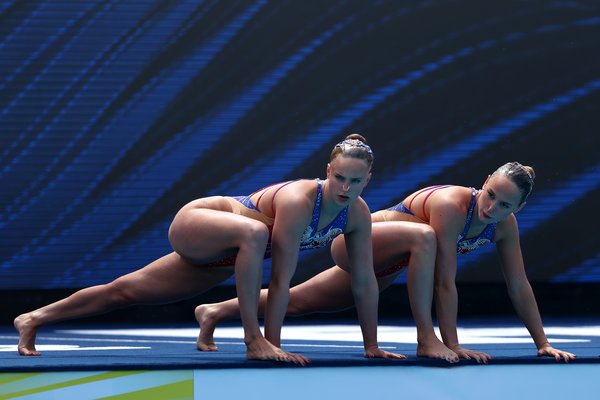 Izzy added: "It was amazing to swim in that Tech Duet final. I just really enjoyed it, because for me it was my first Worlds final, obviously Kate went in the solo before. We really felt together in that swim, really swam together and it was good."
The third final of the meet so far came in the Free Combination event, as the full team of Robyn Swatman, Daniella Lloyd, Laura Turberville, Millicent Costello, Isobel Davies, Isobel Blinkhorn, Daisy Gunn, Cerys Hughes, Shortman and Thorpe came together to produce a brilliant display in front of the judges and crowd at the sun-drenched Alfred Hajos Swimming Complex.
Their finals score of 84.6333 - an improvement by more than a point on their prelims swim - was a personal best for the team and ensured they placed sixth in the world, a fine achievement for the first British team to compete at a World Championships since 2013. 
Speaking ahead of that final about the team atmosphere in camp and being part of a new competition experience at the World Championships, Izzy said: "There is definitely such a buzz, having so many people out here. It's so much fun when Kate and me are just here together, we have a lot more freedom. But it is so nice to have lots of different personalities - it's been really good so far and a new experience for a lot of them, so it's exciting to see what happens.
"We are just trying to lead the way so they don't get too nervous or anything like that - but everyone has dealt with it really well so far, so touch wood, everything carries on like that. It has been really fun with the team."
Kate added: "They bring a lot of energy, I'd say, they definitely bring a buzz. It's surprisingly different with a team, you get loads of new perspectives. For them, it's their first World Champs, so you are seeing it through their eyes again. It's really fun."
The busy artistic programme continues today (21st June), with Shortman and Thorpe going in the Free Duet prelims from 8am BST. The GB team are then involved in the Tech Team final from 3pm BST. 
For all the results and schedules from the artistic swimming, click HERE.