Recounting a journey that started with a simple love of water and dance, two-time Olympian Katie Clark talks about the transitions in her career and setting strong foundations for her sport to flourish in the latest of our Women in Water features.
"I just thought, 'what even is artistic swimming?'" was the reaction of a seven-year-old Katie Clark when a swimming instructor picked up on her potential in the pool and suggested she give it a try.
With flexible double joints and a natural, smooth action in the water, it seemed the perfect fit to combine Katie's enjoyment of dance, music and swimming. Not long after, she became a member of the Reading Royals, where she trained under the wing of a 2002 Manchester Commonwealth Games silver medallist.
"I was very lucky when I was about nine that I had my first solo, which is quite a big thing in synchro, because a lot of the time you focus on team or duet stuff for the Olympic sports. Katie Hooper, who was in the Commonwealth Games, was my solo coach and also swam for the club, so I was lucky to have her and she was very influential for me," explains Clark.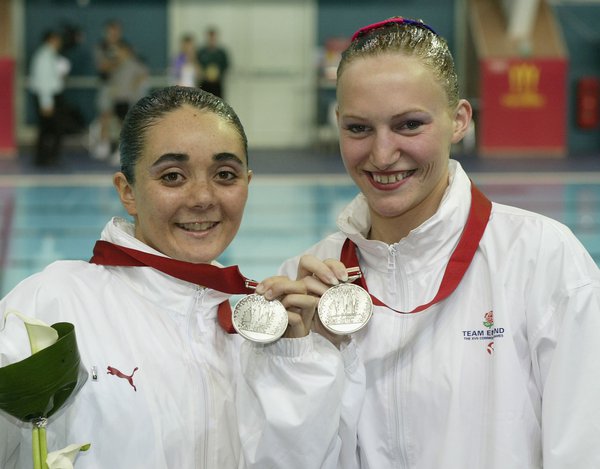 "She was always very good at discussing the mental side of the sport, making sure you had a strong mentality and that you did lots of visualisation, that sort of thing. Her attitude towards life and sport in general was really good as well – she still lives in Reading and I still bump into her every now and again and we've got a nice sort of relationship."

The stock of young Katie continued to rise from there, as she joined up with a British junior duets squads in her early teens to gain more experience, before being called to the senior Britain team, aged only 15.
"I think when you're younger, I don't know what it is, you just feel more able to do things without a lot of fear, and so I never really had any sort of worry about what other people were thinking, and I never had that fear of failing - I just tried," she adds. 
"I thought it's better to try and maybe fail than not try at all, so I think that was my outlook for going into any competitions - just make sure I gave it my best shot. 
"It was slightly overwhelming at times because when I first joined at 15, there were people in the squad in their late 20s, so they were quite a lot older than me. But they looked after me really well and supported me. I think having that group and that team environment is really key, especially when you're young, making sure people feel like they're welcome part of the team. I think that's why it was okay."
With Britain assured of a Women's Team spot in the artistic swimming at the 2012 London Olympics for the first time since it was introduced to the programme at Atlanta 1996, Clark recalls entering a "bubble-like" environment for an intense 12 months leading up to the Games. Education, work and much more were put on pause as a training routine of 'about nine hours a day, five to six days a week' was instilled following a camp to choreograph the routines in October 2011.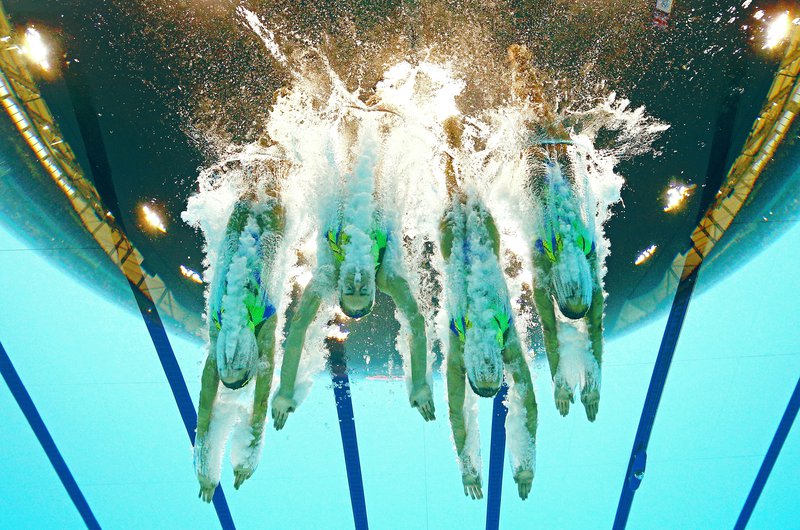 Expanding on the rigours of the various physical and mental aspects of artistic swimming, the double Olympian explains just how much goes into training and competing in the sport.
"It is a very gruelling sport, just because of all of the little things you have to remember while you're obviously upside down, holding your breath, trying to stay close to teammates but not too close that you hit them or they kick you in the face!
"For those reasons, there's a lot of hours spent on speed swimming, strength and conditioning, flexibility, specific drills for the routines, figure training and technical element training which is sort of just learning to feel the water and work on the sculling, so on that side it's very fatiguing.
"Depending on the different stages in the season and the annual plan, it's worse or better. I think any athlete knows it's still hard even though you're tapering a bit toward competition, and for us we almost don't have tapering as we have to run through the routine, and every time you run through the routine it's just as hard as the last time because you're trying to push that little bit more.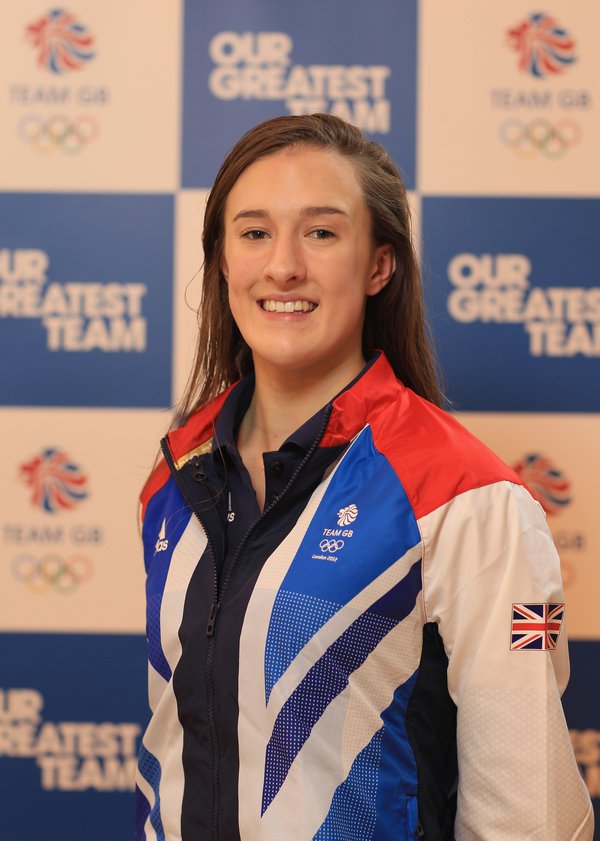 "Mentally, I would say it's just difficult because you are always trying to reach perfection – that's the same as any sport in the sense you try to look at the little tiny things that will improve you to make your performance better. But it's just the fact of doing all of that while you're trying to go full out and you can't breathe and that sort of stuff, so it's a mixture of both really."
Back to 2012 and, under the spotlights of the London Aquatics Centre, the GB team placed sixth overall with an eye-catching pair of technical and free performances. It is a period of her career that Katie looks back on as a  special opportunity shared with those that had been part of the journey thus far.
"We were very lucky to have the home Games. I think anyone that was there, spectators, staff, volunteers, coaches and athletes will remember that it was a very special time, and just to be part of that in any sort of role, it was a real privilege," says Clark. 
"I was lucky that some of my family got tickets, so it was really great to be able to share that experience with them. It wasn't just me as the athlete. As I was quite young, my parents would drive me to training, and it's like any athlete - your parents give up so much, which you kind of realise when you get a bit older, and now I'm in that coach role I definitely realise how much my coaches put in. So in many ways, it's all about the people around you and the support you have around you rather than just being you. For them to have a little bit of a reward and to see that and have a good time was really nice and I'm very thankful."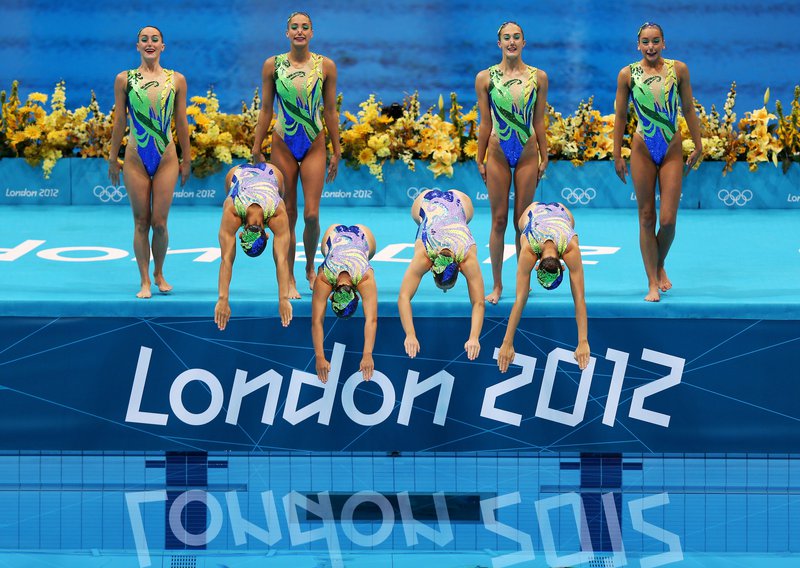 It was not all smooth sailing for the former Reading Royals swimmer, though. Performance lifestyle support has notably increased in emphasis for elite athletes over recent years - but off the back of London 2012, there were struggles, as Clark took an intermission from competing at the highest level.
"It was good because obviously we were just focussing on the training until the Games. Then after the Olympics, it was quite hard having had all the big build up and then nothing after that, and no one fully prepared us for that back then I felt," she explains. 

"A lot of us really struggled that year after from a mental health point of view, with not really knowing what was coming next, and that transition was really difficult. A few of us left after the World Championships in 2013 and I wanted to leave, I guess, because I got a bit caught up with what my friends were doing. I'd gone back to school the year after the Olympics to do my A-Levels, which was really hard with all my friends having left to go to university, so I found that really difficult as well. It was worth it to make sure I could finish my A-Levels, and I'm really grateful that I made that decision now looking back on it. 
"I took a bit of time out to finish my education off, started my Sport Science degree, and at the same time was still sort of doing jobs with the Aquabatix show company – so I was still training, but not as much as before, giving my body some time to rest and recover, which I think was needed."
As Rio 2016 drew closer, an opportunity to start a duet partnership with multiple Olympian Olivia Federici, guided by new coaches Katie Chapman and Karen Thorpe, was the fresh spark for Clark to challenge herself further in the sport.
"Karen is obviously driving the sport to completely new levels at the moment, but back then it was all kind of quite new and we had a lot more trust from them in being able to choreograph the routine ourselves. We had more input into our training, that whole trust between the coach, the manager and the athlete was very different to me, especially from when I was in a team environment," explains the 26-year-old.
"Olivia was really supportive because while I'd done duets before, it hadn't been at the same level, and with her knowledge we were just feeding off each other. So if she did something slightly better than I did, I would ask her how she did it. Learning from that point of view was really great because she had so many tricks she's learnt from all the coaches over the years. 
"I was like, 'how have I never learnt that before?!' - but it's just that in a duet, you get a lot more individual help so it was really great to learn from her."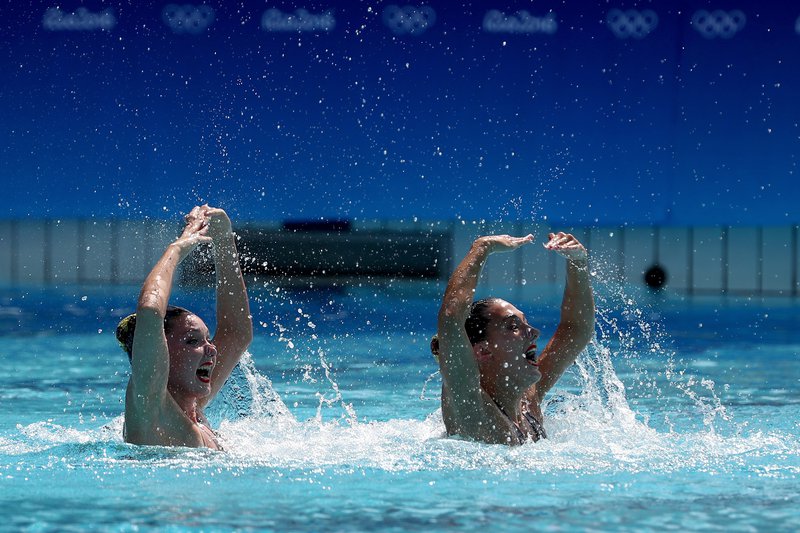 Together, they qualified to represent TeamGB in Brazil, and reflections of that whole process as an athlete have help Clark transitioned into the coaching ethos of her new role out of the water.

"The Rio experience was very different, because obviously I was in the duet and not the team, and for me it was great because it pushed me a little bit more than when I was in the team," she says. 
"In the team, you're effectively only as strong as your weakest person, and of course everyone is trying to push together, but as a duet you can kind of challenge yourself individually a little bit more, which was really good and I hadn't had that before on an international level.
"As a team, it's all about trying to drive a the team performance up, and now when we're coaching we try to give the athletes more of a chance to show their individual talents as well, which has been really good. But from that perspective Rio was great to try to challenge me a bit more, and the partnership we all had together, as a group it was really great and I think I grew a lot that year, personally."
Katie Clark officially took up her current position as Artistic Swimming Talent Officer in 2019, having spent a number of years supporting the team in various capacities at camps and competitions. Within that remit, she is currently acting as head coach for both the junior and senior British teams, running the programme alongside her former team manager, Karen Thorpe.
"Karen's really helped me progress in that transition into coaching. I coached the youth team for a number of years and then the junior team and now the senior team, and she has opened so many education opportunities and has helped me a lot.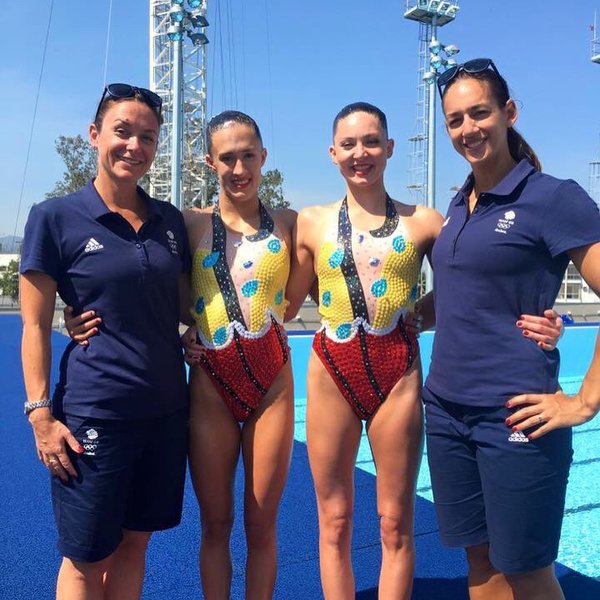 "I've got to mention Paola Basso [duet coach to Kate Shortman and Isabelle Thorpe] as well. She's been coaching for many years, so having her alongside me has helped as well – she's very good at planning and that sort of thing, and that's something for me that as an athlete I didn't have to do in the same manner, so learning that from her has been really great and being really specific. We all learn from each other, as I've been in the water and been the athlete, so they've been able to learn some techniques or some other stuff from me. 
"I think it's just about learning from each other and working with each other. I also learn from the athletes as well, every day I get feedback from them and they say 'this was too easy or too hard, we liked this or that' - and that's all I wanted as an athlete, for my coach to listen and to get feedback from them."

The wider aspect of Clark's responsibility lies in working with volunteers, increasing engagement with the sport and building education for the athletes and coaches. This has certainly faced its challenges while restrictions have been in place throughout the COVID-19 pandemic - but the future of artistic swimming remains on a positive trajectory.
"I would say we are getting much, much stronger at the bottom end, which is what we've been trying to achieve for the last few years. Karen's really been working hard on that to make sure we've got a wider bottom end of the pyramid, so that when we do get down to the development of the England and Great Britain squads, we've got a bigger pool of athletes that we can build the talent from," adds Clark.
"We're trying to get more boys into the sport as well, and we were planning to run a bit of a recruitment programme last year that's been pushed back because of lockdown, so that's been a bit of a struggle, to get boys into the sport. Hopefully within the next few years we'll have more men, more boys joining in and more mixed duet and team opportunities. 
"At the moment, we've got two boys in the England and GB squads which is great and they are working really hard and improving all the time. It's just generally trying to make sure it's accessible and people can see the sport for what it is, which is that it's fun, especially when you're at the bottom end and doing it for fun - but then that when you're doing it at an elite level, it's a really hard sport so just trying to make sure people have a good experience and enjoy it as much as we do."
Expanding that inclusive culture goes much further than gender splits, however, as Clark acknowledges.
"We're working on and have programmes planned for lots of different people to help them financially if they can't get into the sport and things like that. It's not always cheap having swimming lessons and such, so we're really looking at ways to try to make it more diverse," she goes on to say. 
"Unfortunately we've not been able to do that to full effect recently, but we have been trying to run online webinars and live sessions through our Instagram and things like that. We'd obviously just want to go much wider than that and into schools.
"We've got a big idea in our head of what we want to ultimately achieve, it's just trying to make it happen, especially in the current situation, which is really hard. I think sometimes, however, it's really great to see for some young girls that there are female coaches, female managers and that sort of thing working in our sport because you don't often see enough of it, and that's something we can offer as a sport, having women visible in these positions. 
"One day hopefully at some point we'll be more of an equal sport in that we'll have males and females, but for now I think we have to look at the positive side of that for sure."
Head over to the Women In Water section of the British Swimming website to read previous instalments with the likes of Jazz Carlin, Alice Dearing and Jane Figueiredo.