Britain's artistic swimming manager Karen Thorpe believes the British team are set for "a new lease of life" after the 2022-23 programme selections were confirmed and FINA introduced a sweeping set of rule changes to the sport's judging system for the 2023 season onwards.

The GB athletes are coming off the back of a memorable 2022 that saw them reach finals in each of the six World Championship events they entered, a host of impressive performances at the subsequent European Championships and a host of medals across international junior and youth competitions.
Following a busy season, FINA have ratified a set of rule changes that will 'simplify the process, define roles and divide tasks', in the organisation's own words, with two judging panels now in place: Elements and Artistic Impression (with 10 judges, six technical controllers).
Thorpe believes the British cohort can take the new system on board and ultimately flourish, as they build towards the double of European Games and World Aquatics Championships in the summer of 2023. For now, though, the focus is on successfully building new routines as the class of the 2022-23 programme, based at the High Performance Centre in Bristol, look to benefit from some key early-season work.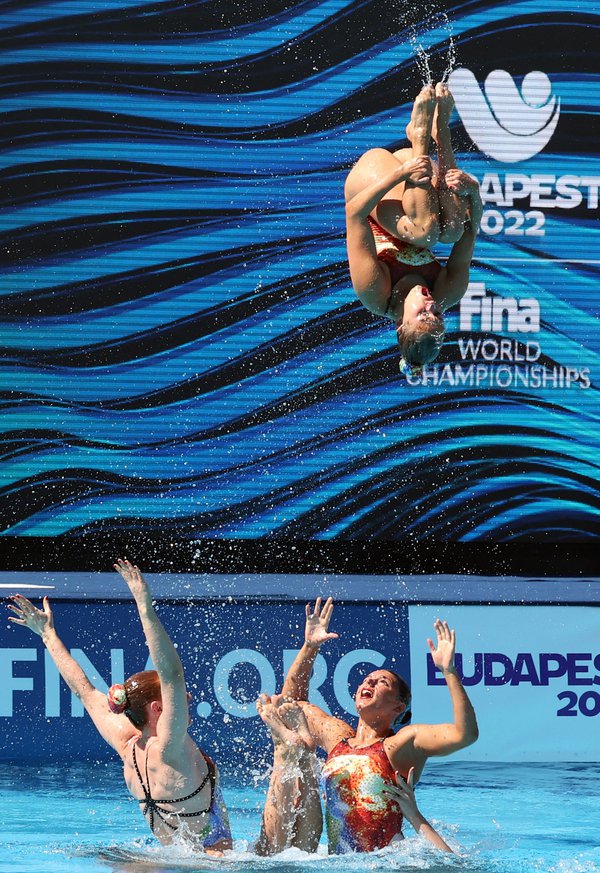 This year's programme setup sees a new duet squad, with Daniella Lloyd and Robyn Swatman joining Olympic duo Kate Shortman and Isabelle Thorpe - who reached their maiden Worlds finals together in Budapest a few months ago. On top of training together as a duet squad, that quartet are also part of the group of full-time team members. Isobel Blinkhorn, Millie Costello, Beatrice Crass, Isobel Davies, Rhea Howard, Cerys Hughes, Aimee Lawrence and Laura Turberville complete that group, with junior world medallist Ranjuo Tomblin and Eleanor Blinkhorn signed up as part-time team members.
"With all the changes that we've got to make for the sport, it is going to be massively challenging. I'm so glad we started the programme last year so that we've got a lot of the foundation work set up already, and the athletes understand what is expected of them," said Karen Thorpe.
"We have got a really great bunch of athletes, including some of the younger ones from the juniors that have moved up to seniors, and a couple that are with us part-time because they're still in education.
"I am really positive about the changes. I think it's going to be really good for us, particularly with the duet, because we are pretty strong technically, and the new system should lend itself quite well for us. We've got some exciting competitions coming up, and the way the new ranking system works, we're going to have to appear at quite a few of those. That's going to be challenging in itself, figuring out how we resource that.
"But it's all really exciting and it's kind of like a new lease of life for us that we know there could be quite a bit of significant change because of the new rules, so that's exciting."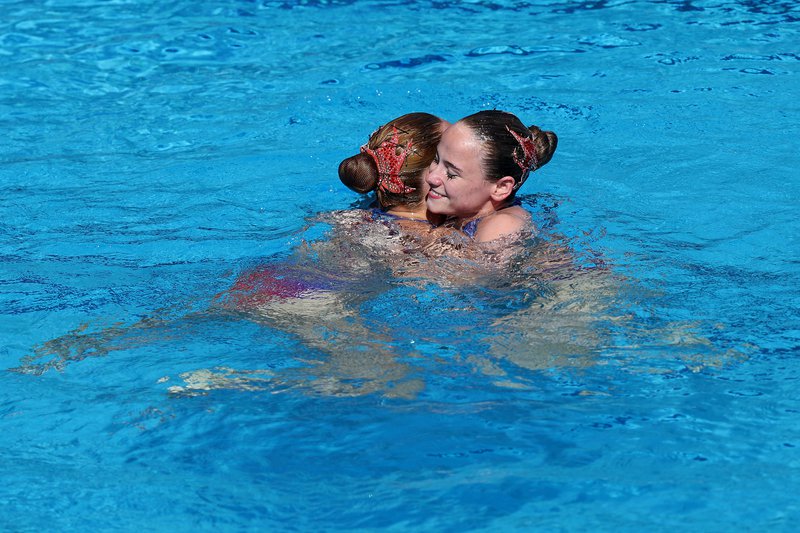 The full list of updated artistic swimming rules are available in this FINA announcement. In Karen's opinion, the primary goal of the updates are to ensure as much neutrality as possible in their judged sport.

"There are a lot of changes - but fundamentally, the judging system is going to change to make it more objective. Obviously we are a subjective sport, and sometimes it's difficult even for us to understand why some countries are scored better than others," she explained.
"You cannot 100 per cent eliminate the biased nature - but they have gone some way now to really making it more objective, so they can compare apples with apples, that's how they put it. What that means for us and for the coaches is that we have prescriptive areas that we need to work on, and those areas have been categorised into levels.
"So it's quite clear what we need to do to achieve a certain score. The difficulty is that if we don't do what we say we're going to do, then we'll lose quite a lot of marks on that, so it's really key that we are very consistent in our practice, to make sure everyone hits exactly the right moves at the right times in competition to not lose marks.
"It's challenging right now because we need to get our routines choreographed, and we have to start thinking about building the choreography and the structure of the routines in a completely different way. Once we've done that, we have to really focus on the consistency of the training to make sure that if we are doing four rotations, everyone is doing four rotations at exactly the same time and hitting it at exactly the same level."
As the 14-strong artistic swimming programme group continue building towards the 2023 season, there will be plenty of learnings taken from this year that should stand them in good stead.
The sheer volume of competitions competed in across that unprecedented summer in aquatics will provide priceless arena experience, and that shows in the progression of the programme as a whole, the duet-specific squad expanding to four athletes and the impressive performances of athletes like young Ranjuo, aged 16.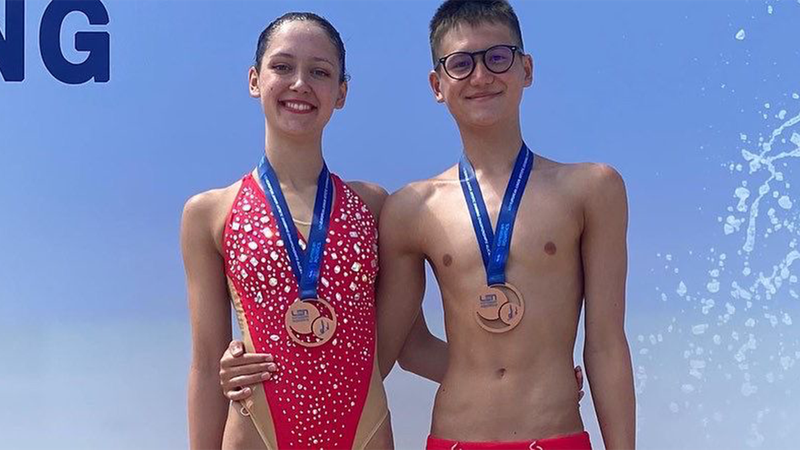 "The summer was completely crazy. We had seven internationals this year, Europeans and Worlds in every age group, including the seniors. It was really important for us to be at those competitions because, significantly for us, we have a couple of boys involved, and the men's and mixed events are really being pushed heavily. The men's solo event is a new one that has come in, so we want to showcase our male athletes and give them experience so we can continue to be medal contenders," added Thorpe.
"There are a lot of really good learnings from this last year, down through the pathway, not just at the senior level, and looking at how we are going to do things. We started structuring things a little differently last year, how we can focus in ways on athletes competing in solo and duets across the pathway, and we've enhanced that a bit more this year. I think that will really help us to make the step change that is needed for us to be even more competitive."
SENIOR SQUAD SELECTION
DUET SQUAD
Daniella Lloyd
Kate Shortman
Robyn Swatman
Isabelle Thorpe
FULL-TIME TEAM MEMBERS
Isobel Blinkhorn
Millie Costello
Beatrice Crass
Isobel Davies
Rhea Howard
Cerys Hughes
Aimee Lawrence
Laura Turberville
(Daniella, Kate, Robyn and Isabelle from the duet squad are also part of the full-time team)
PART-TIME TEAM MEMBERS
Eleanor Blinkhorn
Ranjuo Tomblin