British Diving National Performance Director, Alexei Evangulov presented the award from the Swim England Diving Leadership Group to Derek Beaumont at the British Diving Championships.
Ahead of the finals on Saturday at the Plymouth Life Centre, a special presentation was made to a unique gentleman who has been involved in the sport of diving for many years. Starting out as an athlete, Derek Beaumont has continued in the sport of diving by serving on national committees, in addition to coaching Olympians such as Lindsey Fraser and judging at the highest level, including Europeans, Worlds and the 1976 Olympics.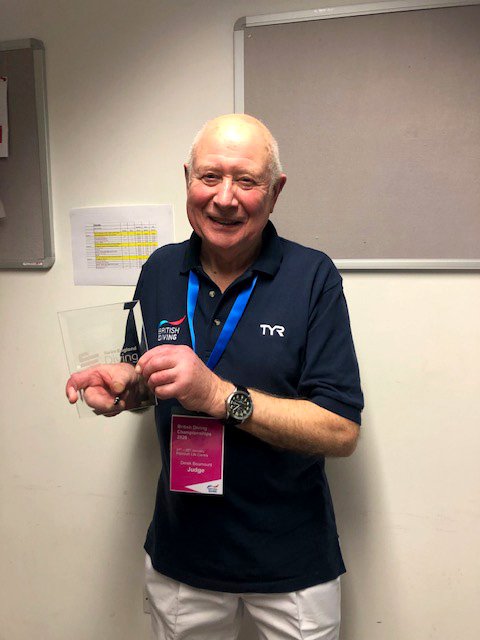 Having judged at his first nationals in 1970 (and only missing one since that year!), Beaumont was once again part of the judging team at the 2020 championships in Plymouth. Commenting on the honour he said:

"It really was a surprise, I actually wasn't due to be judging that session but was asked to walk out with the judges procession to poolside - I'm overwhelmed to receive the award.
"Not talking about myself specifically, but it's nice to see when volunteers are recognised, however the greatest reward for me has always been to be able to see athletes improve and support them in the process."
Fun fact: Derek's claim to fame is his vast collection of event programmes, he has a copy from every championships ever held in the UK tracking diving through the years in its many formats beginning in 1970