Jack Laugher and James Heatly eased into the semi-finals of the Men's 3m Springboard, as Kate Shortman and Isabelle Thorpe showcase a stunning flamenco inspired Duet Free routine in their opening performance of the Games.
Rio 2016 silver medallist Laugher began his individual campaign for this Olympics in eye-catching style, with a brilliant score of 83.30 for his opening Forward 2 ½ Somersaults 2 Twists Pike (5154B) leaving him second in the leaderboard. 

That was followed by scores of 59.50 and 56.10 for his next two dives to see him slip slightly down the standings – but he was heading well in the right direction again after tallying 84.60 points for a finely-executed Back 3 ½ Somersaults Tuck (207C) in round four.
Finishing off with his two highest degree of difficulty dives, Laugher – who trains under Adam Smallwood at the City of Leeds Diving Club – eased his way into Tuesday's semi-finals with plenty of room to spare, placing sixth. 
Speaking of his performance, the 26-year-old said: "I'm really happy to get through – ultimately, no-one cares who wins today, no-one cares who wins tomorrow morning, it's all about the final. So for me, it's about getting through. 
"I showed some good things in there and have given myself a lot of confidence going into tomorrow. Hopefully I can continue the okay form leading into that and then give my best shot in the final.
"You see a lot of good and experienced divers crashing out this afternoon, and you've seen it all over the Olympics as well, it's been a very strange year with little prep time leading into the Games." 
Heatly, meanwhile, felt his way into his Olympic debut at the Tokyo Aquatics Centre. The Edinburgh Diving Club man claimed World Cup silver at the same venue back in May, opening up this time with a solid Back 2 ½ Somersaults Pike (205B) and sitting just inside the top 18 at the halfway stage. 
But with a few Olympic dives finally under his belt, Heatly used the second half of the prelims to show just what quality he possesses. A superb Reverse 3½ Somersaults Tuck (307C) surged him up the leaderboard thanks to a score of 85.75, while he received 82.25 for a Reverse 1½ Somersaults 3½ Twists Free (5337D).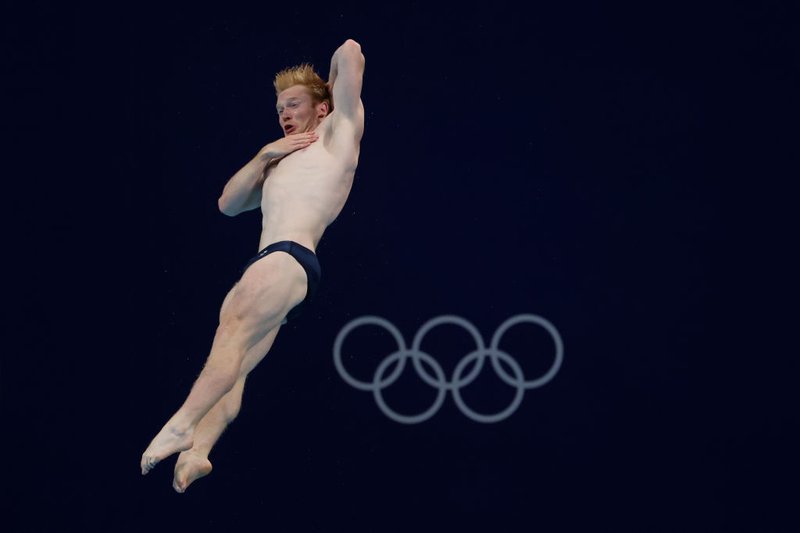 The best was yet to come, a mammoth 96.90 points coming his way for a well-executed Forward 4½ Somersaults Tuck (109C) – the joint second-highest tally of the round. That saw him finish fourth overall in the prelim. 
"Just to be here and be competing is amazing, it's my first Olympics and I've made it through to the semi-finals, I can't believe it," said the Jen Leeming-coached athlete.
"I had to have a word with myself, I was a bit shaky going into it. I knew from watching the other events that everyone had been a bit shaky, I had to remind myself it's not over until it's over, so I eased into it. I know what I want to do and what I want to achieve, for me it's about surviving the rounds, prelims done, round one, on we go tomorrow." 
With the lane ropes now removed from the Tokyo Aquatics Centre after a record breaking week for TeamGB, the second week of Olympic competition also saw the Artistic Swimming Duet competition get underway in the pool. British duet, Kate Shortman and Izzy Thorpe, secured their Olympic berth in the final FINA qualification tournament in June, and having set an impressive personal best score at the European Championships the month prior were carrying positive momentum into the Games.

With their Duet Free routine inspired by a mix of modern and traditional Spanish flamenco - plus a few twists to pay homage to the culture of Japan, the host nation of this Olympics - the pair set out to impress the judges across the elements of execution, artistic impression and difficulty of routine.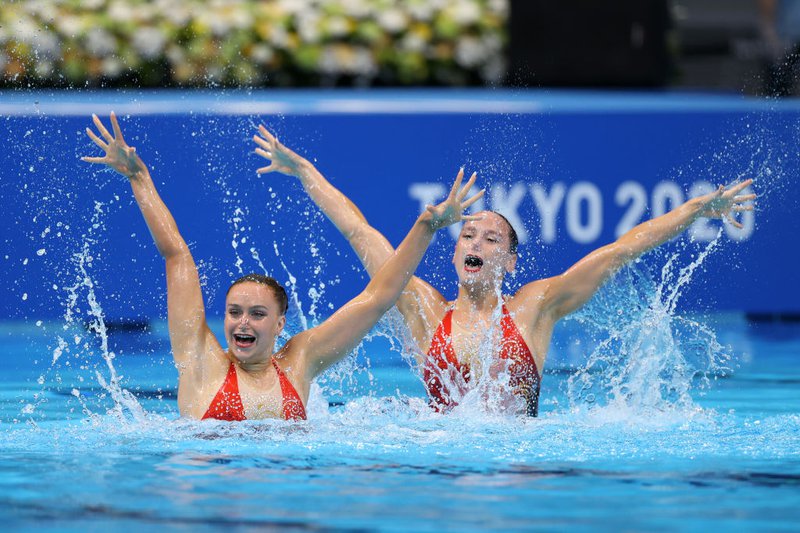 Showcasing a breathless three minute routine, Shortman and Thorpe received a score of 84.7333 for 15th place overall in the Duet Free preliminaries. The Paola Basso coached duet were in high sprits after their opening swim, with Shortman commenting: 
"We really enjoyed the swim and it really felt like all our hard work over the last five years has been mounting towards this, so nothing is ever really going to do it justice, you need perfection to be completely satisfied, but we're really happy with what happened.
"The scoring at this competition is a little lower than we were hoping for but obviously it's the same for everyone so it's similarly pitched."

On how the pair had used the past difficult 18 months to add to the passionate energy of the routine, Thorpe said:
"Through lockdown we had a lot of time to work on different things and so we did a lot of dance, lots of flamenco, tango and Spanish dancing – obviously all in our front living room on zoom, so not quite like the dance studio, but it was better than nothing and was really fun and a bit different for us to do as well."
Tomorrow the pair will perform their Duet Technical routine as they bid to move up into the top twelve competitors that compete in Wednesday's final, with Thorpe adding:
"We definitely have worked a lot on our elements and our technical routine so that's probably the stronger routine for us so hopefully it shows, but we'll definitely just go out and enjoy it like today." 
To find timings and details of British athletes at the Tokyo 2020 Games, visit our 'What's on?' page HERE.